Sponsored by Jimmy Patterson Books.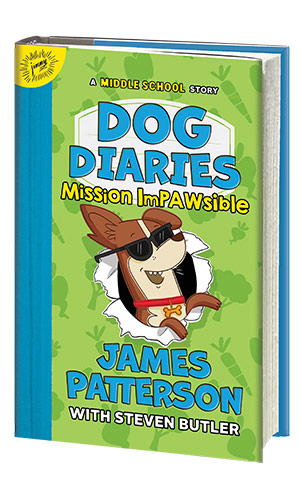 Grab your sunglasses and slather on the sunscreen! In this laugh-out-loud adventure for kids and animal lovers everywhere, summer is here and Junior is getting his very own doggy vacation. Junior is back with another tail-wagging tale of mischief-making! He'll tell you all about the fur-raising time he had when his pet humans went on a trip without him, and the horrible place they left him.
Hello readers,
It's the last day of March! I know, I can't quite believe it either. This month has seemed endless. I hope you and your loved ones are doing well in this brave new world we live in, and that these lovely new releases from the world of children's books bring you joy.
A brief reminder, if you'd like to stay in touch with COVID-19 updates from the bookish world, you can do so through that. I'm very fond of this article of 7 of the best educational comics for homeschooling – if you haven't yet discovered Hilda, then now's the time…
So to books!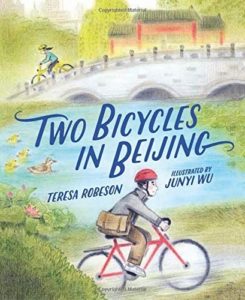 Two Bicycles In Beijing by Teresa Robson, illustrated by Junyi Wu
Lunzi and Huangche came out of the bicycle factory together, side by side. They watch Beijing from their shop window, until the day when a girl comes in and buys Huangche and rolls him away. With the help of a delivery boy, Lunzi sets out to find her friend…
This is a lyrical, lovely thing, which introduces readers to the sights and sounds of Beijing with the added bonus of some simple Mandarin. It's very charming and that artwork is lovely.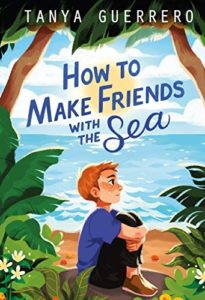 How to Make Friends with the Sea by Tanya Guerrero
Pablo lives with his mum and the two of them have never stayed in one country for long. Their latest move is to the Philippines where his mum works at a wildlife refuge – and she's too busy to realise that Pablo might need saving too. His anxieties are overwhelming him, and the last thing he needs is his mum taking in an orphaned girl…
Touching on topics such as selective mutism, friendship, family, and the management of complex anxieties, and doing so with a lot of sensitivity, this is a strong and unusual debut.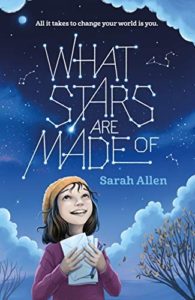 What Stars Are Made Of by Sarah Allen
Libby is twelve, and pretty great at science. She was also born with Turner Syndrome and that means she finds some things hard. When she discovers that her big sister Nonny is pregnant, she can't help but worry. Libby knows all too well that babies aren't always born healthy – and that Nonny and her husband been struggling with money. So Libby makes a deal with the world. She'll enter a science competition and if she wins, she'll give the money to Nonny and her family. And the baby will be perfect.
A sparky scientist, winning first-person narrative, #ownvoices representation, and a celebration of family and love? Sign. Me. Up.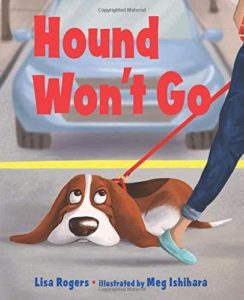 Hound Won't Go by Lisa Rogers, illustrated by Meg Ishihara
(This cover speaks to me on quite the deep emotional level, let me tell you that). Hound has decided that he's had enough of his walk. The only problem is that he's decided this right in the middle of a busy intersection… uh oh! Hound won't go!
Perfect for anybody who's ever encountered a dog at their most stubborn, this pairs tight, clean rhymes with vibrant illustrations. It's a perfect read aloud.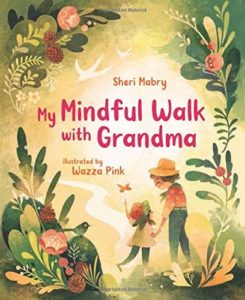 My Mindful Walk with Grandma by Sheri Mabry, illustrated by Wazza Pink
As a young girl walks through the woods with her grandma, she's more focused on the destination than the journey. But the journey is full of surprises and excitement – and Grandma will help her discover them.
We're all wrestling with a world that is changing every single second, and so this soft and rich story about appreciating the moment may have some particular resonance right now. It's a beautiful, beautiful thing.
Okay! That's all from me for now. I'll be back with more new releases next week, but until then you can say hello to me on social media @chaletfan (Let's talk Moomins…) and elsewhere on Book Riot co-hosting the biweekly litfic podcast Novel Gazing.
Take care,
Louise.