Sponsored by Goldie Vance: The Hotel Whodunit.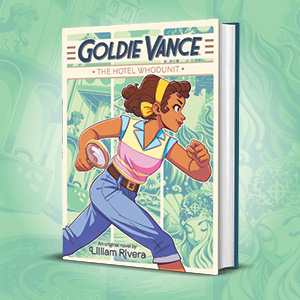 Marigold "Goldie" Vance lives and works at the Crossed Palms Resort Hotel in Florida. While life at the Crossed Palms is always busy, the resort is currently overrun with Hollywood-types filming the hottest new creature feature, and tensions are at an all-time high. Even Goldie's mom is in on the movie act, doing what she does best: playing a mermaid. Just when Goldie thinks the movie biz couldn't get any more exciting, a diamond-encrusted swimming cap goes missing, and all fingers point to Goldie's mom as the culprit. Can Goldie uncover the true thief before it's too late?
Hi Kid Lit Friends,
I had an eye surgery earlier this month, and since the recovery was going to take a couple of weeks I pre-wrote all of my Book Riot posts for the month of March. As a result, none of these posts in March had any mention of coronavirus, which I'm sure some of you noticed! I'm popping in here just to say that I'm thinking of all of you teachers and librarians and parents and grandparents who are trying to figure out this new environment we're living in. If you have ideas for how you're incorporating reading and books into your socially distanced, quarantined home, email me at KarinaBookRiot@gmail.com to let me know. I'll be collecting responses and sharing them each week.
And now, on to our book topic of the day! If you're reading this newsletter, I am certain that you are my people! Those of us who love books are certain to love books that are all about loving books. Here are some wonderful picture books to hand to young bookworms.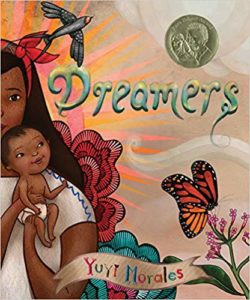 Dreamers by Yuyi Morales
This book is about author and Caldecott Honor artist Yuyi Morales, who left her home in Xalapa, Mexico and came to the US with her infant son. This gorgeous picture book Dreamers is about making a home in a new place. Yuyi and her son Kelly's passage was not easy, and Yuyi spoke no English whatsoever at the time. But together, they found an unexpected, unbelievable place: the public library. There, book by book, they untangled the language of this strange new land, and learned to make their home within it.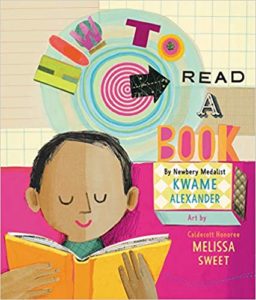 How to Read a Book by Kwame Alexander, illustrated by Melissa Sweet
Poetry by Newbery Medalist Kwame Alexander and gorgeous illustrations by Caldecott Honoree Melissa Sweet make a perfect match in How to Read a Book – a celebration of books and reading. The words sing on the page and the bright, bold colors of Sweet's illustrations show that there are an infinite number of ways to enjoy a book.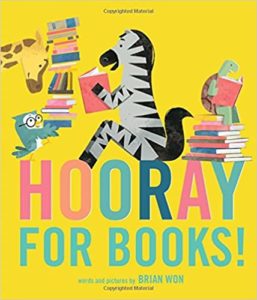 Hooray for Books! by Brian Won
This sweet book is all about loving books. Turtle has looked everywhere for his favorite book, but it's nowhere to be found! Maybe his book was borrowed by Zebra, Owl, Giraffe, Elephant, or Lion. As Turtle searches, his friends offer to share their own favorite stories, but other books just won't do. Or is it time for Turtle to try something different?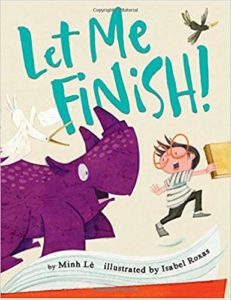 Let Me Finish! by Minh Le, illustrated by Isabel Roxas
This book is perfect for all of us who get interrupted just when we get to the best part of our book. In Let Me Finish!, our young hero settles in to read and the last thing he wants is for some noisy animals to ruin the ending of the story. But ruin it they do. And as it turns out, the boy is quickly approaching a surprise ending of his own! Maybe he should have listened to the animals after all. . . .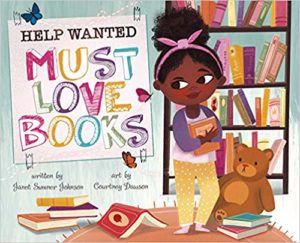 Help Wanted, Must Love Books by Janet Sumner Johnson, illustrated by Courtney Dawson
This new picture book is a perfect bedtime read aloud. Shailey loves bedtime, especially reading with her dad. But her dad starts a new job, and it gets in the way of their bedtime routine. So Shailey takes action! She fires her dad, posts a Help Wanted sign, and starts interviews immediately. She is thrilled when her favorite characters from fairytales line up to apply. But Sleeping Beauty can't stay awake, the Gingerbread Man steals her book, and Snow White brings along her whole team. Shailey is running out of options. Is bedtime ruined forever?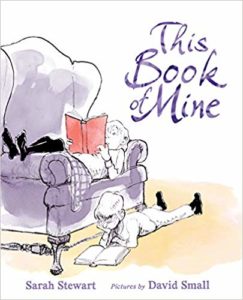 This Book of Mine by Sarah Stewart, illustrated by David Small
The beloved author-illustrator team of The Gardener and The Library brings us a new treasure in This Book of Mine, a sweet picture book that celebrates the power of reading and speaks of the ways in which books launch our adventures, give us comfort, challenge our imaginations, and offer us connection. From new mothers to fantasy lovers, butterfly hunters to musicians, the readers of This Book of Mine all share a common passion for favorite books―whether freshly discovered at the library or bookstore or saved from childhood and reread across a lifetime.
What are you reading these days? Let me know! Find me on Twitter at @KarinaYanGlaser, on Instagram at @KarinaIsReadingAndWriting, or email me at KarinaBookRiot@gmail.com.
Until next time!
Karina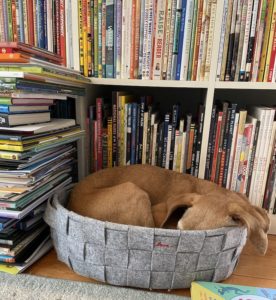 *If this e-mail was forwarded to you, follow this link to subscribe to "The Kids Are All Right" newsletter and other fabulous Book Riot newsletters for your own customized e-mail delivery. Thank you!*