Sponsored by Tigers, Not Daughters by Samantha Mabry, new from Algonquin Young Readers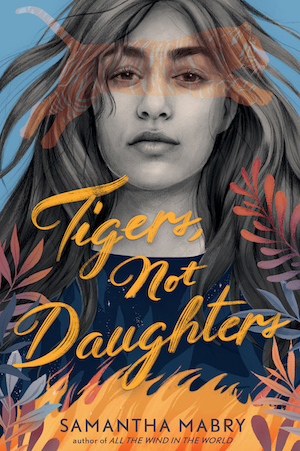 The Torres sisters dream of escape. Escape from their needy father and their San Antonio neighborhood. After her senior year of high school, Ana, the oldest sister, falls to her death from her bedroom window. A year later, her three sisters are still consumed by grief and haunted by Ana's memory. But then strange things start happening around the house. The sisters begin to wonder if Ana is trying to send them a message—and what exactly she's trying to say. Samantha Mabry weaves an aching, magical novel that is part family drama, part ghost story, and part love story.
Hey YA Fans!
It should come as no real surprise, but there's not a lot of YA news to share this week. Everything has gone pretty quiet, and the news below reflects that.
On the upside, there are still tons of great books hitting shelves this week, and we've been talking YA over on Book Riot still.
I hope you and yours are all hanging in there. It's a scary time, but we will get through this. If you want to stay abreast of how COVID-19 is impacting the book world, we've been updating frequently on site.
YA Book News
This year's slate of free audiobooks from Audiobook Sync have been announced. If you aren't familiar with the program, each week starting April 30 through the end of July, they offer up two free audiobooks. One is a recent YA book and the other a classic. It's rad, and you'll get to try so many books on audio for free.
Have you seen the Everywhere Book Festival? Get it on your calendar.
If your IRL book club isn't meeting, try these tips for developing a virtual book club.
New YA Book Releases
Order a few things this week and set yourself up with great reading from your couch or bed. A * means I've read and highly recommend the book.
Between Burning Worlds by Jessica Brody and Joanne Rendell (series)
Brown Girl Ghosted by Mintie Das
The Edge of Anything by Nora Shalaway Carpenter
How Not To Ask A Boy to Prom by S. J. Goslee (paperback)
Thorn by Intisar Khanani
*Tigers, Not Daughters by Samantha Mabry (so. freaking. good.)
We Were Promised Spotlights by Lindsay Sproul
YA on Book Riot
---
Thanks for hanging out this week, amid life as we knew it changing so quickly. Keep yourself and your loved ones healthy.
We'll see you next week!
— Kelly Jensen, @heykellyjensen on Instagram and editor of (Don't) Call Me Crazy and Here We Are.