Sponsored by Don't Check Out This Book! By Kate Klise & M. Sarah Klise, new from Algonquin Young Readers.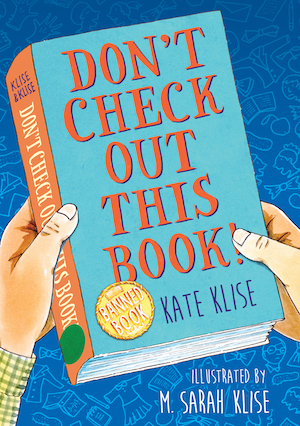 From the creators of the award-winning Three-Ring Rascals and 43 Old Cemetery Road series! Is the town of Appleton ripe for scandal? Appleton Elementary School has a new librarian named Rita B. Danjerous, but Principal Noah Memree barely remembers hiring her. Student Reid Durr is staying up late reading a book from Ms. Danjerous's controversial "green dot" collection. Meanwhile, the new school board president mandates a student dress code that includes clothes only available at her shop. Appleton's fifth-grade sleuths are following the money, embracing the punny, and determined to the get to the core of their town's juiciest scandal.
Hi Kid Lit Friends!
I had such a fun time gathering middle grade books about food that I thought I would round up some picture books about food from a variety of cultures. I love food and am very interested in the origins and significance of foods from around the world, and these picture books are some of my absolute favorites.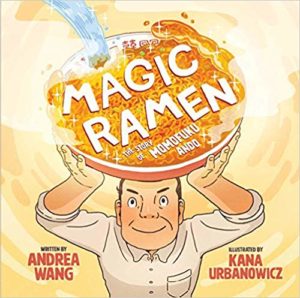 Magic Ramen by Andrea Wang, illustrated by Kana Urbanowicz, is the story of when Momofuku Ando spotted the long lines for a simple bowl of ramen following World War II. Every day, Momofuku Ando would retire to his lab–a little shed in his backyard. For years, he'd dreamed about making a new kind of ramen noodle soup that was quick, convenient, and tasty for the hungry people he'd seen in line for a bowl on the black market following World War II. Peace follows from a full stomach, he believed. Day after day, Ando experimented. Night after night, he failed. But Ando kept experimenting.
You probably already know how much I love the book Fry Bread by Kevin Noble Maillard, illustrated by Juana Martinez-Neal, given how much I've talked about it on this newsletter over the last year! This lovely book brings together the origins of fry bread, how it communicates community as well as the terrible history that led to its creation. This book both inspires and educates. Also, check out the end papers – they are beautiful!
Thank you, Omu! by Oge Mora is one of my favorite books. In this story, everyone in the neighborhood dreams of a taste of Omu's delicious stew! One by one, they follow their noses toward the scrumptious scent. And one by one, Omu offers a portion of her meal. Soon the pot is empty. Has she been so generous that she has nothing left for herself?
An author's note explains that "Omu" (pronounced AH-moo) means "queen" in the Igbo language of her parents, but growing up, she used it to mean "Grandma."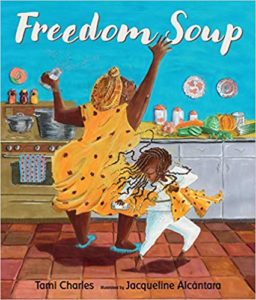 Special food for new year is celebrated all over the world, and Freedom Soup by Tami Charles, illustrated by Jacqueline Alcantara, is about the special soup that Haitians all over the world eat to ring in the new year, a tradition dating back to the Haitian Revolution. This year, Ti Gran is teaching Belle how to make the soup — Freedom Soup — just like she was taught when she was a little girl. Together, they dance and clap as they prepare the holiday feast, and Ti Gran tells Belle about the history of the soup, the history of Belle's family, and the history of Haiti, where Belle's family is from.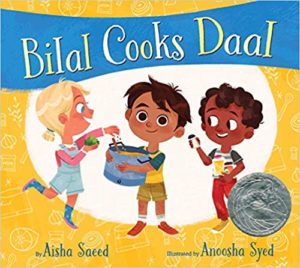 I love the new picture book, Bilal Cooks Daal! by Aisha Saeed, illustrated by Anoosha Syed. Six-year-old Bilal is excited to help his dad make his favorite food of all-time: daal! The slow-cooked lentil dish from South Asia requires lots of ingredients and a whole lot of waiting. Bilal is so excited to share this food with his friends, and as the day goes on, the daal continues to simmer, and more kids join Bilal and his family, waiting to try the tasty dish. But as time passes, Bilal starts to worry about whether his friends will like it as much as he does.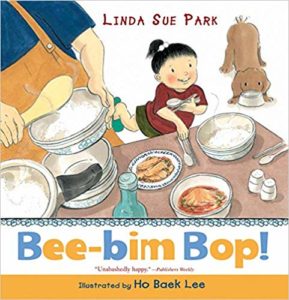 If you want a fun read aloud, Bee-bim Bop! by Linda Sue Park, illustrated by Ho Baek Lee is the book for you! Bee-bim bop (the name translates as "mix-mix rice") is a traditional Korean dish of rice topped, and then mixed, with meat and vegetables. In bouncy rhyming text, a hungry child tells about helping her mother make bee-bim bop: shopping, preparing ingredients, setting the table, and finally sitting down with her family to enjoy a favorite meal. Young readers who aren't familiar with the dish will recognize the pride that comes from helping Mama, the fun of mixing ingredients together in a bowl, and the pleasure of sharing delicious food. Includes the author's own recipe.
Sometimes eating foods when they are unfamiliar to other people is hard, and this is beautifully addressed in The Ugly Vegetables by Grace Lin. In this story, a Chinese-American girl wishes for a garden of bright flowers instead of one full of bumpy, ugly, vegetables. The neighbors' gardens look so much prettier and so much more inviting to the young gardener than the garden of "black-purple-green vines, fuzzy wrinkled leaves, prickly stems, and a few little yellow flowers" that she and her mother grow. Nevertheless, mother assures her that "these are better than flowers." Come harvest time, everyone agrees as those ugly Chinese vegetables become the tastiest, most aromatic soup they have ever known. As the neighborhood comes together to share flowers and ugly vegetable soup, the young gardener learns that regardless of appearances, everything has its own beauty and purpose.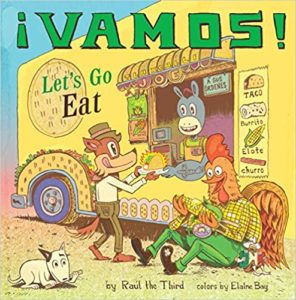 The new ¡Vamos! series by Raul the Third is wonderful, and the second book, Let's Go Eat, comes out next month on April 2. Follow the adorable Little Lobo and his dog Bernabe as they deliver supplies to a variety of vendors, selling everything from sweets to sombreros, portraits to piñatas, carved masks to comic books! Each page is full of wonderful details to explore!
What are you reading these days? Let me know! Find me on Twitter at @KarinaYanGlaser, on Instagram at @KarinaIsReadingAndWriting, or email me at KarinaBookRiot@gmail.com.
Until next time!
Karina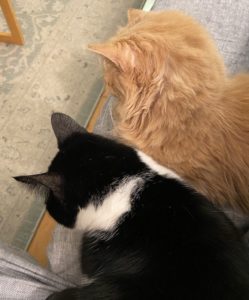 *If this e-mail was forwarded to you, follow this link to subscribe to "The Kids Are All Right" newsletter and other fabulous Book Riot newsletters for your own customized e-mail delivery. Thank you!*