Sponsored by Spirit Run by Noé Álvarez, on sale now from Catapult.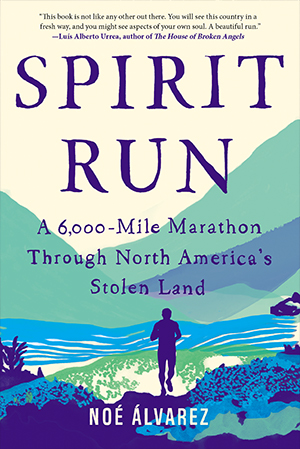 Spirit Run is the electrifying debut memoir of a son of working-class Mexican immigrants who fled a life of labor in fruit-packing plants to run in the Peace and Dignity Journey—a Native American marathon from Canada to Guatemala—challenging himself to reimagine North America and his place in it.
Hang on to your headphones, audiophiles! This here is a wild week in new releases. I'm going to blurb a few of them for you and then go a little more brief with some others because ain't nobody got time for a 2,000 word newsletter. Good luck picking which to read next! So much good stuff for those earholes.
Ready? Let's audio.
---
New Releases – March 10  (publisher descriptions in quotes)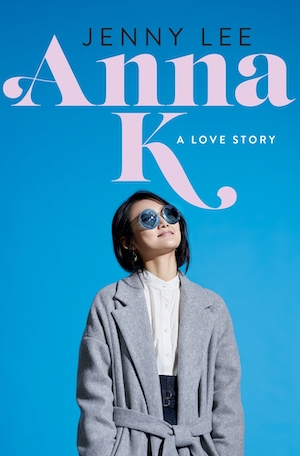 Anna K by Jenny Lee, narrated by Jenna Ushkowitz – In this opulent YA reimagining of Anna Karenina, Anna K is 17 years old and sitting pretty at the top of the world: she's got horses and dogs, a perfect boyfriend (if a little boring), and she makes her Korean American father proud most of the time. Her friends and family are all embroiled in some drama—a sexting scandal, the end of an ice-dancing career, unrequited love—but Anna always seems to float above it all. All of that changes when she meets a young playboy named Alexia who soon has Anna K out here wanting to risk it all.
Narrator note: Jenna Ushkowitz is a Tony Award-winning producer, actress, singer and podcast host known for her performances in the Broadway musical Waitress and Glee. This is her first audiobook performance and the sample online sounds promising!
The Kingdom of Back by Marie Lu – This is Marie Lu's first historical fiction novel! Nannerl Mozart is a musical prodigy who wants to be remembered forever, but the odds of her becoming an acclaimed composer are slim. Sucks to be a woman in 18th century Europe! As Nannerl's musical dreams seem less and less attainable with each passing year, her brother Wolfgang (you may have heard of him) only garners more and more acclaim. "His brilliance begins to eclipse her own, until one day a mysterious stranger from a magical land appears with an irresistible offer. He has the power to make her wish come true – but his help may cost her everything."
Narrator Note: Confession, I did not 100% love Lauren Ezzo's narration of Renee Ahdieh's The Beautiful. Parts of it were phenomenal! The voice of the villain though? It was so slow and bordered on comical for me. I have since sampled more of Ezzo's work and really enjoyed what I heard! Long story short: give this a shot even if The Beautiful wasn't your thing.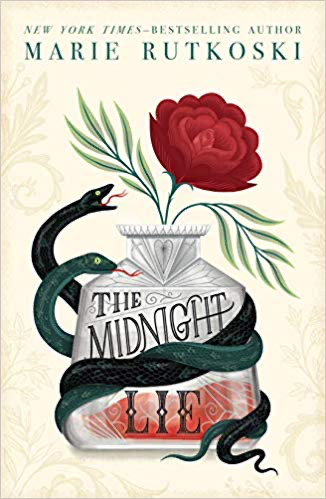 The Midnight Lie by Marie Rutkoski, narrated by Justine Eyre – "Where Nirrim lives, crime abounds, a harsh tribunal rules, and society's pleasures are reserved for the High Kith. Life in the Ward is grim and punishing. People of her low status are forbidden from sampling sweets or wearing colors. You either follow the rules, or pay a tithe and suffer the consequences. Nirrim keeps her head down, and a dangerous secret close to her chest. But then she encounters Sid, a rakish traveler from far away, who whispers rumors that the High Kith possess magic. Sid tempts Nirrim to seek that magic for herself. But to do that, Nirrim must surrender her old life. She must place her trust in this sly stranger who asks, above all, not to be trusted."
Narrator Note: Justin Eyre is on my to-listen list for sure; she narrates both Sarah Maclean's Bareknuckle Bastards series and Scandal & Scoundrel series too, and was the voice of Elizabeth Kostova's The Historian.
Eight Perfect Murders by Peter Swanson, narrated by Graham Halstead – Malcolm Kershaw is a mystery aficionado and bookshop owner in Boston who compiled a list that he called Eight Perfect Murders: a roundup of titles containing some of literature's most unsolvable crimes. Years later, he's called upon by the FBI with some unsettling news: there's a murdered on the loose, one who is using those Eight Perfect Murders as inspiration for their killings.
Some of the books on that list, by the way, are Agatha Christie's A. B. C. Murders, Patricia Highsmith's Strangers on a Train, and Donna Tartt's The Secret History. Color me interested!
Narrator note: If you enjoy Graham Halstead's narration, be sure to check out Mindf*ck: Cambridge Analytica and the Plot to Break America.
Other New Releases to Check Out:
Docile by K. M. Szpara, narrated by: Mark Sanderlin and Vikas Adam – This is "a science fiction parable about love and sex, wealth and debt, abuse and power, a challenging tour de force that at turns seduces and startles."
Salty, Bitter, Sweet by Mayra Cuevas, narrated by Jennifer Araya – "A slow-burn romance in a cutthroat kitchen!" Cooking, Cubans, complicated families, and romance? Si, si, si.
Sharks in the Time of Saviors by Kawai Strong Washburn, narrated by Jolene Kim, Kaleo Griffith, G. K. Bowen, and Tui Asau – Our very own Amanda Nelson recent raved about this "groundbreaking debut novel that folds the legends of Hawaiian gods into an engrossing family saga; a story of exile and the pursuit of salvation" that I swear I am going to read this year.
Rust: A Memoir of Steel and Grit by Eliese Colette Goldbach, narrated by Kelly Pekar – "A young woman's debut memoir of grit and tenacity, as she returns to the conservative hometown she always longed to escape to earn a living in the steel mill that casts a shadow over Cleveland."
Latest Listens
Pride, Prejudice, and Other Flavors by Sonali Dev is one of the most fun books I've read in awhile. I'm going to give you the review I wrote on the gram because I stand by it rull hard: "Trisha Raj is an overachiever and San Francisco's neurosurgeon mas chingona, which you'd think would be enough to impress her influential Indian American family but a) brown families, amirite? and b) #itscomplicated. She meets up-and-coming chef zaddy DJ Caine at a schwanky dinner put on by her family, but the only sparks that fly are the bad kind. She's all, 'He's the hired help!' and he's all, 'Esa vieja se cree mucho!' except, like, not in Spanish and with a charming English accent.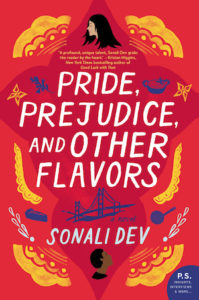 As luck would have it, Trisha's family hires DJ to cater a bigger, badder, affair, a job DJ desperately needs to pay his terminally ill sister Emma's medical bills. And wouldn't you know it, Trisha is Emma's surgeon, and she's found a way to save Emma's life. Secrets from the past, complex family dynamics, and a metiche with an axe to grind get all kinds of in the way of these two crazy kids getting along. Will love (and lust 👀) prevail? Maybe. This Pride and Prejudice remix is a really fun story and romance jam packed with brown people and absolutely tantalizing food descriptions that literally made me make curry for dinner."
Finally, A+ audiobook narration by Soneela Nankani: great variation in tone that made the inner monologues distinct from the interpersonal conversations, which is a thing I've come to so appreciate in audiobooks! The accents are perfect, the pacing is spot on (I still sped up to 1.25x but 1.0x was totally fine too). I can't wait to start the galley of the next book in this series, Recipe for Persuasion!
From the Internets
I saw a post out there that said something to the tune of "Audiobooks to listen to when you'll probably have to be quarantined" and I just could not.
Instead, here's this piece on 17 Best Audiobooks To Listen To When You Want To Zone Out In 2020, which is a little less panic-making but still captures the "go home, 2020: you're drunk" vibe a lot of us are feeling.
Over at the Riot
It's Women's History Month! What a wonderful time to dive into nonfiction feminist audiobooks.
I've been working in more poetry into my reading life and have found that audiobooks are my favorite way to do it! Poetry was meant to be read aloud, ya know? Check these must listens by poets of color.
If you aren't using Libby yet, here's how to get the most out of it! I do a LOT of my audiobooking via Libby. Who doesn't love a book that's $Free.99??
---
That's all I got today! Shoot me an email at vanessa@riotnewmedia.com with audiobook feedback & questions or find me on Twitter and the gram @buenosdiazsd. Sign up for the In The Club newsletter, peep the Read Harder podcast, and watch me booktube every Tuesday and Friday too!
Stay bad & bookish, my friends.
Vanessa