Sponsored by Harper Perennial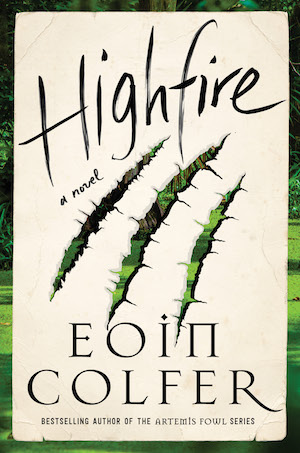 From the New York Times bestselling author of the Artemis Fowl series comes a hilarious and high-octane novel about a vodka-drinking, Flashdance-loving dragon. Deep in the bayous of Louisiana lives a hermit dragon, the last of his kind. Once known as Wyvern, Lord Highfire of the Highfire Eyrie, he now simply goes by the name Vern. Enter Everett "Squib" Moreau, a fifteen-year-old troublemaker with a heart of tarnished gold. A triumphant return to the genre-bending fantasy that Colfer is so well known for, Highfire takes the reader along for the incendiary ride with Vern, Squib, and an unforgettable cast of characters.
Happy Tuesday, shipmates! Hope your shelves are ready for another wave of new releases. February is going to be a busy month. It's Alex, trying to stay warm and out of the snow in Colorado. Also, trying to put the pieces of my heart back together after the incredibly rude and totally perfect finale of The Good Place.
Not-genre but beautifully pointed: As a 28-Year-Old Latino, I Am Shocked My New Novel, Memoirs of a Middle-Aged White Lady, Has Been So Poorly Received
New Releases
The Resisters by Gish Jen – In near future AutoAmerica, half the land is under water; the "Netted" have jobs and live on the high ground while the "Surplus" live as high as the swamps… if they're lucky. A Surplus couple have a daughter, Gwen, who has a "golden" arm that takes her straight to the top in the sport of baseball just as AutoAmerica is eyeing a return to the Olympics. Gwen finds herself playing on a team filled with Netted as her mother challenges the foundation of their divided society.
These Marvelous Beasts by Natania Barron – A lamia retires to Tarrytown, New York, to be with the love of her life, a sylph. She's actually about to get around to telling said love about the entire love thing when the sylph is kidnapped when they are both called on to work together to solve a dark and dangerous mystery.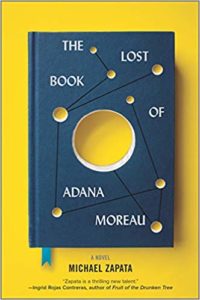 The Lost Book of Adana Moreau by Michael Zapata – In 1929, a Dominican immigrant woman named Adana Moreau writes a science fiction novel that receives raves reviews. She immediately starts on the sequel… and then falls mysteriously, mortally ill as she finishes it. Inexplicably, she destroys the manuscript before she dies. Decades later, a man named Saul finds a manuscript authored by Adana Moreau as he's cleaning out his grandfather's house in Chicago. His attempt to track down Adana's descendents takes him to New Orleans just as Hurricane Katrina hits.
Upright Women Wanted by Sarah Gailey – (Full disclosure: I have the same agent as Sarah.) Also, can't sum it up better than this: "Esther is a stowaway. She's hidden herself away in the Librarian's book wagon in an attempt to escape the marriage her father has arranged for her―a marriage to the man who was previously engaged to her best friend. Her best friend who she was in love with. Her best friend who was just executed for possession of resistance propaganda."
Deathless Divide by Justina Ireland – Jane has ended up in a protected village called Nicodemus after the fall of Summerland in this sequel to Dread Nation. But Nicodemus doesn't turn out to be a quiet place where she can leave behind her past… or stop hunting the undead. There are familiar faces from fallen Summerland in the village, and more than its fair share of mysterious, lies, and violence. Whether Jane wants to or not, she'll have to team up with Katherine Deveraux if she wants to survive.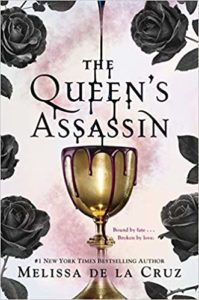 The Queen's Assassin by Melissa de la Cruz – Cal is the Queen's Assassin, which means he's bound to her by magic and can only be released from her service by her word. A surprise attack throws Cal together with Shadow, who is a court lady out of obedience to her family when she really dreams of being an assassin. Together, they must unravel a web of intrigue and lies while deciding if they will be master and apprentice, or lovers.
King and the Dragonflies by Kacen Callender – When Kingston's brother Khalid dies unexpectedly, King is sure that he just shed his skin and became a dragonfly–and now visits him in dreams. Right before he died, Khalid also told Kingston that he needed to stop being best friends–or any kind of friend at all–with Sandy, because he's gay. But when Sandy runs away from his abusive father and hides in King's back yard, he can't turn his back on his (former) best friend again.
News and Views
Issues of Identity in Modern Science Fiction
NPR's Code Switch interviewed Tomi Adeyemi about YA fantasy where the oppression is real
She-Ra and the Princesses of Power is Queerness and Hope in a Dark World
George RR Martin met up with the Ravenmaster at the Tower of London, and the results were pretty cute.
As a final salute to The Good Place, William Jackson Harper has performed the full version of Chidi's Kierkegaard rap.
I am very excited by Fast and Furious's ever-closer embrace of total scifi soap opera bananapants-ness.
S.L. Huang does a simple mathematical trick that still made my brain explode.
Or, mind-blowing in a totally different way, how about the highest-res video of the surface of the Sun ever made?
At Book Riot
10 Alice in Wonderland Illustrators
---
See you, space pirates. You can find all of the books recommended in this newsletter on a handy Goodreads shelf. If you'd like to know more about my secret plans to dominate the seas and skies, you can catch me over at my personal site.