Sponsored by A Twist Of Starlight ​by Betty Valentine​, one weekend will test the bonds of a friendship spanning centuries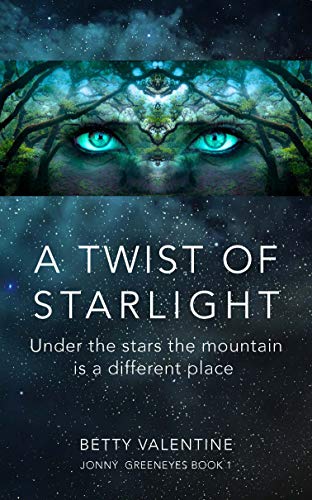 A new world hidden in the one you already knew. Dave Freeman thought a trip up the mountain with his widowed father Jon and the friends who helped raise him would heal his damaged soul. Tiny cigar chewing Bernie, skirt chasing Marc and ancient drunken Hugh had other ideas. He thought he would surprise them, but they sure as hell ended up surprising him. At the end of the weekend one is out of the closet, two are out of this world and the other out of his mind. Full of warmth, humour, and the bonds of friendship spanning centuries.
Happy Friday, shipmates! It's been one heck of a week, but we got through it with the power of books, among other wonderful things. It's Alex with some news and some slightly (okay, more than slightly) murder-y books to take you into the weekend.
Thing that made me happy cry today so I had to share: Just watch this clip of Patrick Stewart and Whoopi Goldberg on The View.
News and Views
A beautiful profile of N.K. Jemisin in The New Yorker.
Preeti Chhiber has written an adorable Star Wars picture book that'll come out October 6. You can check out some of the super cute pictures from it here.
At Young People Read Old SFF, The White Pony by Jane Rice.
The Witcher is getting an animated film in addition to a second season. Also, if you've been chomping at the bit for the soundtrack, it's coming. You can already Toss a Coin to Your Witcher right now.
Oh good. We're getting at least one more season of Jodie Whittaker as the Doctor.
Christopher Tolkien the cartographer.
The protagonist of The Hunger Games prequel The Ballad of Songbirds and Snakes has been revealed. I am… not excited, to be honest.
Can't wait to read the novel about this: Federal officials seized Alan Turing's missing-since-1984 doctorate and knighthood medal when someone offered to "loan" them to the University of Colorado at Boulder.
Sarcos is making fully mobile and strong industrial exoskeletons, so we're on track to fight aliens Ripley-style.
Known class traitor Mr. Peanut is finally getting the fate he deserves.
This will come as no surprise to anyone who's ever owned a cat, but our little feline pals will happily nom us when we're gone–and it has been scientifically determined which bits of us they'll find tastiest. Bless their evil, adorable little hearts.
On Book Riot
This week's SFF Yeah! is about historical sci-fi and fantasy.
5 YA Sci-Fi and Fantasy Novels That Tackle Climate Change
Free Association Friday
Happy… 31st anniversary of Ted Bundy being given the chair? A little yikes, a little grim, but it's a good prompt for looking at SFF that blends with the (mostly murder) mystery.
Servant of the Underworld by Aliette de Bodard – You might think that a priestess showing up covered in blood in the Aztec Empire, which runs on human sacrifice, would not be a big deal. But you'd be wrong, and Acatl, High Priest of the Dead, is called on to investigate this little problem. That turns into a much deeper, bigger problem than anyone could have expected, involving politics and magic. This is the start of a series of Aztec noir mysteries.
The Killing Moon by N.K. Jemisin – In Gujaareh, priests of the dream-goddess harvest magic from sleepers that dream and use it to heal, keep the peace… and kill if necessary. But someone begins to murder the dreamers of Gujaareh, and the Gatherer Ehiru finds himself called on to not only protect a woman he was sent to kill, but unwind the dark cause of these deaths.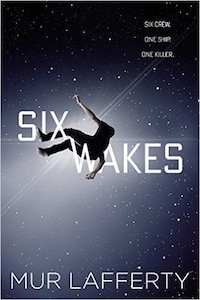 Six Wakes by Mur Lafferty – It's still murder, even if it's a clone. Maria wakesand her six crew mates wake up in blood-streaked clone vats on a spaceship with no memories of how they died… which is bad, actually, since that means there something worse than a simple mass murder going on. Each of the seven crew members has a secret, and each of them could very well be the killer…
The Ark by Patrick S. Tomlinson – On a generation ship that's within spitting distance of its destination, being the Chief of Police is basically a symbolic role for former sports hero Bryan Benson because there isn't any crime. Until a crew member goes missing, and then Bryan has to solve a locked room mystery… where the room is an impossibly massive spaceship.
The Last Policeman by Ben H. Winters – Detective Hank Palace has decided to investigate the apparent suicide of a depressed man as a potential homicide… despite the planet-killing asteroid that's bearing down on Earth, promising to end all life in six months.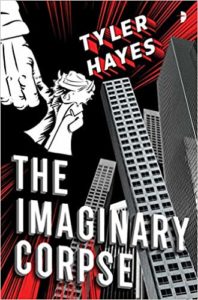 The Imaginary Corpse by Tyler Hayes – Ideas that people love a lot become Real… but where do they go when the people who had them no longer need them? They live in the Imagination, a strange and at times Toon-Town-esque place where they all try to make a new life. One of these Ideas is Tippy the Triceratops, who is filled with Detective Stuff… and his Stuff gets a workout when someone in Imagination decides that murder is a great idea, too.
Honorable Mention: Jade City by Fonda Lee – It's not so much a murder mystery, where a good person wants to solve the crime and stop the bad person–rather it's that close cousin, the crime novel. This book is basically about the mafia in magical not-China–and there is a murder that happens. Plus it's fun as heck.
---
See you, space pirates. You can find all of the books recommended in this newsletter on a handy Goodreads shelf. If you'd like to know more about my secret plans to dominate the seas and skies, you can catch me over at my personal site.