Sponsored by Love Her or Lose Her by Tessa Bailey, published by Avon Books.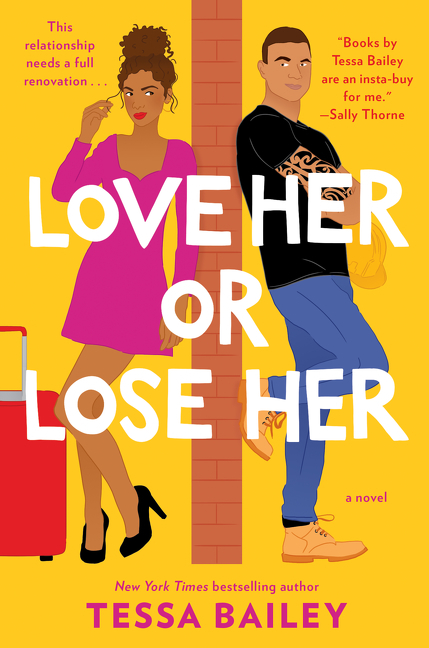 New York Times bestselling author Tessa Bailey returns with a sexy romantic comedy about a young married couple whose rocky relationship needs a serious renovation… Rosie and Dominic Vega used to be the perfect couple. Now Rosie's lucky to get a grunt from the ex-soldier every time she walks in the door. Dom is faithful and a great provider, but the man she fell in love with is nowhere to be found. When her girlfriends encourage Rosie to demand more out of life and pursue her dreams, she decides to demand more out of love, too. Three words: marriage boot camp.
It's Thursday and the world still turns. I've started keeping a desk calendar and daily to-do list at home in hopes that I will be just as productive on my couch as I am at my desk. And I've been adding books to my Reading Log when I start them, so I'm not scratching my head as I count backwards, trying to remember when I picked something up or started listening in the car. Have you been working on any ways to keep track of your reading or homework?
Anyway, let's talk about stuff.
News and Useful Links
Courtney Milan sent a hell of a letter to RWA asking for one thing in return for her settling all claims she might have against the organization: complete transparency.
If you want to laugh, cry, and wonder how the heck an organization could skip over buying that domain, behold.
Carina Adores is coming! They've announced the first four books that will be coming out this summer. The line will focus on short novels focused on LGBTQ+ protagonists written by people who share those identities.
The title of this upcoming Kwana M. Jackson book is all you need.
Did you see the cover reveal and process conversation for Stephanie Burgis's Moontangled on Love in Panels? It's fascinating.
And hide your wallet before you open this.
Over on Book Riot
Dana did the work for us in collecting some great wlw romances.
Natalya gave us another one of those hide-your-wallet lists featuring 12 romance authors we should all be reading.
If you're looking to read more litfic this year (or just listen to people talk about it), Book Riot has a new podcast! It's called Novel Gazing, and they're going to talk all things literary fiction.
While it covers more than romance, you should definitely check out the Most Anticipated Books of 2020 list. There are some good ones on there that you should definitely make sure you add to your TBR!
Did you know you could compare your Goodreads reading with a friend?
And Trisha and I did our best.
Deals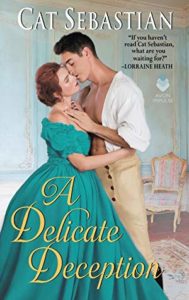 Have you read Cat Sebastian's A Delicate Deception yet? I promise not to bug you about it every time, but it's really the best. It's 3.99 on Kindle right now, and is also 3.99 if you preorder the mass market paperback. The last book in the Regency Impostors series (as far as I know), this is a heartwrenching book about two people who discover the importance of found family while falling in love and dealing with their anxiety. Did I mention that while this is a m/f romance, both of them are queer? Just wonderful.
New Books
The year is ramping up, and so are the releases! I haven't read any of them yet because I am a failure!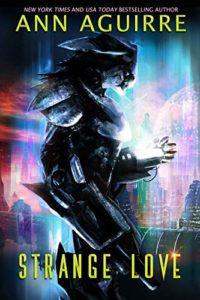 Strange Love
Ann Aguirre
Ann Aguirre is really the best at putting words together to make us want to read her longer strings of words, and she describes this one as "the Bachelor meets The Hunger Games with bonus alien abduction" so I'm ready. There is also apparently a talking dog! I said I wanted to read more science fiction romance and Ms. Aguirre has delivered for me.
My Nora
Holley Trent
(rerelease)
When artist Manora moves to a rural town in Eastern North Carolina, she hopes to be able to focus on her work and avoid the locals. When she discovers definite potential with her neighbor, she resists getting into another relationship. It's her last one that got her into this mess in the first place. So she keeps pushing the man away, and you know what happens there with a Holley Trent story. Also, this one is 99 cents at the time of writing. You should definitely check it out.
Wolf Gone Wild
Juliette Cross
Hashtag-More-Werewolves-2020! Mateo hasn't been able to shift for months, so he goes to a powerful witch, convinced he's cursed. Do you really need to know more about this one?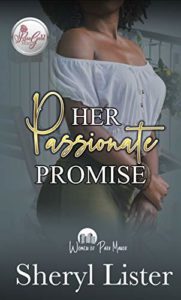 Her Passionate Promise
Sheryl Lister
This is one of several books subtitled "Women of Park Manor" that was released recently, and I'm super curious about how they're connected. Many of the authors are names that I'm familiar with, either from publishing several lines with Kimani or from other outlets. But the others, including Her Little Secret by Elle Wright and Her Forbidden Fantasy by Angela Seals, were all released at the same time.
There are a couple more I'm looking forward to picking up, like Brenda Jackson's Husband Material (which is apparently a rerelease) and The Inheritance by Ali Vali. But the books keep coming (and they keep on coming) so I have to figure out the best way to stop.
What are you reading this weekend?
As usual, catch me on Twitter @jessisreading or Instagram @jess_is_reading, or send me an email at wheninromance@bookriot.com if you've got feedback, bookrecs, or just want to say hi!