Sponsored by Chicago Review Press.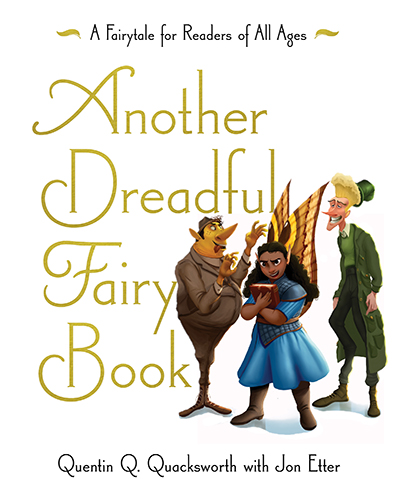 In this sequel to A Dreadful Fairy Book, Shade's pleasant life in the magical Grand Library of Elfame is threatened when the Grand Scrutinizer of the Ministry of Ordinariness, Averageness, and Normalcy (M.O.A.N.) decides that the library poses a danger to the "moral climate" of the fairy lands. Shade, unfortunately, has little time to deal with that when she discovers that her late father belonged to a secret society of book guardians. Taking up her father's mission, Shade ventures forth to find and unite the other members and retrieve a treasure trove of rare books.
Hello readers!
Children's books rock, don't they? I was reminded of this the other day when I witnessed a small reader be so overwhelmed with love for a book that they couldn't quite speak. Reader, they shone. I felt so privileged to have witnessed it.
Here's hoping that some of today's picks can help make that moment  happen for you and your readers.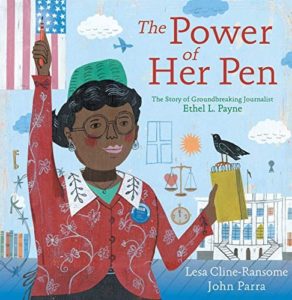 The Power of Her Pen by Lesa Cline-Ransome and John Parra
It's never too early to talk to children about media because as consumers and creators, we should all know about what goes into a story and the people who tell it. Ethel L. Payne is one such figure and this is a quietly confident biography of her journey all the way to reporting at the White House.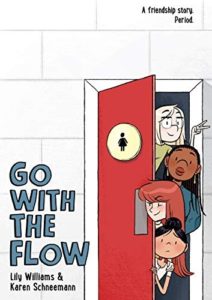 Go With The Flow by Lily Williams and Karen Schneeman.
A middle grade graphic novel dealing with menstruation, empowerment, and girls finding their voice? Yes please! Menstruation is still a rarely spoken about topic in children's books (I keep a reading list of titles that do mention it and trust me, the references are rare!) and so I was thrilled to come across Go With The Flow with its palette of rich reds and promise of revolution. A good book. Period.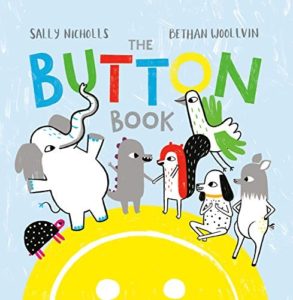 The Button Book by Sally Nicholls and Bethan Woollvin
I have a lot of time for what Sally Nicholls does and this is a treat. A group of animals have discovered a collection of buttons – and the only thing to do with a button is to press it! These buttons are for tickling, clapping, sleepy-time and so much more… Woollvin's classy and delightfully individual illustrations complement the nicely judged text throughout.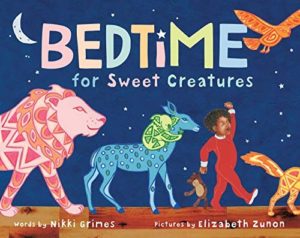 Bedtime for Sweet Creatures by Nikki Grimes, pictures by Elizabeth Zunon
'No! No!'
You beat the word like a drum the minute I say, 'Come, sweet creature. It's bedtime..
Mommy needs her baby boy to sleep, but he doesn't want to. It's down to her to make bedtime happen and Nikki Grimes makes it a beautiful and magical thing. Her poetry is rich, loving and frankly divine and  Elizabeth Zunon's illustrations form an evocative counterpoint to the beautiful rhythm of this bedtime read. This is one to embed in your lives.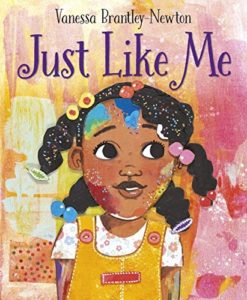 Just Like Me by Vanessa Brantley-Newton
This had me at that cover. It had me more when I discovered it's a collection of poetry that celebrates girlhood in all her shapes and sizes. The artwork practically leaps off the page, and readers will be able to find a poem that resonates with themselves. This is a book that celebrates being who you are in whatever shape that may be.
And that's a perfect note to end this newsletter on! I'll be back next week with more picks for you. In the meantime, you can find me posting love letters to the Moomins on social media @chaletfan. Please say hi! I love to hear about what you and your kids are reading!
I'm also one of the hosts of Novel Gazing – a podcast devoted to the world of literary fiction. Our upcoming episode sees Mary Kay and I talk about whether Harry Potter can be considered literary fiction…
See you next time!
Louise.