Sponsored by Book Riot Insiders, the exclusive digital hangout for the Book Riot community.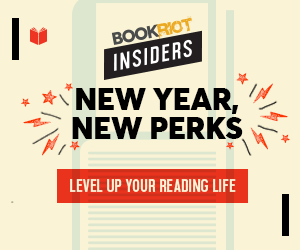 It's a new year, and that means new perks. We've sweetened the current Short Story and Novel levels and introduced a brand new Epic level, and you can try any level out for free for two weeks! The highlight is our new group read, available to all Epic members — and there's no cap on Epic, so the more the merrier. Each quarter we'll read a book, voted on by Epic subscribers, that will fulfill at least one task of the 2020 Read Harder Challenge, and cap off our read-along with a live chat. But wait, there's more! Get the full details on this and all the other perks, and sign up at insiders.bookriot.com.
Welcome to another Tuesday, readers! We are already knee-deep in the great books coming our way this year. I spent a lovely weekend reading. It was sunny and in the low 60s here in Maine, but as I write this, it is now 32 and snowing. MoThEr NaTuRe, wHat r U dOiNg???
I am also making my way through the show Bones. I'm almost done with the second season. It's relighting my crime fire, and now all I want to read are creepy mystery novels and true crime stories. (But wait five minutes, I'll be fascinated with something else, LOL.)
But back to books! I have a few fun ones today, and you can hear about even more new books coming out on this week's episode of the All the Books! Kelly and I discussed several upcoming books that we're excited to read, including Uncanny Valley, We Wish You Luck, The Missing American, and more!
And now, it's time for everyone's favorite gameshow: AHHHHHH MY TBR! Here are today's contestants: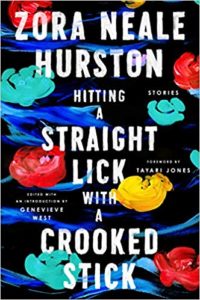 Hitting a Straight Lick with a Crooked Stick: Stories from the Harlem Renaissance by Zora Neale Hurston
Hot on the heels of the publication of Hurston's unpublished manuscript, Barracoon, comes a story collection that features eight "lost" Harlem Renaissance tales. Hurston is considered one of the most influential American writers. These stories were written during her time as the only Black student at Barnard College. Fans or newbies to her work are sure to appreciate these century-old stories of racism, class, love, and sexism. I will not say I loved everything in this book, but I think it is a privilege to hear once again from such an important voice.
Backlist bump: Barracoon: The Story of the Last "Black Cargo" by Zora Neale Hurston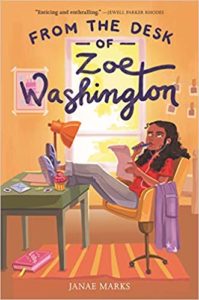 From the Desk of Zoe Washington by Janae Marks
This is a charming debut middle grade mystery. Zoe Washington loves to bake. She has an internship at a bakery and hopes to one day audition for Food Network's Kids Bake Challenge. But when she receives a letter from the father she has never met, it changes everything. Zoe has never heard from her father, and now after 12 years, he is writing from prison to tell her he was locked up for a crime he didn't commit. Zoe thinks she can help, and begins investigating the crime while trying to juggle her baking. But as she searches for clues, she has to face one possibility: is her father really telling her the truth? Zoe is a wonderful, headstrong character, and this novel is an excellent read that will help kids (and adults) learn about racism, wrongful convictions, friendship, and family.
Backlist bump: Front Desk by Kelly Yang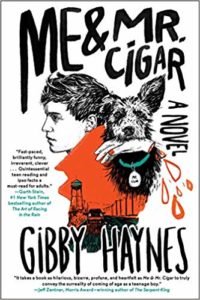 Me and Mr. Cigar by Gibby Haynes
You know I never like to detract from a book's awesomeness, but it has to be said: This book is not going to be for everyone. But I mean that in the nicest way! Haynes is the frontman of the hardcore psychedelic-punk band The Butthole Surfers, and I was seriously surprised when I heard he was writing a YA novel. I knew it would be out there, and this book did not disappoint. But be warned that it is really weird and surreal. It's a mind-bendy, coming-of-age novel about a boy named Oscar and his dog, Mr. Cigar. Oscar's home life is not great since his father died and Mr. Cigar bit off his sister's hand. (Yep, you read that right.) Mr. Cigar is a supernatural dog, and he comforts Oscar through some tough times. And now he's going to help Oscar rescue his sister, who calls and says she's been kidnapped.
No amount of description here is going fully explain this book, so you'll have to take my word that if you're ready for a WTF experience, kinda like J.D. Salinger and Thomas Pynchon had a baby, then this is the book for you. Being a Gibby Haynes fan, it is exactly what I expected from him, and I loved it! (Heads up that something bad happens to Mr. Cigar at the beginning of the book, and there are a lot of references to drugs.)
But, seriously, it's weird.
Backlist bump: Bleeding Violet by Dia Reeves
You made it to the bottom! Thanks for reading.
xx,
Liberty