Sponsored by Penguin Teen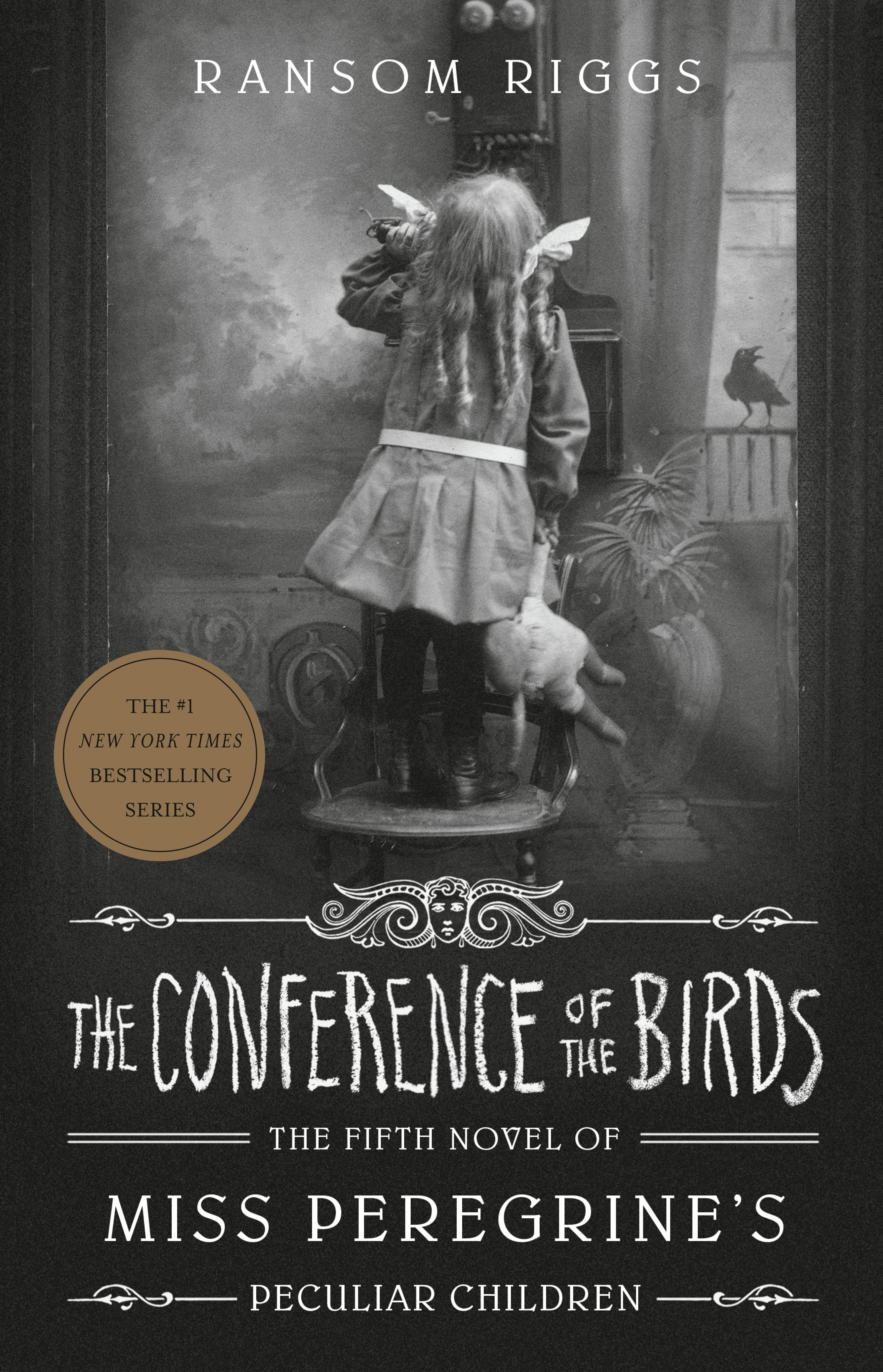 "Do you trust me?" An instant bestseller, A Map of Days launched readers into the previously unexplored world of American peculiars, one bursting with new questions, new allies, and new adversaries. Now, with enemies behind him and the unknown ahead, Jacob Portman's story continues as he takes a brave leap forward into The Conference of the Birds, the next installment of the beloved, bestselling Miss Peregrine's Peculiar Children series.
Hey YA Readers!
As we launch into a new year of exciting new YA books, let's take a moment to look at some of the new series that will be starting in the first few months of the year.
These are new series and the beginnings of new tales, fantastical, sci-fi, and more. The only downside to a new series, of course, is that you'll be waiting a bit for the sequels. But you also get some bragging rights for discovering these awesome stories first.
As a reader dedicated to only reading series when every book has been published, I'm relying here on descriptions from the publisher because, well, these aren't complete series.
Set in a kingdom where danger lurks beneath the sea, mermaids seek vengeance with song, and magic is a choice, Adalyn Grace's All the Stars and Teeth is a thrilling fantasy for fans of Stephanie Garber's Caraval and Sarah J. Maas's Throne of Glass series.
She will reign.
As princess of the island kingdom Visidia, Amora Montara has spent her entire life training to be High Animancer―the master of souls. The rest of the realm can choose their magic, but for Amora, it's never been a choice. To secure her place as heir to the throne, she must prove her mastery of the monarchy's dangerous soul magic.
When her demonstration goes awry, Amora is forced to flee. She strikes a deal with Bastian, a mysterious pirate: he'll help her prove she's fit to rule, if she'll help him reclaim his stolen magic.
But sailing the kingdom holds more wonder―and more peril―than Amora anticipated. A destructive new magic is on the rise, and if Amora is to conquer it, she'll need to face legendary monsters, cross paths with vengeful mermaids, and deal with a stowaway she never expected… or risk the fate of Visidia and lose the crown forever.
I am the right choice. The only choice. And I will protect my kingdom.
Blood Countess by Lana Popovic (January 28)
In 17th century Hungary, Anna Darvulia has just begun working as a scullery maid for the young and glamorous Countess Elizabeth Báthory. When Elizabeth takes a liking to Anna, she's vaulted to the dream role of chambermaid, a far cry from the filthy servants' quarters below. She receives wages generous enough to provide for her family, and the Countess begins to groom Anna as her friend and confidante. It's not long before Anna falls completely under the Countess's spell—and the Countess takes full advantage. Isolated from her former friends, family, and fiancé, Anna realizes she's not a friend but a prisoner of the increasingly cruel Elizabeth. Then come the murders, and Anna knows it's only a matter of time before the Blood Countess turns on her, too.
Infinity Son by Adam Silvera (January 14)
Growing up in New York, brothers Emil and Brighton always idolized the Spell Walkers—a vigilante group sworn to rid the world of specters. While the Spell Walkers and other celestials are born with powers, specters take them, violently stealing the essence of endangered magical creatures.
Brighton wishes he had a power so he could join the fray. Emil just wants the fighting to stop. The cycle of violence has taken a toll, making it harder for anyone with a power to live peacefully and openly. In this climate of fear, a gang of specters has been growing bolder by the day.
Then, in a brawl after a protest, Emil manifests a power of his own—one that puts him right at the heart of the conflict and sets him up to be the heroic Spell Walker Brighton always wanted to be.
Brotherhood, love, and loyalty will be put to the test, and no one will escape the fight unscathed.
Will the princess save the beast?
For Princess Jaya Rao, nothing is more important than family. When the loathsome Emerson clan steps up their centuries-old feud to target Jaya's little sister, nothing will keep Jaya from exacting her revenge. Then Jaya finds out she'll be attending the same elite boarding school as Grey Emerson, and it feels like the opportunity of a lifetime. She knows what she must do: Make Grey fall in love with her and break his heart. But much to Jaya's annoyance, Grey's brooding demeanor and lupine blue eyes have drawn her in. There's simply no way she and her sworn enemy could find their fairy-tale ending…right?
His Lordship Grey Emerson is a misanthrope. Thanks to an ancient curse by a Rao matriarch, Grey knows he's doomed once he turns eighteen. Sequestered away in the mountains at St. Rosetta's International Academy, he's lived an isolated existence—until Jaya Rao bursts into his life, but he can't shake the feeling that she's hiding something. Something that might just have to do with the rose-shaped ruby pendant around her neck…
As the stars conspire to keep them apart, Jaya and Grey grapple with questions of love, loyalty, and whether it's possible to write your own happy ending.
When Amaya rescues a mysterious stranger from drowning, she fears her rash actions have earned her a longer sentence on the debtor ship where she's been held captive for years. Instead, the man she saved offers her unimaginable riches and a new identity, setting Amaya on a perilous course through the coastal city-state of Moray, where old-world opulence and desperate gamblers collide. Amaya wants one thing: revenge against the man who ruined her family and stole the life she once had. But the more entangled she becomes in this game of deception-and as her path intertwines with the son of the man she's plotting to bring down-the more she uncovers about the truth of her past. And the more she realizes she must trust no one?
Packed with high-stakes adventure, romance, and dueling identities, this gender-swapped retelling of The Count of Monte Cristo is the first novel in an epic YA fantasy duology, perfect for fans of Sarah J. Maas, Sabaa Tahir, and Leigh Bardugo.
An unforgettable alternative history fairytale series from the author of The Bone Witch trilogy about found family, modern day magic, and finding the place you belong.
Many years ago, the magical Kingdom of Avalon was left desolate and encased in ice when the evil Snow Queen waged war on the powerful country. Its former citizens are now refugees in a world mostly devoid of magic. Which is why the crown prince and his protectors are stuck in…Arizona.
Prince Alexei, the sole survivor of the Avalon royal family, is in hiding in a town so boring, magic doesn't even work there. Few know his secret identity, but his friend Tala is one of them. Tala doesn't mind―she has secrets of her own. Namely, that she's a spellbreaker, someone who negates magic.
Then hope for their abandoned homeland reignites when a famous creature of legend, and Avalon's most powerful weapon, the Firebird, appears for the first time in decades. Alex and Tala unite with a ragtag group of new friends to journey back to Avalon for a showdown that will change the world as they know it.
---
Thanks for hanging out, and we'll see you later this week!
— Kelly Jensen, @heykellyjensen on Instagram and editor of (Don't) Call Me Crazy and Here We Are.