Sponsored by Paula Chase.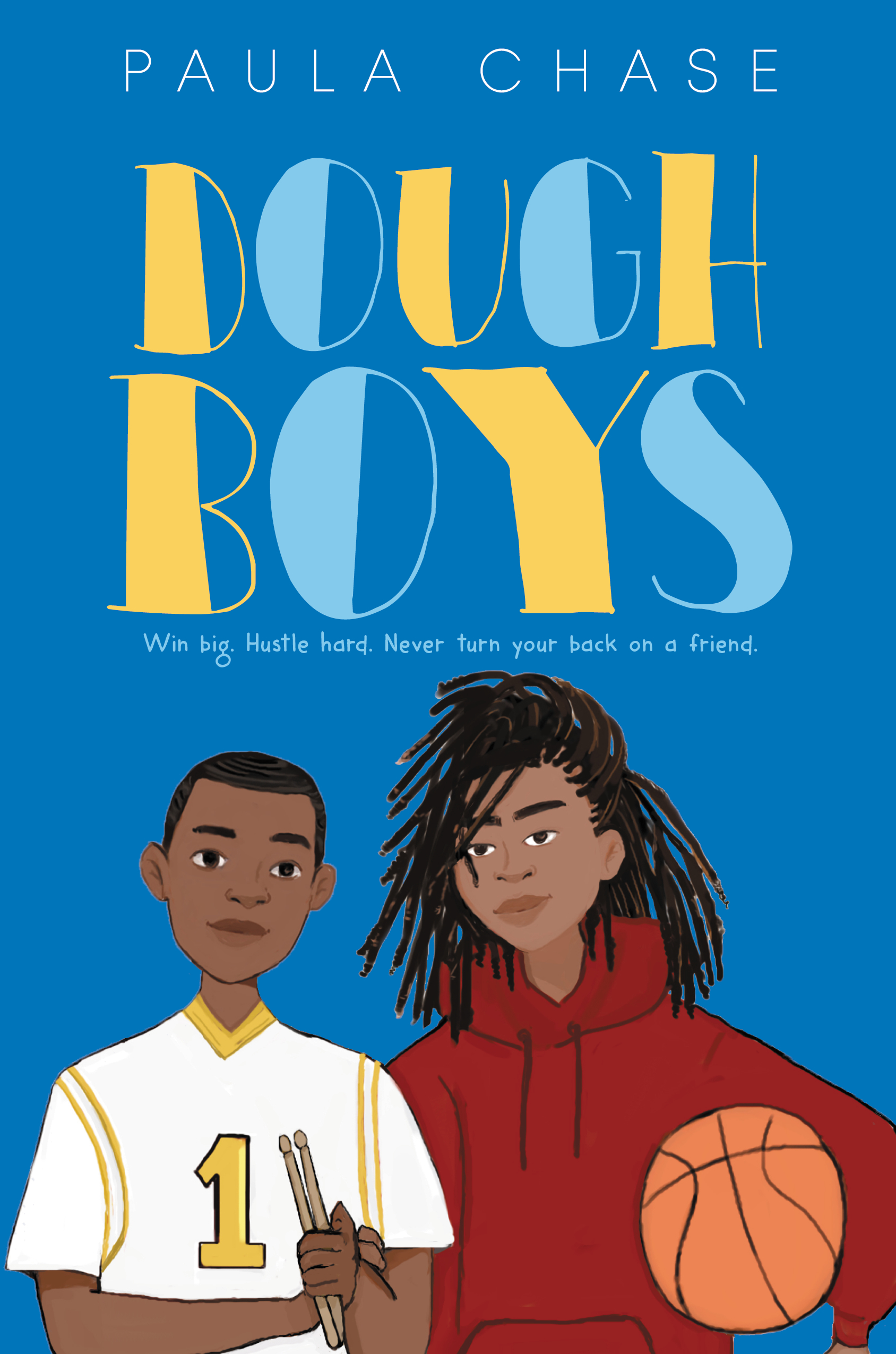 In the companion to her acclaimed So Done, Paula Chase follows Simp and Rollie as their friendship is threatened by the pressures of basketball, upcoming auditions, middle school, and their growing involvement in a neighborhood drug operation. Dough Boys is a memorably vivid story about the complex friendship between two African American boys whose lives are heading down very different paths. Full of basketball, family, and daily life in The Cove, a low-income housing project, this universal story is perfect for fans of Jason Reynolds's Track series, Jewell Parker Rhodes's Ghost Boys, and Renée Watson.
Hi Kid Lit Friends,
It's Karina, back for another list of upcoming books I'm excited about! You all know that I have a soft spot for middle grade books, so I'm particularly excited about this list.
One housekeeping note: After two and a half years and over 200 newsletters, it is time for me to take a little break from newsletter writing! I am happy to announce that I am now sharing the writing of this twice-a-week newsletter with my Book Riot colleague, Louise Johnson. She'll be covering the new release newsletter on Tuesdays, and I'll continue to send out themed book lists on Sundays. We look forward to bringing you lots of great children's book coverage this year!
All right, on to the middle grade fiction books I'm excited about for the first half of 2020!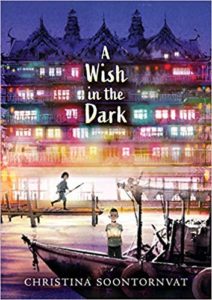 A Wish in the Dark by Christina Soontornvat (Candlewick, 3/24/20)
All light in Chattana is created by one man — the Governor, who appeared after the Great Fire to bring peace and order to the city. For Pong, who was born in Namwon Prison, the magical lights represent freedom, and he dreams of the day he will be able to walk among them. But when Pong escapes from prison, he realizes that the world outside is no fairer than the one behind bars. The wealthy dine and dance under bright orb light, while the poor toil away in darkness. Worst of all, Pong's prison tattoo marks him as a fugitive who can never be truly free. Nok, the prison warden's perfect daughter, is bent on tracking Pong down and restoring her family's good name. But as Nok hunts Pong through the alleys and canals of Chattana, she uncovers secrets that make her question the truths she has always held dear. Set in a Thai-inspired fantasy world, Christina Soontornvat's twist on Victor Hugo's Les Misérables is a dazzling, fast-paced adventure that explores the difference between law and justice — and asks whether one child can shine a light in the dark.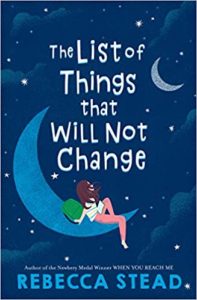 The List of Things that Will Not Change by Rebecca Stead (Wendy Lamb Books, 4/7/2020)
After her parents' divorce, Bea's life became different in many ways. But she can always look back at the list she keeps in her green notebook to remember the things that will stay the same. The first and most important: Mom and Dad will always love Bea, and each other. When Dad tells Bea that he and his boyfriend, Jesse, are getting married, Bea is thrilled. Bea loves Jesse, and when he and Dad get married, she'll finally (finally!) have what she's always wanted–a sister. Even though she's never met Jesse's daughter, Sonia, Bea is sure that they'll be "just like sisters anywhere." As the wedding day approaches, Bea will learn that making a new family brings questions, surprises, and joy.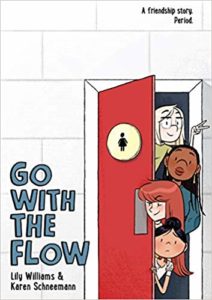 Go With The Flow by Lily Williams and Karen Schneemann (First Second, 1/14/2020)
Sophomores Abby, Brit, Christine, and Sasha are fed up. Hazelton High never has enough tampons. Or pads. Or adults who will listen. Sick of an administration that puts football before female health, the girls confront a world that shrugs―or worse, squirms―at the thought of a menstruation revolution. They band together to make a change. It's no easy task, especially while grappling with everything from crushes to trig to JV track but they have each other's backs. That is, until one of the girls goes rogue, testing the limits of their friendship and pushing the friends to question the power of their own voices.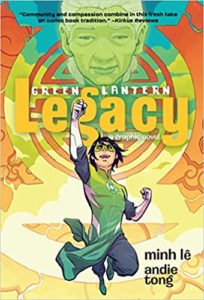 Green Lantern Legacy by Minh Le, art by Andie Tong (DC Zoom, 1/21/2020)
Thirteen-year-old Tai Pham lives in the apartment above his grandmother's store, where his bedroom is crammed with sketchpads and comic books. But not even his most imaginative drawings could compare to the colorful adventure he's about to embark on. When Tai inherits his grandmother's jade ring, he soon finds out it's more than just a piece of jewelry. Suddenly he's inducted into a group of space cops known as the Green Lanterns. He is about to learn that being a superhero takes more than just a ring. Does Tai have the willpower and the imigination to uphold his ba's legacy.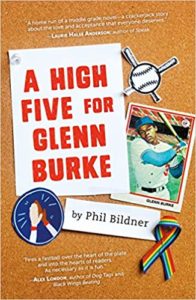 A High Five for Glenn Burke by Phil Bildner (FSG, 2/25/2020)
When sixth grader Silas Wade does a school presentation on former Major Leaguer Glenn Burke, it's more than just a report about the irrepressible inventor of the high five. Burke was a gay baseball player in the 1970s―and for Silas, the presentation is his own first baby step toward revealing a truth about himself he's tired of hiding. Soon he tells his best friend, Zoey, but the longer he keeps his secret from his baseball teammates, the more he suspects they know something's up―especially when he stages one big cover-up with terrible consequences.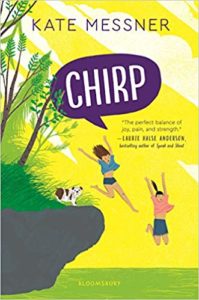 Chirp by Kate Messner (Bloomsbury, 2/4/2020)
When Mia moves to Vermont the summer after seventh grade, she's recovering from the broken arm she got falling off a balance beam. And packed away in the moving boxes under her clothes and gymnastics trophies is a secret she'd rather forget. Mia's change in scenery brings day camp, new friends, and time with her beloved grandmother. But Gram is convinced someone is trying to destroy her cricket farm. Is it sabotage or is Gram's thinking impaired from the stroke she suffered months ago? Mia and her friends set out to investigate, but can they uncover the truth in time to save Gram's farm? And will that discovery empower Mia to confront the secret she's been hiding–and find the courage she never knew she had?
Beginners Welcome by Cindy Baldwin (Harper, 2/11/2020)
It's been eighty-three days since Annie Lee's daddy died, but she still sees reminders of him everywhere. His record player mysteriously plays his favorite songs, there's shaving cream in the sink every morning, and the TV keeps flipping to the Duke basketball games he loved. She knows Mama notices it too, but Mama's been working around the clock to make ends meet. To make matters worse, Annie Lee's friends ditched her over the summer. She feels completely alone—until she meets Mitch. Though Mitch is tough and confident on the outside, she may need a friend just as badly as Annie Lee. But after losing so much, Annie Lee is afraid to let anyone get too close. And Mitch isn't the only friend trying to break through Annie Lee's defenses. Ray, an elderly pianist who plays at a local mall, has been giving her piano lessons. His music is pure magic, and Annie Lee hopes it might be the key to healing her broken heart. But when Ray goes missing, searching for him means breaking a promise to Mitch. Faced with once again losing those who mean the most to her, Annie Lee must make a choice: retreat back into her shell, or risk admitting how much she needs Mitch and Ray—even if it means getting hurt all over again.
Prairie Lotus by Linda Sue Park (Clarion, 3/3/2020)
Prairie Lotus is a powerful, touching, multilayered book about a girl determined to fit in and realize her dreams: getting an education, becoming a dressmaker in her father's shop, and making at least one friend. Acclaimed, award-winning author Linda Sue Park has placed a young half-Asian girl, Hanna, in a small town in America's heartland, in 1880. Hanna's adjustment to her new surroundings, which primarily means negotiating the townspeople's almost unanimous prejudice against Asians, is at the heart of the story. Narrated by Hanna, the novel has poignant moments yet sparkles with humor, introducing a captivating heroine whose wry, observant voice will resonate with readers.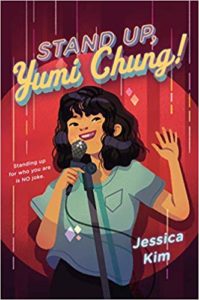 Stand Up, Yumi Chung! by Jessica Kim (Kokila, 3/17/2020)
On the outside, Yumi Chung suffers from #shygirlproblems, a perm-gone-wrong, and kids calling her "Yu-MEAT" because she smells like her family's Korean barbecue restaurant. On the inside, Yumi is ready for her Netflix stand-up special. Her notebook is filled with mortifying memories that she's reworked into comedy gold. All she needs is a stage and courage. Instead of spending the summer studying her favorite YouTube comedians, Yumi is enrolled in test-prep tutoring to qualify for a private school scholarship, which will help in a time of hardship at the restaurant. One day after class, Yumi stumbles on an opportunity that will change her life: a comedy camp for kids taught by one of her favorite YouTube stars. The only problem is that the instructor and all the students think she's a girl named Kay Nakamura–and Yumi doesn't correct them. As this case of mistaken identity unravels, Yumi must decide to stand up and reveal the truth or risk losing her dreams and disappointing everyone she cares about.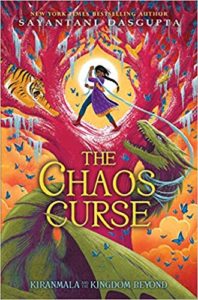 The Chaos Curse by Sayantani DasGupta (Scholastic, 3/3/2020)
Kiranmala must leave the Kingdom Beyond and travel to her hometown of Parsippany to save Prince Lal, who has been spirited to the unlikeliest of places — a tree in the yard of her best-enemy-for-life. She also faces evil serpents (of course!), plus a frightening prophecy about her role in the coming conflict between good and evil. Most troubling of all, though, is the way reality all around her seems to waver and flicker at odd moments. Could it be that the Anti-Chaos Committee's efforts are causing a dangerous disruption in the multiverse?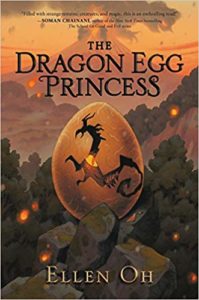 The Dragon Egg Princess by Ellen Oh (Harper, 3/3/2020)
In a kingdom filled with magic, Jiho Park and his family are an anomaly—magic doesn't affect them. Jiho comes from a long line of forest rangers who protect the Kidahara—an ancient and mysterious wood that is home to powerful supernatural creatures. But Jiho wants nothing to do with the dangerous forest. Five years ago, his father walked into the Kidahara and disappeared. Just like the young Princess Koko, the only daughter of the kingdom's royal family. Jiho knows better than anyone else the horrors that live deep in the magical forest and how those who go in never come back. Now the forest is in danger from foreign forces that want to destroy it, and a long-forgotten evil that's been lurking deep in the Kidahara for centuries finally begins to awaken. Can a magic-less boy, a fierce bandit leader, and a lost princess join forces and save their worlds before it's too late?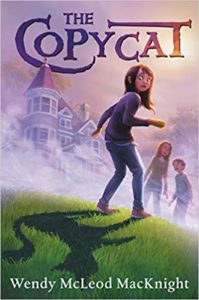 The Copycat by Wendy McLeod MacKnight (Harper, 3/10/2020)
Ali and her parents have moved at least once a year for as long as Ali can remember. She's attended six different schools, lived in dozens of apartments, and never really felt at home anywhere. But Ali's parents say living in Saint John, New Brunswick, will be different. They've moved in with Ali's great-grandmother―a lively ninety-nine-year-old with a quirky old house and room for all of them. Ali wants to believe it will be their last move, but everything seems too perfect to be true. To Ali's surprise, things are different this time, but not in the way she'd hoped. She's inherited the Sloane family power―the ability to change her appearance into any living thing. Ali is a Copycat. Literally. And being the new kid at school is hard enough without worrying about turning into your teacher. Luckily, Ali's new friends are eager to help. But as Ali soon learns, being a Copycat is no substitute for being yourself.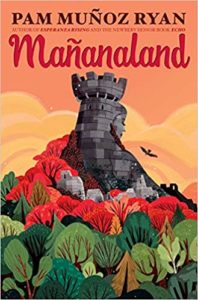 Mananaland by Pam Munoz Ryan (Scholastic, 3/3/2020)
Maximiliano Córdoba loves stories, especially the legend Buelo tells him about a mythical gatekeeper who can guide brave travelers on a journey into tomorrow. If Max could see tomorrow, he would know if he'd make Santa Maria's celebrated fútbol team and whether he'd ever meet his mother, who disappeared when he was a baby. He longs to know more about her, but Papá won't talk. So when Max uncovers a buried family secret–involving an underground network of guardians who lead people fleeing a neighboring country to safety–he decides to seek answers on his own. With a treasured compass, a mysterious stone rubbing, and Buelo's legend as his only guides, he sets out on a perilous quest to discover if he is true of heart and what the future holds.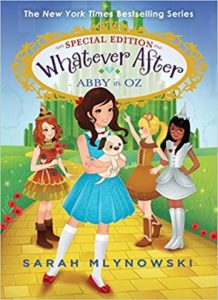 Abby in Oz (Whatever After Special Edition) by Sarah Mylnowski (Scholastic, 4/7/2020)
I'm with my best friends Robin and Frankie (and my sometimes friend, Penny) when a TORNADO scoops us up and whisks us away. As soon as we land, I can tell we're not in Smithville anymore — we've been transported into The Wonderful Wizard of Oz! We're excited to meet Dorothy and Toto . . . but the story isn't going as planned. The Wicked Witch of the East locks us in her dungeon, so we have no way of getting the magic slippers that will take Dorothy home. Plus, the Emerald City is under attack, and the Wizard himself may be in danger!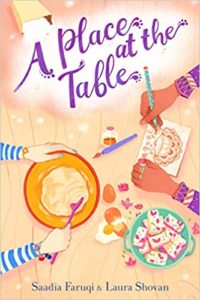 A Place at the Table by Saadia Faruqi and Laura Shovan (Clarion, 5/12/2020)
Sixth graders Sara and Elizabeth could not be more different. Sara is at a new school that is completely unlike the small Islamic school she used to attend. Elizabeth has her own problems: her British mum has been struggling with depression. The girls meet in an after-school South Asian cooking class, which Elizabeth takes because her mom has stopped cooking, and which Sara, who hates to cook, is forced to attend because her mother is the teacher. The girls form a shaky alliance that gradually deepens, and they make plans to create the most amazing, mouth-watering cross-cultural dish together and win a spot on a local food show. They make good cooking partners . . . but can they learn to trust each other enough to become true friends?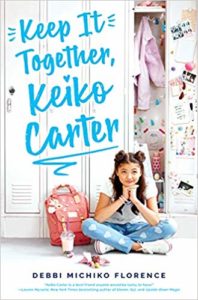 Keep It Together, Keiko Carter by Debbi Michiko Florence (Scholastic, 5/5/2020)
Seventh grade is supposed to be a game changer. And Keiko thinks she's got it covered, especially with Audrey and Jenna by her side to shop for a new look, pick out a prime lunch spot, and even hit up that cute new bubble tea place after school. Her trio is ready to tackle life as they always have… together. But when Audrey decides they need boyfriends before Fall Ball, it looks like things may be changing in all the wrong ways. Jenna is sick of caving in to Audrey's demands, and soon Keiko's besties are barely talking, leaving her caught in the middle. While she's been dreaming about triple-dates, first kisses, and a boy she really shouldn't have a crush on, the friendship she's always thought was rock-solid is beginning to crumble.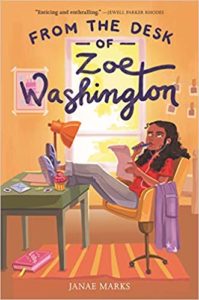 From the Desk of Zoe Washington by Janae Marks (Katherine Tegen Books, 1/14/2020)
Zoe Washington isn't sure what to write. What does a girl say to the father she's never met, hadn't heard from until his letter arrived on her twelfth birthday, and who's been in prison for a terrible crime? A crime he says he never committed. Could Marcus really be innocent? Zoe is determined to uncover the truth. Even if it means hiding his letters and her investigation from the rest of her family. Everyone else thinks Zoe's worrying about doing a good job at her bakery internship and proving to her parents that she's worthy of auditioning for Food Network's Kids Bake Challenge. But with bakery confections on one part of her mind, and Marcus's conviction weighing heavily on the other, this is one recipe Zoe doesn't know how to balance. The only thing she knows to be true: Everyone lies.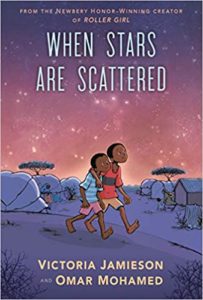 When Stars Are Scattered by Omar Mohamed and Victoria Jamieson (Dial, 4/14/2020)
Omar and his younger brother, Hassan, have spent most of their lives in Dadaab, a refugee camp in Kenya. Life is hard there: never enough food, achingly dull, and without access to the medical care Omar knows his nonverbal brother needs. So when Omar has the opportunity to go to school, he knows it might be a chance to change their future . . . but it would also mean leaving his brother, the only family member he has left, every day. Heartbreak, hope, and gentle humor exist together in this graphic novel about a childhood spent waiting, and a young man who is able to create a sense of family and home in the most difficult of settings.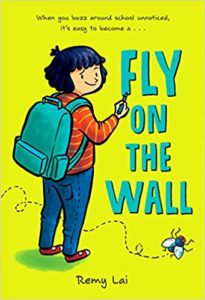 Fly on the Wall by Remy Lai (Henry Holt, 5/12/2020)
Henry Khoo's family treats him like a baby. He's not allowed to go anywhere without his sister/chaperone/bodyguard. His (former) best friend knows to expect his family's mafia-style interrogation when Henry's actually allowed to hang out at her house. And he definitely CAN'T take a journey halfway around the world all by himself! But that's exactly his plan. After his family's annual trip to visit his father in Singapore is cancelled, Henry decides he doesn't want to be cooped up at home with his overprotective family and BFF turned NRFF (Not Really Friend Forever). Plus, he's hiding a your-life-is-over-if-you're-caught secret: he's the creator of an anonymous gossip cartoon, and he's on the verge of getting caught. Determined to prove his independence and avoid punishment for his crimes, Henry embarks on the greatest adventure everrr. . . hoping it won't turn into the greatest disaster ever.
Mulan: Before the Sword by Grace Lin (Disney-Hyperion, 2/11/2020)
New York Times bestselling author Grace Lin pens this novel filled with adventure and wonder set before the upcoming Walt Disney Studios Mulan film.
What are you reading these days? I want to know! Find me on Twitter at @KarinaYanGlaser, on Instagram at @KarinaIsReadingAndWriting, or email me at KarinaBookRiot@gmail.com.
Until next time!
Karina
*If this e-mail was forwarded to you, follow this link to subscribe to "The Kids Are All Right" newsletter and other fabulous Book Riot newsletters for your own customized e-mail delivery. Thank you!*