Sponsored by Book Riot Insiders, the exclusive digital hangout for the Book Riot community.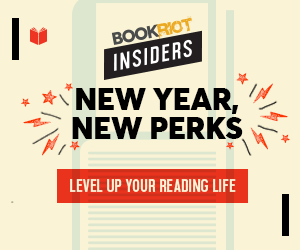 It's a new year, and that means new perks. We've sweetened the current Short Story and Novel levels and introduced a brand new Epic level, and you can try any level out for free for two weeks! The highlight is our new group read, available to all Epic members — and there's no cap on Epic, so the more the merrier. Each quarter we'll read a book, voted on by Epic subscribers, that will fulfill at least one task of the 2020 Read Harder Challenge, and cap off our read-along with a live chat. But wait, there's more! Get the full details on this and all the other perks, and sign up at insiders.bookriot.com.
Happy Thursday, inklings! We are in our first full week of 2020, and I have to say that book-wise, it's going great. I have read several books that I have enjoyed, and I am ! I am also back on my SG-1 kick, which I watch while I peruse the publishers' catalogs in search of interesting upcoming books. It's a whole lot of nerdy happiness going on at once.
Even though I am only on season one of SG-1 still, I am already trying to decide what to watch next. Perhaps the new BBC adaptation of Dracula? Or maybe I'll rewatch Farscape or Stargate: Atlantis. Or maybe it's time to finally check out The Magicians or Lucifer. Or am I brave enough to start Supernatural?!? That's a 12-season show! It's a good thing I don't have this problem when it comes to choosing books.
Whatever you are doing or watching or reading this week, please remember to be kind to yourself and others. I'll see you again on Monday! – xoxo, Liberty
Trivia question time! What word did Robert A. Heinlein introduce into the English language? (Scroll to the bottom for the answer.)
Deals, Reals, and Squeals!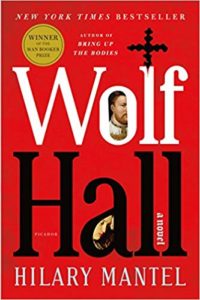 Henry Holt revealed the cover for The Mirror & the Light, the final book in Hilary Mantel's Wolf Hall trilogy.
Stacey Abrams is writing a book on voter suppression.
Melissa McCarthy will star with Nicole Kidman in Nine Perfect Strangers.
Jonathan Van Ness is writing a children's book about a nonbinary guinea pig.
Candice Carty-Williams will be the Guardian's new books columnist.
Ryan T. Higgins announced his upcoming picture book: We Will Rock Our Classmates.
Tor.com revealed the cover for Drowned Country by Emily Tesh, the follow-up to Silver in the Wood.
Robert Aramayo, who played the younger version of Ned Stark in Game of Thrones, has joined the cast of the upcoming series based on J.R.R. Tolkien's Middle-earth.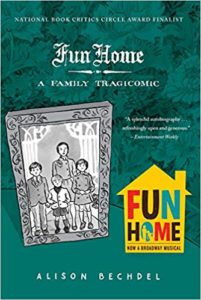 Jake Gyllenhaal will produce and star in a movie musical adaptation of Fun Home.
Here's the first look at Without Remorse, the Tom Clancy adaptation starring Michael B. Jordan and Jodie Turner-Smith.
Gwenda Bond announced her new two-book deal for her upcoming rom-coms.
Book Riot Recommends
At Book Riot, I work on the New Books! email, the All the Books! podcast about new releases, and the Book Riot Insiders New Release Index. I am very fortunate to get to read a lot of upcoming titles, and learn about a lot of upcoming titles, and I'm delighted to share a couple with you each week so you can add them to your TBR! (It will now be books I loved on Mondays and books I'm excited to read on Thursdays. YAY, BOOKS!)
Excited to read: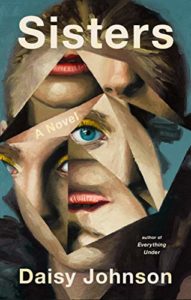 Sisters by Daisy Johnson (Riverhead Books, August 25)
I am excited to read this for three reasons:
1. Daisy Johnson is incredible. She is the youngest author ever shortlisted for the Man Booker Prize, for her first novel Everything Under. She also wrote the amazing short story collection Fen.
2. Riverhead Books rarely let me down.
3. I am always fascinated by books about sisters, since I don't know what it's like to have a sister.
What I'm reading this week.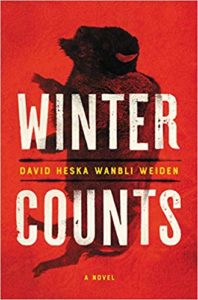 Winter Counts: A Novel by David Heska Wanbli Weiden
Parakeet: A Novel by Marie-Helene Bertino
Cork Dork: A Wine-Fueled Adventure Among the Obsessive Sommeliers, Big Bottle Hunters, and Rogue Scientists Who Taught Me to Live for Taste by Bianca Bosker
Widow Basquiat: A Love Story by Jennifer Clement
When We Were Vikings by Andrew David MacDonald
(I also started something else that is REALLY exciting, but I can't tell you what it is yet. #galleybrag)
And this is funny.
Song stuck in my head:
"Them Bones" by Alice in Chains
Trivia answer: He coined the term 'Grok' in his 1961 science-fiction novel Stranger in a Strange Land, which means "to understand intuitively or by empathy."
You made it to the bottom! High five. Thanks for reading! – xo, L