Sponsored by our $50 Barnes and Noble gift card giveaway! Enter here.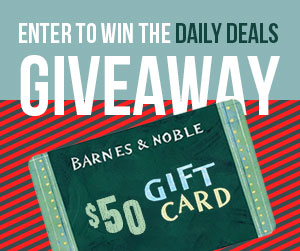 We're giving away a $50 Barnes and Noble gift card to one Riot reader. To enter, just click here and sign up for our Daily Deals email to get notified about the day's best book sales!
Happy New Year, Lovelies! I'm so looking forward to leaving 2019 behind. Though I have to admit: it was an amazing year in books! There were so many books I loved, books I wanted to throw at people, books I hope everyone else read and loved as much as I did (though every story is obviously YMMV). I hope everyone had a safe and meaningful holiday, and that you're ready for a new year of Kissing Books.
(Heads up, it's gonna be another extra long one!)
News and Useful Links
If you're on social media and follow me or other romance people, you might have seen the massive implosion of Romance Writers of America that started on the same day as my last newsletter. It was revealed that Courtney Milan, at the recommendation of an ethics committee ruling, had been heavily sanctioned by the Board of Directors for putting another author's career at risk. What had Courtney done? Called the author's book a "fucking racist mess" and pointed out legitimate reasons why. (Please note, I have not read the book in question, nor had I heard of the author in question before Courtney's twitter thread this past summer.) The author's associates, who also brought ethics charges against her, have documented history of racist actions and saying racist things for the whole world to see, but Courtney was the one who was slapped with penalties. RWA is the largest trade organization for romance writers in the world, I think, and they lost the trust of a lot of people. This wasn't the first thing that lit people's Spidey-senses, but it was definitely the last straw. Among other things, a lot of authors pulled their submissions for the RITAs. I've got a longer reaction piece coming out on the site soon, but if you want to read a complete rundown of what happened, here are a couple of different formats for you to get the information:
Speaking of Romance Sparks Joy. They pull together a tweet thread of things happening in Romancelandia every week, and this one's covers a LOT.
In happier news…
Cole McCade has a new two-book deal with Carina Adores!
If you've read Holley Trent's Writing Her In, you know a bit about series bibles, but did you know about this awesome person who makes them in real life?
Netflix's Virgin River (which was apparently number three on the rising watch charts the week it released?!) has been greenlit for a second season (and I am CHOMPING AT THE BIT WHERE IS IT I NEED IT NOW). If you haven't checked it out yet, definitely set aside some time. My intention the day after Christmas was to watch an episode while I had my lunch and then get back to my book. I am sad to tell you that there was no more reading done that day. None at all.
I also watched the adaptation of Sophie Kinsella's Can You Keep a Secret on HBO and it was ADORABLE. (Also, while the two leads—one of whom is Tyler Superman Hoechlin—are white, almost nobody else in the movie is. I was delighted by this casting decision!)
Do you like bingo-style challenges? Here's a great one to check out!
A less happy thing is that Bookstore Romance Day cut ties with RWA, who was a major sponsor of their efforts. They are now running a GoFundMe to recoup funding in order to put on as great a day as they did last year.
Looking forward, Jennifer Prokop wrote about 2020 romances she's looking forward to.
And here's one from Oprah Magazine (FYI, if you're like me and are like "where is the rest" it's a gallery :facepalm:).
I have no idea if I caught everything from the last ten days, but that's probably plenty to take in.
Over on Book Riot
Are you doing the Read Harder Challenge this year? I've started out every year since the challenge was created with the intention of completing it, and something always gets in the way. But I'm going to try to complete it this year (maybe even with books I own or have been meaning to read forever!). The easiest task for all of us is probably the romance one, but if you're looking for where to start with a romance starring a single parent, Trisha pulled a few together.
And Isabelle wrote this incredibly thoughtful piece about the types of happy endings she wants to see more broadly in the future.
Do you go to book festivals or conventions? You really should, if you can. (Not RWA though.)
Some published authors are pretty open about the fanfiction they used to write (or in some cases, still do).
And finally, don't forget to make a copy of your 2020 Reading Log!
Deals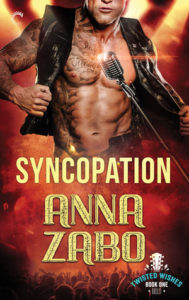 Syncopation by Anna Zabo is 1.99 right now! The first book in their Twisted Wishes series, this one features a second-chance (ish) romance between a frontman and the band's new drummer. This is also the first romance I ever read featuring an aromantic character, and the way Anna frames their love story (yes, that is possible) is just so good. And the rest of the series just gets better, so you'll want to check out Counterpoint and Reverb as well.
And if you haven't yet read one of my favorite novellas of 2019, Can't Escape Love by Alyssa Cole is 1.99. While it's a connector novella in the Reluctant Royals series, it's mostly one you can read on its own (though there are events related to those in A Duke By Default, so if you are planning to read that one, read it before picking up Can't Escape Love).
Recs and New Books!
Love Lettering
Kate Clayborn
If it seems like you can't escape this book, there's a reason. While I'd been meaning to pick up a Kate Clayborn book forever, I'm glad I started with this one.
Meg is a letterer in New York. While that once meant creating custom designs for wedding packages and greeting cards, she's found her niche making custom planners for New York's elite (aka people who can afford to live in NYC and still have expendable cash). She's finally gotten an offer for a massive project, but she's been feeling creatively blocked. When a hidden message in a wedding program comes back to bite her, it's the man who found it who helps her rekindle her creativity. Though Reid saw the sign that his getting married wasn't a good idea, he's yet to see the sign that New York is the place for him. And Meg is just the person to help him find it…through a different kind of sign searching across New York City. The time they spend together is immediately precious, and the pair helps each other in the most surprising of ways.
I am always the person who is fascinated by characters' work and life outside of their romance, and this book delivered. I don't always understand the language of the job, but I love Meg's passion for her work and the things she sees around her. Each letter is another clue into both leads' characters, and you all know I love a well-built human in my romance novels. This is not a fast-paced book; in fact, it's a super slow burn. So if that's not your thing, move on to the next. But if you love the ability to enmesh yourself in something for a few hours or a couple days (depending on how long you can shut out the world), this is definitely a book worth reading.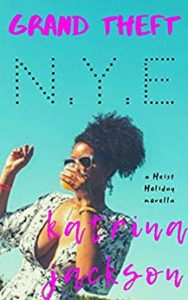 Grand Theft N.Y.E.
Katrina Jackson
Katrina Jackson, in all her masterful wisdom, decided to release two New Years related books on the same day. One was a sexy af novella, the other a much longer One Day-style drawn out romance. While I have every intention of picking up the latter very soon (like, when I finish writing this soon), I am very glad I chose the former to read to ring in the new year.
Cleo is a master thief. She doesn't live the pickpocket and petty burglary life anymore, though. Now, she and her team pull elaborate cons to help rich people (men, mostly) lose their money while staring at her perfect posterior as she strolls away in one of her many wigs. But what she wasn't expecting at a job was to be propositioned by another person entirely, only to have literally the best, most memorable night of her life. But when she leaves before Robert awakes, taking his watch and his classic Jag as mementos, the security professional knows he has to do anything to get her back.
When I say this novella was sexy af, I mean it down to my core. Kat pulls no punches in making the chemistry between the two ooze off the page, and their shenanigans are not limited to bedrooms or enclosed spaces.
And if you're more interested in the Same Time, Next Year slow burn book, you'll want to get Every New Year right now.
Other new releases: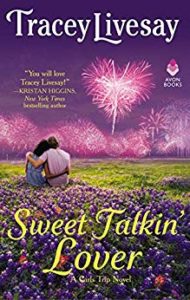 Sweet Talkin' Lover by Tracey Livesay
The Prince of Broadway by Joanna Bourne
My Darling Duke by Stacy Reid
Second-Chance Sweet Shop by Rochelle Alers
A Private Affair by AC Arthur
A Fluid State by Rob Browatzke
What's your first book of 2020?
As usual, catch me on Twitter @jessisreading or Instagram @jess_is_reading, or send me an email at wheninromance@bookriot.com if you've got feedback, bookrecs, or just want to say hi!