Sponsored by Flatiron Books
The highly anticipated sequel to Melissa Albert's beloved, New York Times bestselling debut The Hazel Wood! In The Night Country, Alice Proserpine dives back into a menacing, mesmerizing world of dark fairy tales and hidden doors. Follow her and Ellery Finch as they learn The Hazel Wood was just the beginning, and that worlds die not with a whimper, but a bang.
Happy Friday, Resistance pilots and Jedi! It's Star Wars week, and if you don't Star or War, I'm sorry in advance, because it's consuming my brain. Yes, it's Blue Three, aka Alex, with some links and news–most of which is not actually Star Wars-related, I promise–to take you into the weekend and a little chatter about the Star Wars books I love.
News and Views
I am not linking to what people are already saying about The Rise of Skywalker because it's honestly too much and I want to let the movie be what it's going to be when I see it shortly. Instead, I'm going to link to Jeannette Ng's gorgeous essay about what The Last Jedi meant to her. And also this deeply person essay about grief, loss, and Star Wars.
Orlando Jones was fired from American Gods and this is what he had to say about it. It's incredibly upsetting. A spokesperson for the show provided a statement to Syfy wire.
Mousa Kraish was also ejected from the show, but was much quieter about it.
If you'd like to read the first couple of chapters of Docile by K.M. Szpara, Tor.com has you covered.
Historical sources and N.K. Jemisin's Broken Earth trilogy.
Neil Gaiman's getting another adaptation… to comic books.
Young People Read Old SFF: A Matter of Proportion by Anne Walker
An argument that scifi novels from the 1960s are still good because they got everything so gloriously wrong: Science Fiction's Wonderful Mistakes
The Netflix Christmas Expanded Universe.
Oscar Isaac says the new Dune movie will be 'shocking' and 'nightmarish.' But can it really be more shocking and nightmarish than Sting's far future speedo in the David Lynch version?
Screenwriter Lawrence Kasdan looks back on the big reveal in The Empire Strikes Back.
So there's a nuclear war simulator if you're looking to either depress yourself or write something truly post-apocalyptic.
Want five and a half minutes of Henry Cavill reading to you from The Last Wish?
Jason Isaacs has a few things to say about racists claiming to be fans of Star Trek.
Audobon takes on a very serious question: When is a bird a 'birb'?
A glorious Twitter thread from the annual Planet Labs gingerbread spacecraft competition.
On Book Riot
This week's SFF Yeah! has most-anticipated books of 2020.
10 Epic Fantasy Books Like Wheel of Time
A Magic Beyond: A Guide to Harry Potter Music
Quiz: Which Marvel Superhero Are You?
Free Association Friday: Star Wars
Because what else could I talk about today of all days? There's still a relatively limited number of books that actually count as canon–particularly when compared to the sprawling and occasionally extremely wacky mess that is the Expanded Universe–but there's still enough to be worth cutting it down to just a few books that are either very necessary or just darn good.
(And if you want to chat about Expanded Universe books some day, we can do that, too. Hilariously, thanks to my older brother having the worst luck when it comes to picking books, most of the EU books I've read have wound up on "worst" lists.)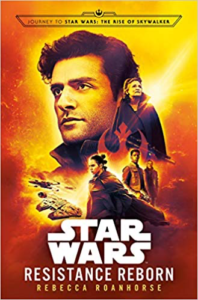 Resistance Reborn by Rebecca Roanhorse is probably the number one most important Star Wars book at the moment. It's the bridge between The Last Jedi and The Rise of Skywalker and also ties together some disparate properties like Battlefield II. Of course, if you don't get around to it in the time before you see the movie, I'm sure the opening crawl will explain everything we need to know anyway.
Last Shot by Daniel José Older is a Han and Lando novel, and do you really need to know anything more than that? Han's just started his family with Leia with Lando shows up on their doorstep, needing help thanks to a criminal from their mutual past showing up.
Phasma by Delilah S. Dawson gives us the full origin story of Captain Phasma, and she is Not A Nice Lady, shockingly.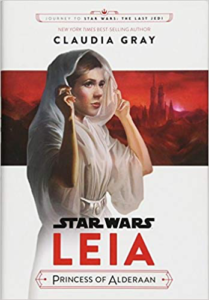 Leia, Princess of Alderaan and Bloodline by Claudia Gray are both excellent novels about our favorite space princess. The first book tells us about how her friendship with Holdo came to be–and makes us feel even sadder about Alderaan's eventual fate because Leia's mom is AWESOME–and the second book examines both the origins of the Resistance and the repercussions of Vader being Leia's biological father.
Thrawn by Timothy Zahn has, in my opinion, the best part of the EU returning to canon. I love the first novel of the new Thrawn books because you learn about Thrawn and his human sidekick, Eli Vanto. To be honest, I loved the first book so much that the second book, Thrawn: Alliances, felt a little disappointing because there isn't as much emotional meat; it's mostly Vader being a dick and Thrawn being twistily Holmesian, which is satisfying, but not at the same level–though it does also feature some good moments for Padme, who is certainly owed them.
---
See you, space pirates. You can find all of the books recommended in this newsletter on a handy Goodreads shelf. If you'd like to know more about my secret plans to dominate the seas and skies, you can catch me over at my personal site.