Sponsored by our Kindle Paperwhite Giveaway! Enter here.
We're giving away a Kindle Paperwhite to one Riot Reader! To enter, click here and sign up for Daily Deals, our newsletter that rounds-up the best books that have gone on sale every day.
Well, it's Monday and I guess we have some things to talk about.
News and Useful Links
Let's get last week's kerfuffle out of the way. On Thursday, December 5 (so literally WHILE I was writing last Monday's newsletter) Kini tweeted about a list on Frolic that included the book Balance by Lucia Franco (she doesn't mention the book title, but it came out later). Some version of the book included a female protagonist under the age of 18 and a male protagonist who was twice her age. When the book was brought to their attention, Frolic removed the book from the list (though they didn't leave any kind of note about its removal). Their editorial staff decided not to engage on Twitter (and from what I can tell, publicly at all).
While the appearance of the book on Frolic's list might have started the conversation, the shitstorm that followed had nothing to do with them. As more members of Romancelandia—authors, readers, etc—began to dialogue about what books should and should not be categorized as romance, Franco fans responded in the most obtuse and sometimes threatening ways. The argument was never that people shouldn't write and publish books with illegal, toxic relationships. The argument was that they should not be published as romance. But some people didn't quite understand, and there were several cries of CENSORSHIP and "if you don't like it, don't read it." And ignorance is fine, but then there were the pile-ons, with a particularly dedicated focus on Scarlett Parrish, including doxxing and several attack tweets. In the end, Amazon pulled the book and its sequels for violating their Terms of Service, but it's apparently available via Eden Books (which makes me question that platform's choices). The conversation has been addressed by Jenny Trout, among many others. It's died down a little, but we haven't heard the end of it quite yet.
Okay. What else has been happening in the world?
RWA introduced their new mentorship program, RAMP, which has tracks for both traditional and independent publishing.
This article from The Washington Post takes an interesting look at how technology has made an impact on romance and the relationships therein.
This Goodreads list is fantastic! Have a look, add some books to your TBR, and vote for others that fit.
Looking to keep up with 2020 releases? There are a couple of ways to follow along at home:
Do you love the Just One Bed trope?
The Feel Better Bundle is still available to buy for a couple more days.
And Virgin River is now live on Netflix!
And we all need this right now, I think.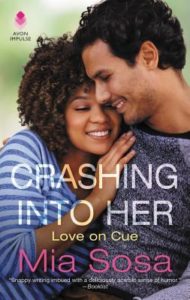 Deals
Ever read a book about stunt workers? Mia Sosa's Crashing Into Her is 99 cents right now! The third book in her Love on Cue trilogy, it totally works as a standalone, or you can try out the others for less than five dollars each. In Crashing into Her, Eva has one last shot at making it on her own, and makes a slightly rash decision to do a stunt training course. One of the trainers? A beautiful man that Eva already knows, after an amazing night long ago and far away. Uh oh?
Recs!
If you're not into holiday romances, the rest of this newsletter is not for you. I've got a few recs for my favorite recent reads and a couple that are still hanging out on my kindle waiting for me.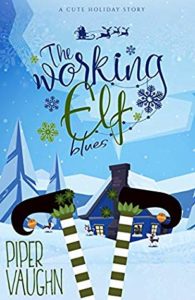 The Working Elf Blues
Piper Vaughn
Garnet has been watching over Wes from the North Pole for years, checking in on him every few years. But now, he wants to stay. He might be an elf, but his love is real, and he hopes he can get Wes to want him back. What he didn't think about was crashing his sleigh outside Wes's house. As Wes gets him back to health, the two get to know each other, but what's gonna happen when someone up north notices Garnet is missing?
A Second Chance Road Trip for Christmas
Jackie Lau
The last thing Greg wanted to do was drive his ex girlfriend Tasha back to their hometown before Christmas and give over the rights to the radio to someone who likes Christmas music instead of NPR. The last thing Tasha wanted to do was get stuck with her ex in any situation. When a two-hour trip becomes an overnighter, neither is particularly happy to share a cold room with Only One Bed. But with their situation comes some reflection and necessary conversation.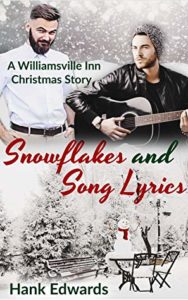 Snowflakes and Song Lyrics 
Hank Edwards
This is my first book by this author, and I'm glad I picked it up after randomly coming across it on Twitter. Will is in Upstate New York for work, and he is delighted, surprised, and horrified to discover that he's staying at the same hotel as one of his favorite singers. When he overhears Rex having trouble with a song he's writing, he can't let go of what he's heard. And some brief moment of recklessness sees him leaving some lyric suggestions in an anonymous note on Rex's patio. The rest, they say, is history.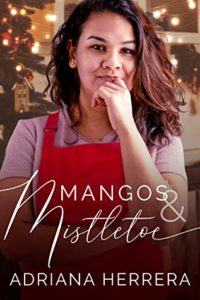 Mangos and Mistletoe
Adriana Herrera
A Christmas baking competition you say? In Scotland, you say? Featuring two very much opposites attract lovely Dominican women, you say? This is a really fun, really frustrating book. Kiskeya and Sully have chemistry from the start, and to Kiskeya, that's a problem. Her desire to focus only on the win is thwarted when the two are paired up for the weeklong competition, but she can't help but acknowledge how well they work together. Maybe they ought to try other things together, too.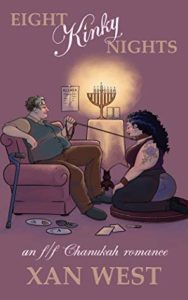 Eight Kinky Nights
Xan West
This is definitely the most serious of the ones I've read. Leah and Jordan have been friends for decades, but are living near each other for the first time since college. While Leah has been a practicing kinkster for the entirety of her adulthood, Jordan has been denying her own interests in exploring the kinky world. Finally unafraid of sharing that interest with Leah, Jordan accepts her friend's offer of nightly kink lessons during Hanukkah, which eventually evolve into something more.
I've also got Twelve Dates of Christmas by Rilzy Adams, Mr. Frosty Pants by Leta Blake, and A Villain for Christmas by Alice Winters, which was highly recommended by one of my favorite authors, Gail Carriger, on deck. I might also grab Faux Ho Ho by Nathan Burgoine, which sounds delightful. I have never read this much holiday romance, which probably says something about my state of mind this year. But whatever. Gotta read what you gotta read. If only I had more to pick up that was about different winter holidays.
What are your go-to holiday reads?
As usual, catch me on Twitter @jessisreading or Instagram @jess_is_reading, or send me an email at wheninromance@bookriot.com if you've got feedback, bookrecs, or just want to say hi!