Sponsored by Udon Entertainment.
Oscar François de Jarjeyes is a young noblewoman raised as a son by her father. As commander of Marie Antoinette's palace guard, Oscar is brought face-to-face with the luxury of King Louis XVI's court at Versailles. Joined by her servant André, Oscar is privy to the intrigue and deceit of France's last great royal regime. Available for the first time in English! This deluxe hardcover volume contains the first 22 chapters of Riyoko Ikeda's historical fiction masterwork.
Happy Thursday! How is everyone doing today? Book news is slow, but I am getting really excited for the new year. Mostly because I love starting a new reading spreadsheet. And speaking of which, have you seen Book Riot's 2020 reading tracker? It's an epic nerdpurr! And we also announced out 2020 Read Harder Challenge. So many fun bookish things await us in the new year! In the meantime, whatever you are doing or reading this week, please remember to be kind to yourself and others. I'll see you again on Monday! – xoxo, Liberty
Trivia question time! What character wore a magic ring or magic slippers of gold, silver, or fur, before her most famous footwear appeared in 1697? (Scroll to the bottom for the answer.)
Deals, Reals, and Squeals!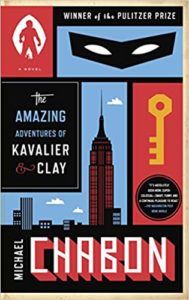 The Amazing Adventures of Kavalier and Clay by Michael Chabon will be a series at Showtime.
Esmé Weijun Wang has signed a two-book deal with Riverhead Books.
And Alix E. Harrow will release two novellas with Tor.com.
Jasmine Guillory announced her new novel, Party of Two, coming in June of 2020.
On the Come Up by Angie Thomas is also being adapted.
Here's the cover reveal for Meg Elison's upcoming young adult book.
There's a new adaptation of Stephen King's novel, The Dark Half.
Pierce Brosnan has joined the new adaptation of Cinderella.
Book Riot Recommends
At Book Riot, I work on the New Books! email, the All the Books! podcast about new releases, and the Book Riot Insiders New Release Index. I am very fortunate to get to read a lot of upcoming titles, and learn about a lot of upcoming titles, and I'm delighted to share a couple with you each week so you can add them to your TBR! (It will now be books I loved on Mondays and books I'm excited to read on Thursdays. YAY, BOOKS!)
Excited to read: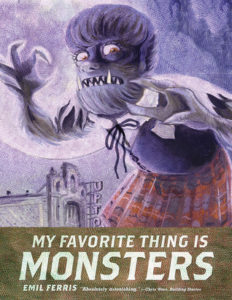 My Favorite Thing Is Monsters Vol. 2 by Emil Ferris (Fantagraphics Books, September 15, 2020)
Okay, I'm trying not to get too excited, because they've moved the release date several times, and I have been burned before. But it looks like this might actually happen this time which would be AMAZING, because hoooooooo-ly cats, I loved the first volume. Ferris's art is some of the most incredible pen-and-ink work I've ever seen. I can't wait to find out more about the mystery and Karen's life in Chicago.
What I'm reading this week.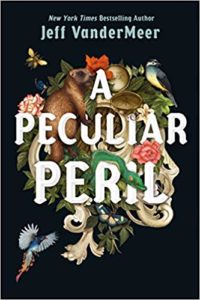 A Peculiar Peril (The Misadventures of Jonathan Lambshead) by Jeff VanderMeer
Know My Name by Chanel Miller
A Burning: A Novel by Megha Majumdar
Why the Ramones Matter (Music Matters) by Donna Gaines
The House in the Cerulean Sea by TJ Klune
And this is funny.
Cats sing Christmas songs too.
Song stuck in my head:
"Father Christmas" by The Kinks.
Trivia answer: Cinderella.
You made it to the bottom! High five. Thanks for reading! – xo, L