Sponsored by Read Harder Journal, a reading log brought to you by Book Riot
Created by Book Riot, this smartly designed reading log consists of entry pages to record stats, impressions, and reviews of each book you read, and is a GREAT GIFT for readers this holiday season. Evenly interspersed among these entry pages are 12 challenges inspired by Book Riot's annual Read Harder initiative, which began in 2015 to encourage readers to pick up passed-over books, try out new genres, and choose titles from a wider range of voices and perspectives. Indulge your inner book nerd and read a book about books, get a new perspective on current events by reading a book written by an immigrant, find a hidden gem by reading a book published by an independent press, and so much more. Each challenge includes an inspiring quotation, an explanation of why the challenge will prove to be rewarding, and five book recommendations that fulfill the challenge. Get one for yourself or for the readers in your life at bookriot.com/readharderjournal
Hola Audiophiles! This is one of our last newsletters together in 2019! I'm getting ready to fly south for the winter like a little Mexican mallard duck. I don't know if that metaphor works, I just really love mallard ducks and alliteration. Before I get back to packing for the holidays in San Diego, let me tell you about December's new releases and lots of great "best of" stuff.
Ready? Let's audio.
---
New Releases – December 2019 (publisher descriptions in quotes)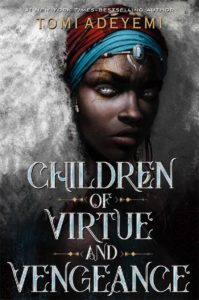 Children of Virtue and Vengeance by Tomi Adeyemi, narrated by Bahni Turpin (December 3)- YASSS the sequel to that lil' ol book that barely any people read called Children of Blood and Bone. We return to Orïsha with Zélie and Amari where magic has been restored, but the bad guys are just as powerful as the good guys and civil war is on the horizon. "Zelie must fight to secure Amari's right to the throne and protect the new maji from the monarchy's wrath."
Narrator Note: BAH *claps* NI *claps* TUR *claps* PIN.
A Madness of Sunshine by Nalini Singh, narrated by Saskia Maarleveld (December 3)- I've had various Nalini Singh works on my TBR for way too long! Maybe I'll start with this thriller set in a remote town on the West Coast of New Zealand, "where even the blinding brightness of the sun can't mask the darkness that lies deep within a killer…."
Narrator Note: Where do I start? She's narrated both The Huntress and The Alice Network by Kate Quinn, Serpent & Dove by Shelby Mahurin, all of Deborah Harkness' work, and much, much more.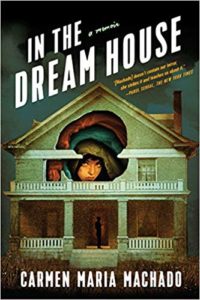 In the Dream House by Carmen Maria Machado, narrated by the author (December 19) – I just started an audiobook ARC of this one, and even at just over five hours, I know it's going to punch me in the gut. It's Machado's memoir, an "engrossing and wildly innovative account of a relationship gone bad, and a bold dissection of the mechanisms and cultural representations of psychological abuse. "
Narrator Note: You know what I'm going to say: I love when authors narrate their own work. This is a stellar example of getting it right: it sort of feels like I'm listening to slam poetry, and at other times like I'm just listening to a friend tell me about her most precious pain.
The Wicked Redhead by Beatriz Williams, narrated by Dara Rosenberg and Julie McKay (December 10) – Beatriz Williams is on a roll these days! This is, what, her third book in a couple of years? This one is a "Jazz Age tale of rumrunners, double crosses, and true love, spanning the Eastern seaboard from Florida to Long Island to Halifax, Nova Scotia."
Narrator Note: I loved Dara Rosenberg's narration of Louisa Morgan's The Witch's Kind, and just saw she's also credited with narrating something called Assault and Pepper. That tickles me.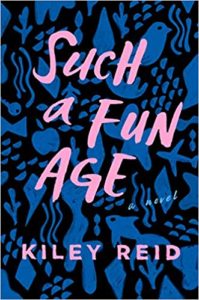 Such a Fun Age by Kiley Reid, narrated by Nicole Lewis (December 31)- This one comes with muppet-arm praise from Liberty (who read it in print), a "compelling and big-hearted story about race and privilege, set around a young black babysitter, her well-intentioned employer, and a surprising connection that threatens to undo them both."
Narrator Note: Nicole Lewis does great work! Some of her notables include What We Lose by Zinzi Clemmons and Gayle Forman's I Have Lost My Way.
The Wives by Tarryn Fisher, narrated by Lauren Fortgang (December 30)- Oh boy, this thriller sounds like a doozy. A woman has an arrangement with her husband wherein he has two other wives. She thinks she's ok with it, but what had happened was… she befriends one of the wives without telling her who she is and discovers in the process that maybe her husband (their husband) isn't who she thinks he is.
Narrator Note: Lauren Fortgang has narrated several Leigh Bardugo books, including her smash hit The Ninth House.
Latest Listens
Welp, I am deceased, and Nothing to See Here by Kevin Wilson with narration by Marin Ireland is the cause. No one told me what the hell this thing was about (I love when that happens), but you'd think that cover would have given it away…
The gist: Lillian and Madison were boarding school BFFs, but that all changed when a scandal (AAAH I want to tell you what happens so bad!) forced Lillian to leave school. Years later, Lillian's life is sort of whatever while Madison is now a wealthy politician's wife. After years of barely speaking, Madison sends Lillian a letter that's like, "Hey girl, I need your help. Will you pop by the ol' mansion? K thanks."
What Madison needs is for Lillian to be her nanny, but there's a liiiiitle catch. The kids she'll be watching are her husband's ten-year-old twins from a previous marriage. And oh yeah: they spontaneously combust when they get mad or agitated. No big deal! The narration is SO fantastic, lots of great Nashville accents that don't feel gimmicky, and a perfect cadence. All that is paired with a hilarious story about kids on fire and rich people problems and Privilege with a capital P that's also heartwarming in the end.
Proppiest of props to Contributing Editor Jamie for recommending it to me AND to the several of you who emailed me to say, "YES. Do it. Read that!" Good job, audiofiles.
From the Internets
Libro.fm just released their gift guide and I'm living for these categories! Fave is probably "For that friend who thinks they want to be a nanny" and the accompanying rec for Nothing to See Here for reasons listed above. Bahahaha.
Best audiobooks of the year lists from Libro.fm, Wired, Overdrive, Paste, and Audible.
Some excellent small press audiobooks to give as gifts this year
---
That's all I got today! Shoot me an email at vanessa@riotnewmedia.com with audiobook feedback & questions or find me on Twitter and the gram @buenosdiazsd. Sign up for the In The Club newsletter, peep the Read Harder podcast, and watch me booktube every Friday too!
Stay bad & bookish, my friends.
Vanessa