Sponsored by Dynamite Entertainment
The world of Pierce Brown's Red Rising expands further in the next installment of the Sons of Ares storyline. Fitchner's quest for revenge continues as he and the other Sons of Ares seek out the Golds who have wronged his family. But actions come with repercussions and an elaborate game of cat and mouse is on. A battle of Gold versus Gold erupts further into more than acts of vengeance and becomes the seeds of a revolution.
Happy Tuesday, shipmates! It's Alex, with some news and books for you… but since there aren't many new releases today (December is a barren place when it comes to new books), I'm doing something a bit different this week: focusing on standalone novels that were released this year.
(Standalones make really great gifts for people you might be trying to tempt into reading more science fiction. Just saying.)
16 Standalone SFF Novels from 2019
Disclaimer: These are standalones to the best of my knowledge and ability to google. If I'm wrong, mea culpa.
This Is How You Lose the Time War by Amal El-Mohtar and Max Gladstone – "Two time-traveling agents from warring futures, working their way through the past, begin to exchange letters—and fall in love."
Pet by Akwaeke Emezi – "How do you save the world from monsters if no one will admit they exist?"
Steel Crow Saga by Paul Krueger – Battle couples, magical animal companions, and snark. (Full disclosure: Paul and I share an agent.)
The Raven Tower by Ann Leckie – The kingdom of Iraden is protected by the god known as the Raven, whose tower conceals a dark history.
Middlegame by Seanan McGuire – Complicated sibling relationships, alchemy, and godhood. The world is in a lot of trouble.
The Deep by Rivers Solomon, et al. – The descendants of pregnant African women who were thrown overboard from slave ships live deep under the ocean, forgetting their traumatic memories by giving them to their historian, Yetu.
Ormeshadow by Priya Sharma – A family drama on a farm seated over Orme, a buried, ancient dragon who dreams of resentment, jealousy, and death.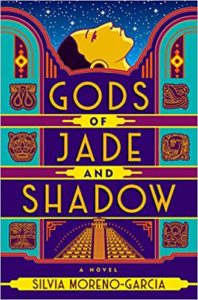 Gods of Jade and Shadow by Silvia Moreno-Garcia – A young woman in the jazz age dreams of escaping a life of domestic drudgery until she accidentally frees the Mayan god of death and is handed a life or death quest.
The Sol Majestic by Ferrett Steinmetz – A teen guru who wants to advise the galaxy's one percenters wins a fabulous free dinner at the Sol Majestic.
Escaping Exodus by Nicky Drayden – Seske, a young woman unexpectedly thrust into the role of leader, must find answers to tremors disturbing the new vacuum-breathing space beast her clan has moved into–while fending off a challenge by her confident, cunning sister.
The Ten Thousand Doors of January by Alix E. Harrow – January, the ward of a wealthy hunter of arcane artifacts, finds a book in his mansion that promises adventures in other worlds and truths about her own.
David Mogo, Godhunter by Suyi Davies Okungbowa – "David Mogo, demigod and godhunter, has one task: capture two of the most powerful gods in the city and deliver them to the wizard gangster Lukmon Ajala."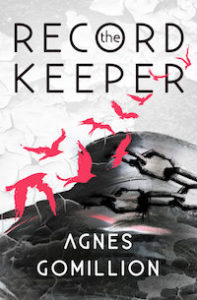 The Record Keeper by Agnes Gomillion – In a world brought to ruins by a third world war, Arika Cobane meets a new student who forces her to question her most deeply held beliefs: What does peace matter if innocent lives are lost to maintain it?
Sisters of the Vast Black by Lina Rather – Sisters of the Order of Saint Rita respond to the distress call of a new colony and find themselves caught in a web of politics and corruption that runs through both the central government and the church.
Ninth House by Leigh Bardugo – Alex Stern, the only survivor of an unsolved multiple homicide, is offered a too-good-to-be-true deal: a full ride to Yale, and the only price is that she has to monitor the school's secret societies.
The Future of Another Timeline by Annalee Newitz – Tess, from the future, has dedicated herself to shifting the past to create a safer world in her time, trying to find a way to make her edits stay while she avoids fellow travelers willing to stop her with deadly force.
News and Views
Alix E. Harrow has two new novellas coming.
Wonder Woman 1984 trailer!!!!
Must-read short SFF fiction from November 2019.
Rest in peace, Rene Auberjonois.
Tamora Pierce says Alanna of Trebond is gender fluid.
Vulture makes a brave attempt to answer all our questions about the plot and universe of Cats.
The Parker Solar Probe has found some funky things in the solar wind as it goes close to the Sun.
On Book Riot
Quiz: Which All Systems Red character are you?
Gabriel García Márquez books: A brief look at the master of magical realism
20 of the best Harry Potter earrings
Read Harder: Fairytale retellings by authors of color
---
See you, space pirates. You can find all of the books recommended in this newsletter on a handy Goodreads shelf. If you'd like to know more about my secret plans to dominate the seas and skies, you can catch me over at my personal site.