Sponsored by You're Not Listening: What You're Missing and Why It Matters by Kate Murphy, published by Celadon Books January 7, 2020.
When was the last time you listened to someone? Really listened, without thinking about what you wanted to say next, glancing down at your phone, or jumping in to offer your opinion? And when was the last time someone really listened to you? Read an excerpt of New York Times contributor Kate Murphy's You're Not Listening to find out what you're missing and why it matters.
Happy Monday! It feels like déjà vu as I'm writing this. It's snowing in Maine again, and I plan to spend the weekend reading in between shoveling and napping. Is this Groundhog Day?!? Oh! But I'm also planning on doing my Twitter countdown of my 150 favorite books of 2019, too. So you should be able to find it on there today!
So I have a little bit of fun for you today. News slows down for the holiday, unfortunately. But at least there's a cat picture! And whatever it is you're doing this week, I hope you have something good to read. Please enjoy the rest of your week, and remember to be excellent to each other! I'll see you again next Monday. – xoxo, Liberty
Here's Monday's trivia question: What is Eloise's dog named? (Scroll to the bottom for the answer.)
Deals, Reels, and Squeals! 
The rights to Eloise have been bought for stage, film, and television. ("Remember at the plaza that time? That kid who kept calling her Heloise and I almost got in a fight with her?" – Meadow Soprano)
Sona Charaipotra announced her upcoming 2021 title.
Orbit has purchased Andrea Stewart's epic fantasy trilogy.
Here's the first trailer for HBO's adaptation of The Outsider by Stephen King.
A new book claims Albert Camus was murdered by the KGB.
Finn Jones and Pico Alexander have joined the second season of Dickinson.
Book Riot Recommends 
At Book Riot, I work on the New Books! email, the All the Books! podcast about new releases, and the Book Riot Insiders New Release Index. I am very fortunate to get to read a lot of upcoming titles, and learn about a lot of upcoming titles, and I'm delighted to share a couple with you each week so you can add them to your TBR!
Excited to read: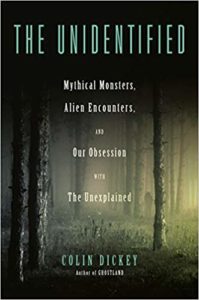 The Unidentified: Mythical Monsters, Alien Encounters, and Our Obsession with the Unexplained by Colin Dickey (Viking, July 21, 2020)
YESSSSSSSSSSSS a new Colin Dickey book is on the way!!! If you've never read him, I highly recommend it. He writes about fascinating stuff with a twist of strange and unusual. His last book was about ghosts, and this one is about Bigfoot and UFOs. Basically, he's so smart that he's bored by what we understand, so he's looking into things we don't understand. I am here for it.
What I'm reading this week: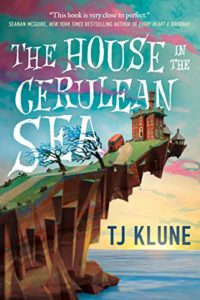 The House in the Cerulean Sea by TJ Klune
Lobizona: A Novel (Wolves of No World Book 1) by Romina Garber
The Heap: A Novel by Sean Adams
Pizza Girl by Jean Kyoung Frazier
Transcendent Kingdom: A novel by Yaa Gyasi
Pun of the week: 
I've started sleeping in our fireplace. Now I sleep like a log.
Here's a kitten cat picture:
Zevon is a master lounger.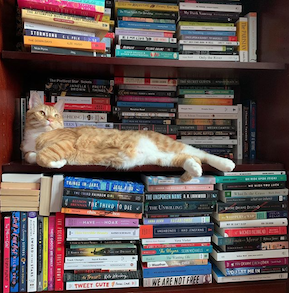 And this is funny.
Trivia answer: Weenie.
You made it to the bottom! Thanks for reading! – xo, L