Sponsored by Holiday House
Welcome to Nissera, land of three kingdoms and home to spectacular magic. It's a dark and dangerous realm full of fairy tales gone wrong. "I could have stayed and played in this treacherous world for a long time."— Stephanie Garber, #1 NYT best-selling author of The Caravel series; "A magical, captivating read."—Rebecca Ross, author of The Queen's Rising; "Lush in detail and breathlessly enchanting, with an indomitable heroine at its heart." —Claire Legrand, author of Winterspell; "One of the best books I've ever read."—C.J. Redwine, NYT best-selling author of The Shadow Queen
Connect with the author Hannah West on Instagram @HannahWestYA
Happy truncated week, USian shipmates! It's Alex, with news and books to take you into the weekend. If you want to have a good cry today, I must share this four tweet thread that's a comic about black cats and how good they are.
News and Views
An interview with Margaret Atwood about "The Decade The Handmaid's Tale came to life."
Cover reveal for Nnedi Okorafor's new book.
There's going to be an official cookbook for Destiny.
Lavie Tidhar and Silvia Moreno-Garcia pick their best science fiction and fantasy of 2019.
If you, like me, have lost track of how many adaptations are in the works, Tor.com has attempted a definitive list.
Max Gladstone wrote Wizard School Dropouts, an interactive web series you can now play (watch?)
io9 has an animated Game of Thrones history.
Padmeé Amidala, Queen of Empty Space.
Amal El-Mohtar on Frozen 2. Abigail Nussbaum also has some thoughts.
Advice on DIY geeky holiday gifts for this year.
I am extremely geeked about this surface map of Titan.
On Book Riot
20 Must-Read Time Travel Books
9 Solid Gold YA Fantasy Books from 2019
8 Books About Mortals in Fantasy Worlds
Star Wars Episode IX Reading Challenge
Free Association Friday: Books I'm Thankful For
There have been a lot of good books this year. SO MANY OF THEM. I'm humbled by the storytellers we walk among right now, and grateful to be able to read their work. There's still a long, long way to go when it comes to parity in publishing–and the amazing books we're getting right now tell us that it's a fight worth having, as slow and grinding and frustrating as it is at times.
So, the eight books I am most thankful for this year: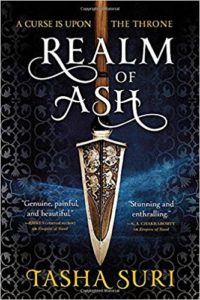 Realm of Ash by Tasha Suri. I loved Empire of Sand for its gorgeous prose and amazing Disaster Heteros, and the second book delivers more of what I loved… while engaging with the complex question of what "after" is like in a culture where marriage is the end for women.
Steel Crow Saga by Paul Krueger. It's a bananapants anime-esque universe with Totally Not Pokémon and battle partners. I need more books like this in my life. (Full disclosure: I share an agent with Paul.)
Storm of Locusts by Rebecca Roanhorse. I am admittedly not a huge fan of urban fantasy, but I have no problem making an exception for Rebecca Roanhorse's books because they're so rich and so different. I read the whole thing in one sitting, which is a major accomplishment for me because being an adult sucks big time.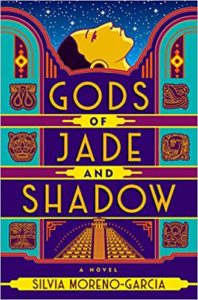 Gods of Jade and Shadow by Silvia Moreno-Garcia. It's so rare to find fantasy set in Mexico, particularly not modern Mexico. (And, let's be honest, particularly not "racist horror fantasy a squalid pit of drugs and gangs" Mexico.) It's a book about having dreams bigger than the life you lead. And it's got a human teaching a not-human to be less of a dick, and I'm a total sucker for that.
A Memory Called Empire by Arkady Martine. This is probably the most complex and multilayered book I read all year. It interrogates that particular feeling of longing for a culture that you can never actually be part of. It's about loving and hating something at the same time, and how seeing flaws honestly is an act of courage and love. And also about cultures eagerly eating their own, sacrificing what should not be sacrificed to promulgate an ideal that has become hopelessly corrupted. (Full disclosure: I share an agent with Arkady.)
Riverland by Fran Wilde. Fran always writes absolutely gorgeous prose that she fills with strong and haunting imagery, and this book is no exception. It's a book of dreams and nightmares, some waking, and some sleeping. And it's an emotionally tough book, about coping with abuse and trying to do the right thing when life itself is already frightening and difficult and nothing is safe.
Middlegame by Seanan McGuire. Look, I love time loop stories more than anything, and I don't see nearly enough of them in print as opposed to on the screen. But this is one of the most innovative time loop stories I've ever read, plus it's got an incredibly complicated sibling relationship, and makes no bones about how being "gifted" can be incredibly difficult for children–especially girls.
The Ascent to Godhood by JY Yang. I love the entire series that this book is the capstone of; it's a wildly creative world and I've never been able to predict a thing about the story, the characters, or where they're going. I'm indescribably grateful to be in a world where someone who could dream up the Tensorate exists and is writing. (Full disclosure: I share an agent with JY.)
---
See you, space pirates. You can find all of the books recommended in this newsletter on a handy Goodreads shelf. If you'd like to know more about my secret plans to dominate the seas and skies, you can catch me over at my personal site.