Sponsored by Read Harder Journal, a reading log for tracking your books and reading outside your comfort zone!
This smartly designed reading log consists of entry pages to record stats, impressions, and reviews of each book you read. Evenly interspersed among these entry pages are 12 challenges inspired by our annual Read Harder initiative, which began in 2015 to encourage readers to pick up passed-over books, try out new genres, and choose titles from a wider range of voices and perspectives. Each challenge includes an inspiring quotation, an explanation of why the challenge will prove to be rewarding, and five book recommendations that fulfill the challenge. Get your copy (or one for the reader in your life for the holidays) here!
Hi Kid Lit Friends,
It's the last Tuesday of November, and I am feeling very grateful for all of you readers. Looking for books of gratitude for your young readers as you head off to Thanksgiving celebrations? Check this list out. In the meantime, take a look at today's new releases. And on Sunday, keep an eye out for my picks for the best middle grade books from 2019, perfect for gift giving. There are so many good ones!!!
Board Book New Releases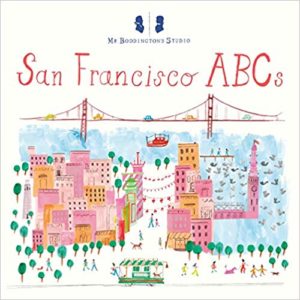 San Francisco ABCs by Mr. Boddington's Studio
This board book teaches the letters of the alphabet with illustrations of people, places, and things unique to the beautiful city by the bay. It is the perfect gift for anyone who loves San Francisco!
Backlist bump: ABC NYC by Joanne Dugan
Picture Book New Releases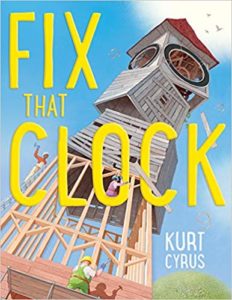 Fix That Clock by Kurt Cyrus
The old clock tower used to stand tall and proud. Now, it's rusty, dusty, moldy, musty. A construction team decides to turn zigzags into squares and get the clock chiming again. But wait: What will happen to all the animals who have made this dilapidated clock their home?
Backlist bump: The World is Not a Rectangle: A Portrait of Architect Zaha Hadid by Jeanette Winter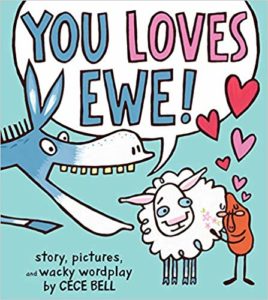 You Loves Ewe! by Cece Bell
Hilarity meets homonyms in this high-comedy companion to I Yam a Donkey by Cece Bell. A persnickety spud, Yam, introduces the grammar-challenged Donkey to a new friend, Ewe, a lady sheep. The confusion between "ewe" and "you" results in a fabulously funny series of who's-on-first misunderstandings, even though Yam explains the concept of homonyms to Donkey clearly enough for the youngest of readers to understand.
Backlist bump: Please, Baby, Please by Spike Lee and Tonya Lewis Lee, illustrated by Kadir Nelson
Who Wants To Be A Pirate? by Bridget Heos, illustrated by Daniel Duncan
Well, writer Bridget Heos and illustrator Daniel Duncan welcome you aboard Captain Parrot's pirate ship! Captain Parrot is here to tell you about the life of a real swashbuckler from the Golden Age of Piracy (1650-1730). From danger to the doldrums, Who Wants to Be a Pirate? has all the need-to-know facts. And don't worry about walking the plank―strap in for fun and join Captain Parrot's pirate crew!
Backlist bump: Pirate Princess by Sudipta Bardhan-Quallen, illustrated by Jim McElmurry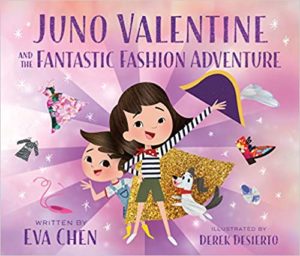 Juno Valentine and the Fantastic Fashion Adventure by Eva Chen, illustrated by Derek Desierto
It's school picture day and Juno Valentine is having a fashion emergency! Her mom wants her to wear fabulous florals, her dad wants her to wear rainbow ruffles, but Juno's not sure what to choose. And just when Juno thinks her conundrum couldn't get any more complicated, her little brother, Finn, disappears into the magical hall of shoes!
Backlist bump: Fancy Party Gowns: The Story of Fashion Designer Ann Cole Lowe by Deborah Blumenthal, illustrated by Laura Freeman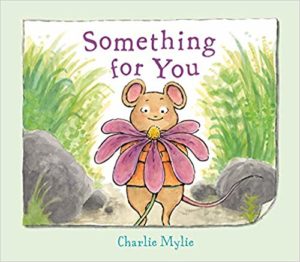 Something For You by Charlie Mylie
A mouse's friend is sick. What can he do to help her? He'll go get her something! But what? Something little? Something to share? Or something just for her? When his search doesn't go as planned, our mouse realizes that the best gift to give is something he's had all along.
Backlist bump: Alfie by Thyra Heder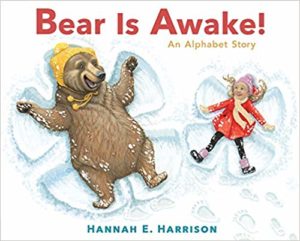 Bear Is Awake! by Hannah E. Harrison
Suddenly "awake" in the middle of winter, a "big bear" explores a "cozy cabin," which Bear of course "enters excitedly." But the cabin isn't empty–a little girl lives there. So begins an unlikely friendship and an unexpected adventure as the girl attempts to figure out what a bear is supposed to be doing in the winter. (Hint: It's not eating pancakes or visiting the library!)
Backlist bump: We're Going on a Bear Hunt by Michael Rosen, illustrated by Helen Oxenbury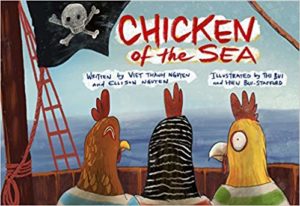 Chicken of the Sea by Viet Than Nguyen and Ellison Nguyen, illustrated by Thi Bui and Hien Bui-Stafford
A band of intrepid chickens leave behind the boredom of farm life, joining the crew of the pirate ship Pitiless to seek fortune and glory on the high seas. Led by a grizzled captain into the territory of the Dog Knights, they soon learn what it means to be courageous, merciful, and not seasick quite so much of the time.
Backlist bump: Maria Theresa by Petra Mathers
Middle Grade Nonfiction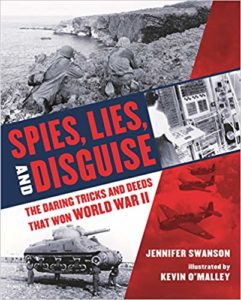 Spies, Lies, and Disguise: The Daring Tricks and Deeds That Won World War II by Jennifer Swanson, illustrated by Kevin O'Malley
In the late 1930s, times were desperate. The world found itself at war again, less than twenty years after the first World War had ended. No one could quite believe it. And no one wanted it. The leaders of every country involved were left with no choice. They had to try to end the war as fast as possible, using whatever means they could.
Frontlist bump: Infinite Hope: A Black Artist's Journey from World War II to Peace by Ashley Bryan
Activity Book New Release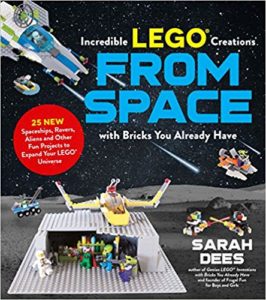 Incredible LEGO Creations: From Space by Sarah Dees
Turn your bucket of LEGO® bricks into fun new space expeditions―complete with epic spaceships, kooky aliens and cool vehicles! Bestselling author and unmatched LEGO® mastermind Sarah Dees is back with 25 new, out-of-this-world projects to launch playtime to a whole new level.
Backlist bump: The Lego Ideas Book by Daniel Lipkowitz
What are you reading these days? I want to know! Find me on Twitter at @KarinaYanGlaser, on Instagram at @KarinaIsReadingAndWriting, or email me at KarinaBookRiot@gmail.com.
Have you checked out Book Riot's Kidlit These Days podcast yet? I co-host it with my friend, school librarian Matthew Winner. We chat about the intersection of children's books and what's going on in the world today. Give it a listen and let us know what you think!
Until next time!
Karina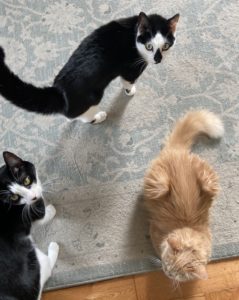 *If this e-mail was forwarded to you, follow this link to subscribe to "The Kids Are All Right" newsletter and other fabulous Book Riot newsletters for your own customized e-mail delivery. Thank you!*