Sponsored by Read Harder Journal, a reading log for tracking your books and reading outside your comfort zone!
This smartly designed reading log consists of entry pages to record stats, impressions, and reviews of each book you read. Evenly interspersed among these entry pages are 12 challenges inspired by our annual Read Harder initiative, which began in 2015 to encourage readers to pick up passed-over books, try out new genres, and choose titles from a wider range of voices and perspectives. Each challenge includes an inspiring quotation, an explanation of why the challenge will prove to be rewarding, and five book recommendations that fulfill the challenge. Get your copy (or one for the reader in your life for the holidays) here!
It's the last KB of November, y'all! I just got home from seeing Anastasia, and now I'm craving some prewar 20th century historical romance. I'll let you know what I find. 
News and Useful Links
Beverly Jenkins announced last week that her book Forbidden has been optioned by Sony Pictures Television. How much are we jumping up and down, but also hoping she has enough say in production that they get it right? 
Also holy moly was Ms. Bev having a week because THIS COVER. 
Sarah Wendell from Smart Bitches, Trashy Books, put together a list of her favorite 2019 romances for The Washington Post and she was just as distracted by the gorgeous embroidery artwork (by Sarah K. Benning) that graces it as we were. The list is pretty good, too. 
If queer holiday stories are your thing, check out this list of all the queer holiday novellas being published by Ninestar Press this winter. One of them revisits Mark and Gabe from Bumper to Bumper, which I talked about a few months ago. 
I'm not sure we can all handle the vast influx of cover reveals for books we have to wait months for, but it was an exciting week for covers, including the one for the first book in Kit Rocha's Mercenary Librarians series and the last book in Adriana Herrera's Dreamer series. And Meryl Wilsner's debut, out in spring. Oh, and Jessie Mihalik's next one, too. And that's not even all of them that dropped this week. 
Did you know you could still get a "History, Huh?" t-shirt?
Jen wrote this great article for Kirkus about the increased visibility of diverse historical romance. We've still got a long ways to go, though.   
And in romance-adjacent news, I'm happy to tell you that you can now stream the most recent Great Performances episode, the all-Black Shakespeare in the Park production of Much Ado About Nothing led by the incomparable Danielle Brooks, on PBS.org or the PBS app. You're welcome. 
Deals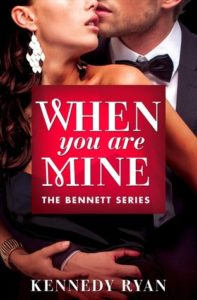 If you have been living for Kennedy Ryan titles but have already burned through her most recent duology, go back to 2014 with When You Are Mine, which is 1.99 right now. It's got the same intensity and feels as her newer books, and a whole three more books in the series. 
Recs!
I love a good Pygmalion story. Blame it on Rex Harrison and my grandmother never saying no to small Jess and the two-tape VHS of My Fair Lady. (Side note: I read George Bernard Shaw's version in grad school and am not sure which ending I like better. But that's in part because I hate Freddy more than Higgins. Which one do I want to most unleash upon poor Eliza? Who can say. And Henry's monologue at the end of Pygmalion is perfect. But ugh, Freddy. See?) 
Um. Anyway. Pygmalion. 
There's nothing like a twist on the traditional glow-up tale, and the one I read last week is my new favorite kind of makeover: the Rakeover!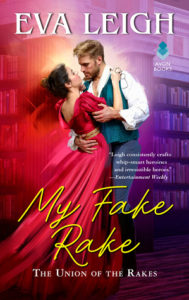 My Fake Rake
Eva Leigh
Grace and Sebastian met four years ago at their prestigious lending library and became immediate friends. Even though she's utterly enmeshed in herpetology and he's strictly about anthropology, they've found that they benefit greatly from their shared geekery. Unbeknownst to each of them, their friendship is supplemented by strong attraction. Of course, neither will tell the other because reasons. When Grace is set upon by her father to find a spouse, Grace can only think of one person, who is unfortunately not Seb. It's another scientist she has a major crush on….except he sees her as nothing more than a colleague. The only way to score him as a husband before his upcoming expedition to Greenland is to make him see. By having someone else woo her, of course. 
That someone else? Our dear, bespectacled, darling dork Sebastian. Who also has massive social anxiety, if that's a thing you need to know. But he'll do anything for Grace, even learn how to be a society rake. Good thing his BFF The Duke is there to help him out. 
This book is sweet, and funny, and sexy; that combination is enough to draw this reader who isn't usually about that Friends-to-Lovers life. You will be yelling at these adorable idiots for the duration of your stay in Leigh land, but it'll be so worth it at the end. 
Do you have a favorite Pygmalion-style romance?
As usual, catch me on Twitter @jessisreading or Instagram @jess_is_reading, or send me an email at wheninromance@bookriot.com if you've got feedback, bookrecs, or just want to say hi!