Sponsored by Holiday House.
The Noodleheads are an awesome and funny graphic novel series, perfect for early readers. They are created by beloved author-illustrator Tedd Arnold (the guy who does Fly Guy) and two renowned, award-winning storytellers, Martha Hamilton and Mitch Weiss. Join Mac and Mac the (empty-headed) Noodlehead brothers and cousin Meatball on their zany adventures with slapstick humor, puns, and wacky fun that will make young readers laugh out loud.
Hi Kid Lit Friends,
The holidays are upon us! On the most recent Kidlit These Days podcast, Matthew and I chatted about our holiday recommendations. For the next four Sundays, I'll be bringing you a whole assortment of recommendations, including my picks for what picture books and middle books published this year that you should be giving to your favorite young people as well as some fun bookish items. But today I want to tell you about beautiful books to gift for the holidays! (Just so you know, I would be happy to receive any of the items here, *wink wink*.)
The Folio Society is one of my favorite places to go to when I need a special book gift. Their children's books are beautifully illustrated and bound, and they often come with an illustrated slipcase! *swoon* Here are their new offerings for this season: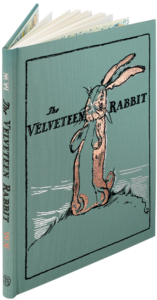 The Velveteen Rabbit
Written in 1922, this touching tale of a cloth rabbit's quest to become 'Real' is a masterpiece among children's illustrated books. With its nostalgic nod to the fairy-tale tradition, it has inspired many fantastical tales about talking toys and remains a bedtime favourite almost 100 years later. William Nicholson's artwork is as memorable as the story, so we worked closely with the artist's grandson Desmond Banks from the outset. We returned to the first edition to create a charming reproduction of every page, as well as individually restoring Nicholson's illustrations to their original splendour. This painstaking attention to detail has resulted in a truly beautiful and collectable book that will delight younger readers for generations to come.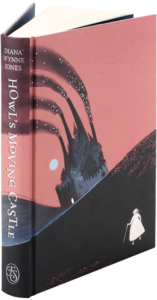 Howl's Moving Castle
A magical union of make-believe and reality, this much-loved young-adult fantasy spirits the reader off to faraway lands with an evil witch, a dashing wizard and an adventurous teenage girl. Folio's charming new edition celebrates master storyteller Diana Wynne Jones's creativity, alongside that of Folio's 2019 Book Illustration Competition winner. Selected from a record-breaking 500 entries from around the world, Marie-Alice Harel re-enchants the fairy-tale tradition with her series of six images created with a lilac-themed palate. Harel also introduces the book's 21 chapters with delicate black-and-white decorations that offer tantalising clues to the story, while the binding shows heroine Sophie Hatter being magnetically drawn to the gloomy castle of the title, with its mysterious four-fold aspect.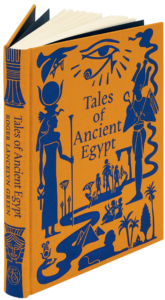 Tales of Ancient Egypt
Ancient Egypt has given the world some of the most fantastical voyages and memorable characters in literature. From Odysseus to Cinderella and Sindbad, the origins of many of our best-loved tales can be traced back to the stone carvings and papyrus texts of Egyptian antiquity. Following the hugely popular Tales of the Greek Heroes, this beautiful new edition of Lancelyn Green's classic anthology is also illustrated by Romy Blümel, and introduced by multi-award-winning children's author Geraldine McCaughrean.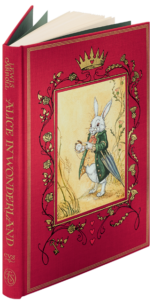 Alice in Wonderland
Tinted title pages and a spectacular new binding design reflect the magic of Carroll's incomparable story, while Charles van Sandwyk's series of charming colour plates and black-and-white drawings neatly capture its many iconic characters. Van Sandwyk has also hand drawn gorgeous new endpaper maps
Here are some of my other picks for gorgeous children's books. Please note that all descriptions come from the publisher.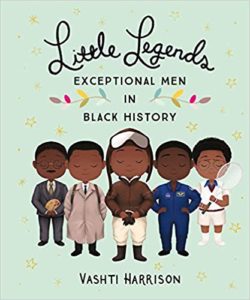 Little Legends: Exceptional Men in Black History by Vashti Harrison
Among these biographies, readers will find aviators and artists, politicians and pop stars, athletes and activists. The exceptional men featured include artist Aaron Douglas, civil rights leader John Lewis, dancer Alvin Ailey, filmmaker Oscar Micheaux, musician Prince, photographer Gordon Parks, tennis champion Arthur Ashe, and writer James Baldwin. The legends in this book span centuries and continents, but what they have in common is that each one has blazed a trail for generations to come.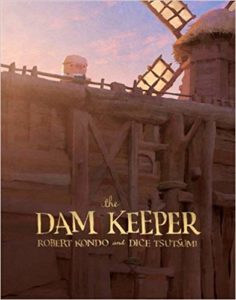 The Dam Keeper by Robert Kondo, illustrated by Dice Tsutsumi
Life in Sunrise Valley is tranquil, but beyond its borders lies certain death. A dangerous black fog looms outside the village, but its inhabitants are kept safe by an ingenious machine known as the dam. Pig's father built the dam and taught him how to maintain it. And then this brilliant inventor did the unthinkable: he walked into the fog and was never seen again. Now Pig is the dam keeper. Except for his best friend, Fox, and the town bully, Hippo, few are aware of his tireless efforts. But a new threat is on the horizon―a tidal wave of black fog is descending on Sunrise Valley. Now Pig, Fox, and Hippo must face the greatest danger imaginable: the world on the other side of the dam.
Series: The Dam Keeper, Book 2: World Without Darkness and The Dam Keeper, Book 3: Return from the Shadows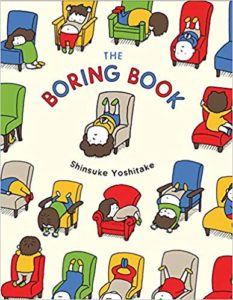 The Boring Book by Shinsuke Yoshitake
This exploration of boredom from acclaimed author-illustrator Shinsuke Yoshitake playfully—and hilariously—unpacks the ways in which a seemingly stagnant state is actually a portal into a dynamic, life-enriching experience.
• Embraces the topic of boredom—an ever-so-popular kid complaint—and runs with it
• The unique comic format, fast pace, smart humor, and narrative approach makes it ideal for reluctant readers
• A universally hilarious book that will amuse children ages 5 to 8, as well as adults
Meet the Architect! Frank Lloyd Wright by Patricia Geis
The life and work of visionary American architect Frank Lloyd Wright launches our new activity book series, Meet the Architect!, an expansion of our Meet the Artist! series. Flaps, cutouts, and pull tabs, take readers on a fascinating journey through Wright's famous works — the Solomon R. Guggenheim Museum, Fallingwater, and Taliesin, among others — and the materials and techniques he used to create them.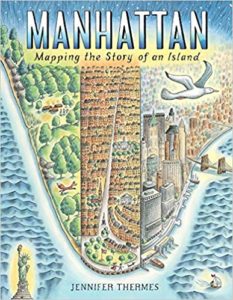 Manhattan: Mapping the Story of an Island by Jennifer Thermes
From before its earliest settlement to the vibrant metropolis that exists today, the island of Manhattan has always been a place of struggle, growth, and radical transformation. Humans, history, and natural events have shaped this tiny sliver of land for more than 400 years. In Manhattan, travel back in time to discover how a small rodent began an era of rapid change for the island. Learn about immigration, the slave trade, and the people who built New York City. See how a street plan projected the city's future, and how epic fires and storms led to major feats of engineering above and below ground. Through dramatic illustrations, informative sidebars, and detailed maps inspired by historic archives, Manhattan explores the rich history that still draws people from all around the world to the island's shores today. From The Battery downtown up to Inwood, every inch of the island has a story to tell.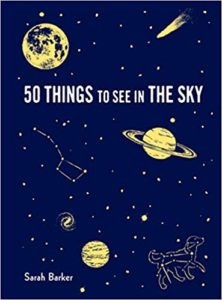 Fifty Things to See in the Sky by Sarah Barker and Maria Nilsson
This hip and handy guide helps you learn the science behind blue skies, sun dogs, and the solar eclipse, and shows you how to observe nocturnal wonders such as lunar halos, Martian ice caps, and far-off galaxies. Fifty celestial phenomena come to life with expert tips from astrophysicist Sarah Barker and stylish illustrations by Maria Nilsson. Any explorer can become an adept observer with their guidance, and more ambitious stargazers will be able to discover more distant sights with the help of binoculars, a telescope, or a local astronomy group. With a glow-in-the-dark cover, 50 Things to See in the Sky is a perfect complement to your next camping expedition and a wonderful gift for anyone who marvels at what lies in our celestial sphere.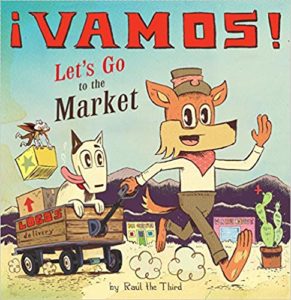 ¡Vamos! Let's Go to the Market by Raul the Third
Bilingual in a new way, this paper over board book teaches readers simple words in Spanish as they experience the bustling life of a border town. Follow Little Lobo and his dog Bernabe as they deliver supplies to a variety of vendors, selling everything from sweets to sombreros, portraits to piñatas, carved masks to comic books!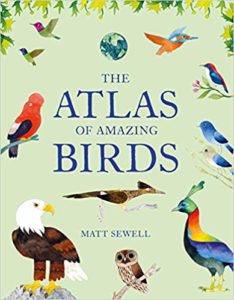 The Atlas of Amazing Birds by Matt Sewell
From colossal condors to polychromatic peacocks, The Atlas of Amazing Birds celebrates winged creatures through joyful watercolors and well-researched, humorously told tales of their habits and habitats. Some birds migrate thousands of miles, others display showy mating rituals. Some survive in extreme environments, others are fast, brave, or big! Organized by continent, the book features maps of migratory patterns across Europe, Asia, Africa, Australasia, North America, South America, and Antarctica, where our feathered friends live in all sorts of interesting places — in gardens, amidst waterways, and along byways.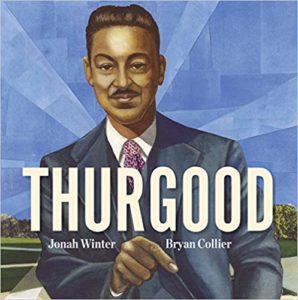 Thurgood by Jonah Winter, illustrated by Bryan Collier
Thurgood Marshall was a born lawyer–the loudest talker, funniest joke teller, and best arguer from the time he was a kid growing up in Baltimore in the early 1900s. He would go on to become the star of his high school and college debate teams, a stellar law student at Howard University, and, as a lawyer, a one-man weapon against the discriminatory laws against black Americans. After only two years at the NAACP, he was their top lawyer and had earned himself the nickname Mr. Civil Rights. He argued–and won–cases before the Supreme Court, including one of the most important cases in American history: Brown v Board of Education. And he became the first black U.S. Supreme Court Justice in history.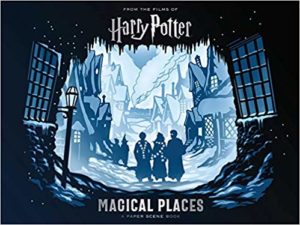 Magical Places: A Paper Scene Book, From the Films of Harry Potter, by Jody Revenson
Revisit the magic of Harry Potter through four intricate, multilayered dioramas that capture beloved locations from the films. From Hogwarts to Hogsmeade, Diagon Alley, and the Ministry of Magic, each paper scene is laser die-cut for precision and gorgeously detailed. Every scene is accompanied by essential information about these magical places and fun, behind-the-scenes facts from the films.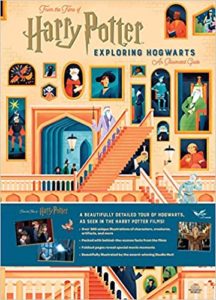 Exploring Hogwarts: An Illustrated Guide by Jody Revenson
Harry Potter: Exploring Hogwarts pairs striking full-color illustrations of Hogwarts with interactive elements that reveal key movie scenes, concept art, and behind-the-scenes info on the most memorable locations within Hogwarts School of Witchcraft and Wizardry. Go behind-the-scenes with iconic landmarks like the Forbidden Forest, the Great Hall, and Quidditch Pitch, and discover secret rooms and mysteries hidden beyond the school's surface.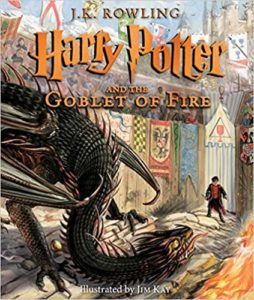 Harry Potter and the Goblet of Fire: The Illustrated Edition by J.K. Rowling, illustrated by Jim Kay
The fourth book in the beloved Harry Potter series, now illustrated in glorious full color by award-winning artist Jim Kay. Harry Potter wants to get away from the pernicious Dursleys and go to the International Quidditch Cup with Hermione, Ron, and the Weasleys. He wants to dream about Cho Chang, his crush (and maybe do more than dream). He wants to find out about the mysterious event involving two other rival schools of magic, and a competition that hasn't happened for a hundred years. He wants to be a normal, fourteen-year-old wizard. Unfortunately for Harry Potter, he's not normal – even by wizarding standards. And in this case, different can be deadly.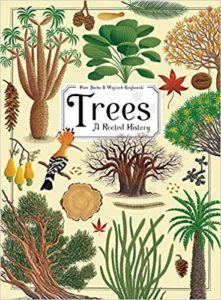 Trees: A Rooted History by Piotr Socha and Wojciech Grajkowski
Part botany, part history, part cultural anthropology—Trees goes beyond the basics to tell readers everything they might want to know about this particular branch of the plant kingdom. Trees explores the important roles trees play in our ecosystem, takes an up-close-and-personal look at the parts of trees (from roots to leaves), and unpacks the cultural impact of trees from classification systems (like family trees) to art forms (like bonsai trees). Looking forward, Trees also addresses the deforestation crisis.
What are you reading these days? I want to know! Find me on Twitter at @KarinaYanGlaser, on Instagram at @KarinaIsReadingAndWriting, or email me at KarinaBookRiot@gmail.com.
Also, if you love listening to podcasts while you're cooking, commuting, or getting ready for the day, check out the Kidlit These Days podcast. We study the intersection between children's books and current events, and our topics have included the border wall, the history of indigenous peoples of the United States, and climate change. Give it a listen!
Until next time!
Karina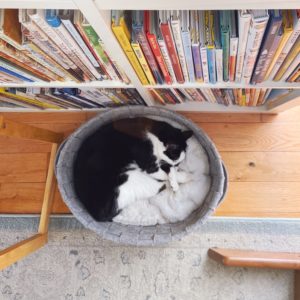 *If this e-mail was forwarded to you, follow this link to subscribe to "The Kids Are All Right" newsletter and other fabulous Book Riot newsletters for your own customized e-mail delivery. Thank you!*