Sponsored by Read Harder Journal, a reading log for tracking your books and reading outside your comfort zone!
This smartly designed reading log consists of entry pages to record stats, impressions, and reviews of each book you read. Evenly interspersed among these entry pages are 12 challenges inspired by our annual Read Harder initiative, which began in 2015 to encourage readers to pick up passed-over books, try out new genres, and choose titles from a wider range of voices and perspectives. Each challenge includes an inspiring quotation, an explanation of why the challenge will prove to be rewarding, and five book recommendations that fulfill the challenge. Get your copy (or one for the reader in your life for the holidays) here!
It's Monday again, and I hope you are ready for a new week! I just sang Carmina Burana five times in the last ten days, so I'm mostly excited to get a break. But my reading list for the rest of the year is coming together! Of course, who knows what will come out of left field, right?
News and Useful Links
Have you screamed about this cover reveal yet? Alyssa Cole's upcoming spinoff series from the Reluctant Royals (delightfully titled Runaway Royals), starts with How to Catch a Queen and oh man, I can't wait.
Last year, Suzanne at Love in Panels pulled together all the queer holiday romances from Ninestar Press, which is a smaller queer publisher that puts out some really fun reads. There should be a new one for 2019, but if you've been looking for queer holiday reads, this is a great place to start.
And then there's this cover. This book ticks so many boxes, and I am itching to get my hands on it. Except it's not coming out until just before Christmas.
And don't forget the folks at Romance Sparks Joy pull together a nice thread of every week's happenings on Twitter.
Deals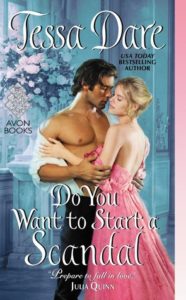 I just watched Jimmy Fallon and Kristen Bell sing the history of Disney songs in five minutes or whatever, which was a good sign that today's deal ought to be Tessa Dare's Do You Want to Start A Scandal. (Yes. I sing the title every time.) It's 1.99 right now, and if you haven't read it yet, you're in for such a treat. Charlotte and Piers are great together, and the situations Tessa Dare loves to put her characters in make me cackle with glee. Honestly, if I reread books and had infinite time, this is one I'd pick up every year or so.
Recs!
I know there's still six weeks left in the year (WHAT), but I'm trying to wrap up my 2019 reading as my ARC inbox starts to get overloaded with 2020 reads. Here are some of the 2019 books I'm looking forward to grabbing (hopefully) before the year ends.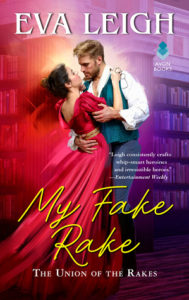 My Fake Rake by Eva Leigh (November 26)
I actually just started reading this over the weekend, but Fortuna, that imperatrix mundi, she got in the way. Once I realized the prologue setup featured an eighteenth-century version of The Breakfast Club, I was all in. And Seb and Grace have not disappointed yet. I'm a relative newcomer to Eva Leigh, having only read my first of her books this year, but I was an immediate convert after Dare to Love a Duke and this one is destined to be even better. And the bookish, anthropology-focused, bespectacled gentleman who learns to be a rake to help the similarly bookish, reptile-focused lady he's more than halfway in love with to make another man jealous? All the checks.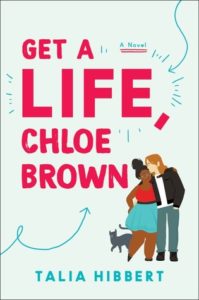 Get a Life, Chloe Brown by Talia Hibbert (November 5)
When we decided that Get a Life was going to be our next pick for the When in Romance Book Club, I made the mistake of setting it aside instead of reading it immediately, hoping to give myself some time and read it closer to our discussion. But who wants to wait for that? Everyone has been raving about it on social media and in other bookish spaces, and I am excited for the banter, the disability rep, and the fiery characters that everyone has been talking about. I currently have it in both print and audio (thanks to Libro.fm) so I'm probably still going to wait a bit so it's fresh. But not as long as originally planned!
Love Lettering by Kate Clayborn (December 31)
There has been so much chatter about this book, and I've been staring at its beautiful cover for months. I hardly know anything about it, barring love and calligraphy, but all of the promo materials have been gorgeous, and everyone I know who reads farther ahead than I do has done nothing but scream about this book.
Mangos and Mistletoe by Adriana Herrera (December 23)
This [expletive deleted] dares to give us an amazing sounding f/f holiday romance featuring Dominican characters and then isn't releasing it until December 23? Like how dare she.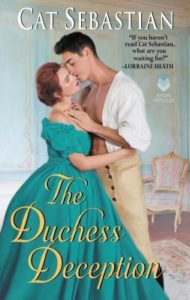 A Delicate Deception by Cat Sebastian (December 10)
Once titled The Duchess Deception, this next book in Cat's Regency Impostors series brings Amelia Allenby to the forefront instead of stealing the scenes of her friends in their books. This time, she encounters a gentleman in the country who is not telling the whole truth. As I discussed last week, I don't always do well with love interests lying to each other, but we'll see what happens here. I have not yet picked up a Cat Sebastian book I haven't loved.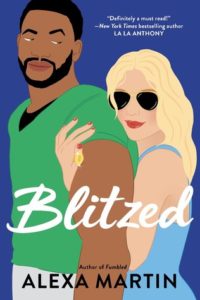 Blitzed by Alexa Martin (December 3)
I'll admit: I keep forgetting this one is coming out so soon. This is the third book in Alexa Martin's Playbook series, after Intercepted and Fumbled, and I honestly don't know how she can surpass Fumbled. But I'm looking forward to seeing how a date-gone-wrong turned second-chance story plays out in this universe.
***
This isn't everything I'd love to get through over the next several weeks, but these are definitely the ones I hope are just as amazing as people have said they are. Maybe I'll be able to read them faster, so I can read more!
What are your reading hopes for the rest of the year?
As usual, catch me on Twitter @jessisreading or Instagram @jess_is_reading, or send me an email at wheninromance@bookriot.com if you've got feedback, bookrecs, or just want to say hi!