Sponsored by Book Riot's $50 gift card to the indie bookstore of your choice giveaway! Enter here.
We're giving away a $50 gift card to one reader's independent bookstore of choice! To enter, click here and sign up for our Read This Book newsletter.
Hola Audiophiles!
This newsletter is coming to you from a blanket fort because this San Diegan is back in Portland! I've been on an audiobook kick on account of all my travels – let's get to this week's new releases so I can tell you about some of my favorites.
Ready? Let's audio.
---
New Releases – November 12 (publisher descriptions in quotes)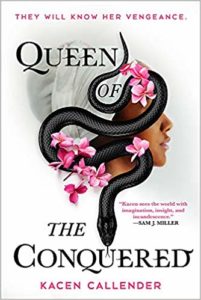 Queen of the Conquered: Islands of Blood and Storm, Book 1 by Kacen Callender, narrated by Krystel Roche – The cover of this Caribbean fantasy is gorgeous! An ambitious young woman with the power of mind control is out for revenge against the royals who murdered her family.
Narrator Note: Haitian actress and model Krystel Roche narrated Kacen (formerly Kheryn)'s first book Hurricane Child and has a beautiful accent that I could listen to all day! I wish all audiobooks were narrated in authentic accents. Maybe someday!
No One Is Too Small to Make a Difference by Greta Thunberg, read by Greta Thunberg and Saskia Maarleveld – Remember the young climate activist who read the United Nations to filth over their response to climate change? Here is a collection of her speeches made around the world, newly available on audio.
Narrator Note: The passion in Thunberg's voice is hard to ignore and gives me such chills!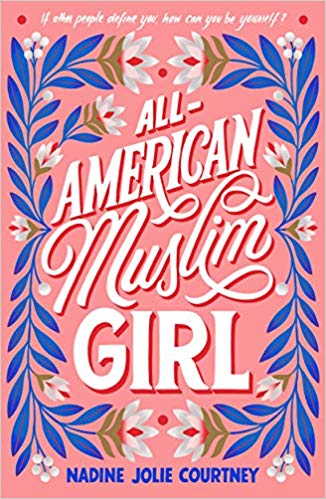 All American Muslim Girl by Nadine Jolie Courtney, narrated by Priya Ayyar – Allie Abraham is a straight-A student and all around "good girl" from a close-knit family, and she's dating the very popular Wells Henderson. Problem! Why? Because Wells' dad is a "Conservative shock jock" (I'm imagining a Sean Hannity/Bill O-Reilly/Tucker Carlson mashup and I'm terrified). Allie will have to decide whether to keep her faith to herself like her family has told her to, or embrace it out loud and face the Islamophobia that is sure to follow.
Narrator Note: Priya Ayyar is on a roll right now! I mentioned her narration of I Hope You Get This Message last month as well as other works like Roshani Chokshi's The Star Touched Queen and Tahereh Mafi's A Very Large Expanse of Sea. Lots to listen to if you're a fan!
Latest Listens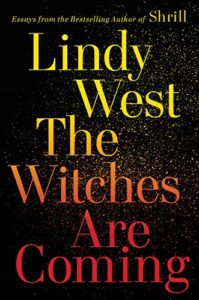 The Witches Are Coming by Lindy West, narrated by the author – Lindy West, I heart thee. Thank you for being the smart, witty, and hilarious fat-positive feminist of my dreams. She takes on everything from rape culture and toxic masculinity in comedy (and *gestures wildly at everything* everywhere else) to the Very White World of Goop and what it was like to bring Shrill to the big screen. She does this all with a healthy portion of self-examination and a call to action, and one of my favorite lines of all time: "This is a witch hunt. We're witches, and we're hunting you." I'm so glad she narrates it herself: it feels like a take-down + pep talk from a friend.
The Deep by Rivers Solomon, Daveed Diggs, William Hutson, and Jonathan Snipes, narrated by Daveed Diggs – In this quick listen (four hours and one lonely little minute), pregnant African women tossed overboard from slave ships give birth to a nation of water-breathing "men, women, both, and neither." Every generation of this underwater utopia designates one individual their historian, whose lot it is to hold the entire history—all memories both good and bad—of their people so no one else has to. When the latest historian decides this burden is too much to bear, they escape only to discover that the memories of the past, even the most painful, are the key to shaping the future.
Daveed Diggs as narrator is perfect, brilliant, wonderful, especially since the book was inspired by a song of the same name by Digg's experimental hip hop group clipping. Listen to this now!
Listens on Deck
Thinking of listening to The Starless Sea even though that sucker is 18+ hours (that length of audiobook often makes it hard for me to focus), but then I feel guilty about not yet reading The Night Circus YES I KNOW STOP YELLING AT ME. What to do, what to do….
From the Internets
This list of audiobooks that inspire lives of service comes to us from Audiofile Magazine
26.2 Audiobooks to Push You Through Your Marathon Training. LOL marathons. I will leave the running to you!
Over at the Riot
On this week's episode of SFF Yeah: Backlist to the Future, Sharifah talks about audiobooks good for road trips, especially all those long holiday drives. Tis the season!
On the decline of abridged audiobooks.
Do you re-read? I re-read. Here's a piece on the joy of doing so with audiobooks.
---
That's all I got today! Shoot me an email at vanessa@riotnewmedia.com with audiobook feedback & questions or find me on Twitter and the gram @buenosdiazsd. Sign up for the In The Club newsletter, peep the Read Harder podcast, and watch me booktube every Friday too!
Stay bad & bookish, my friends.
Vanessa