Sponsored by Paperback Classics, a new pulp imprint from Oasis Audio
After crash landing on the planet Mongo, Flash, Dale, and the eminent scientist Dr. Zarkov, fight against the evil forces of Emperor Ming, who seeks to perpetuate his rule by ruthless and savage methods. Paperback Classics reintroduces the swashbuckling space adventures of Flash Gordon — just as they appeared in the 1970s paperback book series! Twelve exciting adventures written by legendary fantasy author Ron Goulart (writing as Con Steffanson) and narrated by Audie Award–winner Johnny Heller.
Happy Friday, shipmates, and strength to those doing NaNoWriMo! Don't forget to drink some water and sleep. It's Alex, with some news for you, and a few fun (I promise, even if I mention taxes) books! Also, you must listen to Kevin Harlan narrating a black cat on the football field, because this is truly the best thing I've heard all week. I move that whenceforth, all amusing cat activity be given a sporting event-style play-by-play. And while you're listening to things, you should also definitely give your time to this version of Let It Go… in Klingon.
Department of Shame on Me
Because I somehow managed to not include two new releases that deserved to be on the list.
Star Wars: Resistance Reborn by Rebecca Roanhorse – If you've been wondering what happened after the end of The Last Jedi to get us to Rise of Skywalker, this book is here to answer all of your questions.
Girls & Ghosts by Annie Michaud – A haunting collection of five short stories of the angry dead and resilient living.
News and Views
This has been a week of many good essays. Allow me to share a few to start off with:
Here's some short fiction recommendations from stories published in October.
Nnedi Okorafor defines Africanfuturism.
So there's a movie based on HP Lovecraft's The Color Out of Space and it involves both Nic Cage and Tommy Chong. I felt you needed to know this.
Mark Hamill watching his original Star Wars audition.
A new His Dark Materials trailer for the rest of the first season.
I mentioned in the previous newsletter that Tamora Pierce's Tortall series has been optioned for TV–and here's a list of moments from the books that would be great on screen that I 100% agree with.
More cookies in space news! The package has been launched!
On Book Riot
This week's SFF Yeah! podcast is about shapeshifters!
Cover Reveal and Excerpt: B*Witch by Paige McKenzie and Nancy Ohlin
10 YA Fairy Books for Fans of Holly Black
Free Association Friday
I live in one of the states in the good ol' US of A that had a local election this past Tuesday. All I will say about this, since I know you don't want to hear me ranting about state politics, is that I'm grumpy, and I'm thinking about taxes and how important they are. So you know what? Here are some books that think taxes (and state finances, and trade) are pretty darn important too.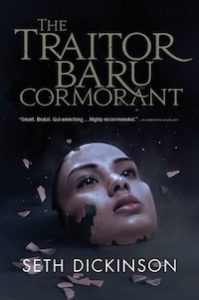 My immediate go-to on this topic is The Traitor Baru Cormorant by Seth Dickinson. Which is a dark and complicated and very meaty book, in which some of the most utterly intense action and intrigue revolves around monetary policy. It's really good.
Tales of Nevèrÿon by Samuel R. Delaney explores the changes to a culture when it is "civilized" by money and slavery. It's a fantasy where the biggest act of world-altering sorcery is going from concrete trade to the much more abstract use of coins. (And if you find his world and his themes interesting, there's three more volumes in the series to be had.)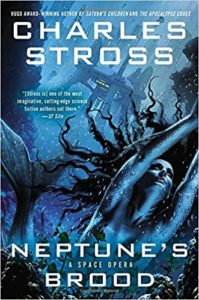 Not so much taxes but very much about economics and trade, there's Neptune's Brood by Charles Stross, which is about manners, banking, and a massive scam on the galactic futures market. Hostile Takeover by Susan Schwartz also has plots within financial plots and scams within scams, in a much more corporate framework, with a badass financial analyst for a main character.
Taking a step back into the broader view of just economic systems, I have to mention The Dispossessed by Ursula K. Le Guin, which deals with the broad evolution of economic ideas and how they migrate through cultures. It's also just a darn good book in general.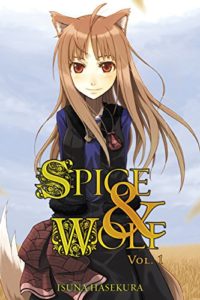 Lastly, just for fun: Spice and Wolf by Isuna Hasekura starts off a light novel series where the main character is a traveling trader who accidentally picks up a wolf goddess as a companion. It's definitely not as heavily into monetary policy (and it's also not the best translated work I've ever read, to be honest), but it's cute as heck.
---
See you, space pirates. You can find all of the books recommended in this newsletter on a handy Goodreads shelf. If you'd like to know more about my secret plans to dominate the seas and skies, you can catch me over at my personal site.