Sponsored by a selection of fall novels from the Class of 2k19 books, 20 authors, 20 MG and YA novels debuting in 2019.
THE TENTH GIRL: "Faring's exquisite prose weaves a tale that is seductively eerie and wildly original." —April Genevieve Tucholke, The Boneless Mercies. SCARS LIKE WINGS: "A heartfelt, unflinching look at being a burn survivor and the scars we all carry." -Stephanie Nielson, Heaven is Here. GRAVEMAIDENS: "Gravemaidens grabs you by your beating heart and refuses to let go until the bitter, breathtaking end." Sarah Glenn Marsh, Reign of the Fallen. WILD LIFE: "Roberts' witty voice navigates joy and sorrow with a deft touch; her descriptions of Baboon Camp are so vivid, you can smell the dust." – Madeline Miller, Circe
Happy Thursday, readers. I hope you're getting lots of good reading time in even though it's dark at like 12:30pm or something now. (Whyyyyyyyyyyyy.) I was in Boston earlier this week and picked up some fun stuff to read – which I am going to do as soon as I finish this newsletter! Please remember to be kind to yourself and others. I'll see you again on Monday! – xoxo, Liberty
Trivia question time! What 1986 film did Tori Amos audition for the lead role? (Scroll to the bottom for the answer.)
Deals, Reals, and Squeals!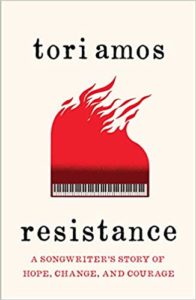 Tori Amos announced that she has a book coming in 2020: Resistance: A Songwriter's Story of Hope, Change, and Courage.
Marie-Helene Bertino announced her new novel, Parakeet.
Charlie Jane Anders announced her new book too: Even Greater Mistakes.
Here's the beautiful cover of Megha Majumdar's upcoming novel, A Burning.
Sarah MacLean has partnered with Jordandené for a line of romance-loving, sex-positive, feminist collection.
Juno Dawson's Hollow Pike will be a TV series.
Here's the cover reveal of Recipe for Persuasion by Sonali Dev.
There's still at least one Game of Thrones spinoff still headed our way.
Here are the 2019 World Fantasy Award Winners.
Not Even Bones by Rebecca Schaeffer is now a webcomic.
And here's the 2020 Carnegie Medals shortlist.
Book Riot Recommends 
At Book Riot, I work on the New Books! email, the All the Books! podcast about new releases, and the Book Riot Insiders New Release Index. I am very fortunate to get to read a lot of upcoming titles, and learn about a lot of upcoming titles, and I'm delighted to share a couple with you each week so you can add them to your TBR! (It will now be books I loved on Mondays and books I'm excited to read on Thursdays. YAY, BOOKS!)
Excited to read: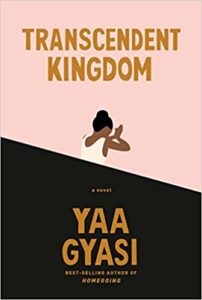 Transcendent Kingdom by Yaa Gyasi (Knopf, July 14, 2020)
Believe it or not, it has already been three years since Homegoing was released. I think that book is amaaaaaaaaazing, and I know many of you think so as well. So we can all be excited together for the arrival of her new novel in 2020! This one is about a troubled Ghanaian family in Alabama. I cannot wait to get my hands on this.
What I'm reading this week.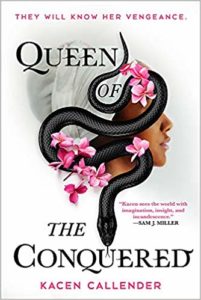 Queen of the Conquered (Islands of Blood and Storm) by Kacen Callender
Kingdomtide by Rye Curtis
Acid for the Children: A Memoir by Flea
Beheld by TaraShea Nesbit
And this is funny.
Song stuck in my head:
"Night Shift" by Lucy Dacus
Trivia answer: Howard the Duck.
You made it to the bottom! High five. Thanks for reading! – xo, L