Sponsored by Nightfire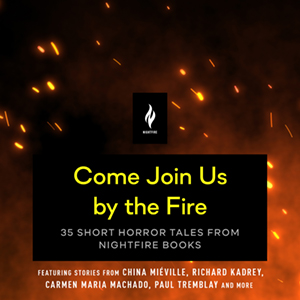 Come Join Us by the Fire… Discover the exclusive audio project Come Join Us by the Fire from Nightfire, a new horror imprint from Tom Doherty Associates. Listen to stories from China Miéville, Chuck Wendig, Victor LaValle, Brooke Bolander, Alyssa Wong, and more in this audio-only horror anthology of 35 short stories available to download as free individual audiobooks or to call up with a voice command on Google Home assistant devices. Visit tornightfire.com to sign up for the Nightfire newsletter and get the latest in horror.
Hola Audiophiles! It's my cousin's wedding week and things are un poquito hectic right now! What is sleep?! Before I descend into a cloud of hairspray, bobby pins, and chiffon, let me tell you about some of the audiobooks I'm most jazzed about this week.
Ready? Let's audio.
---
New Releases – November 7 (publisher's descriptions in quotes)
The fall book deluge continues! There are too many new releases to cover here, so here are a few buzzy titles out this week that probs don't need an introduction:
Now here are some others that may or may not be on your radar, but should be.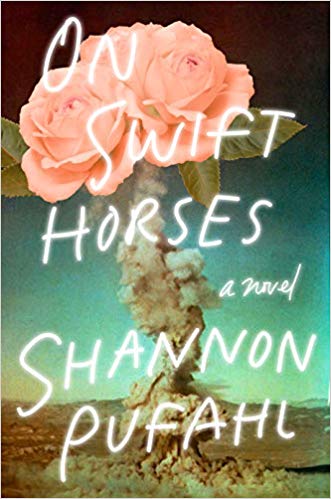 On Swift Horses by Shannon Pufahl, narrated by Cassandra Campbell and MacLeod Andrews – This suburban western has a special place in my heart; it's based in part in San Diego and Tijuana, my hometown and the border town where I still spend a lot of my time. "A lonely newlywed and her wayward brother-in-law follow divergent and dangerous paths through the postwar American West." Real talk: I didn't think this sounded very interesting when I first read the blurb, and that was short-sighted of me. It's a beautiful read!
The Book of Lost Saints by Daniel Jose Older, narrated by Sofia Quintero – EEK I've never read Daniel Jose Older but I've been meaning to for such a long time! This "evocative multigenerational Cuban-American family story of revolution, loss, and family bonds" rings so many of my bells, y'all! The ghost of a woman who went missing during the Cuban Revolution comes back to haunt her nephew in present-day Jersey in the hopes that she can guide him to unearth their panful family history.
Narrator Note: I don't know much about Sofia Quintero, or whether this narrator is the same Sofia Quintero who's a writer, activist, educator, comedienne, and speaker. What I do know is that they got someone with the perfect accent to read a book about Cubanos (Quintero may not or may not be Cuban, of course, but it works). Authenticity!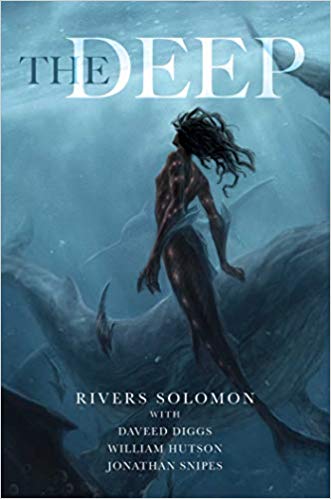 The Deep by Rivers Solomon, Daveed Diggs, William Hutson, and Jonathan Snipes, narrated by Daveed Diggs – This novella was inspired by the song "The Deep" by David Digg's rap group clipping. In it, "water-breathing descendants of African slave women tossed overboard have built their own underwater society—and must reclaim the memories of their past to shape their future." Yep, gonna need that in my life.
Narrator note. Daveed! Diggs!
The Great Pretender: The Undercover Mission That Changed Our Understanding of Madness by Susannah Cahalan, narrated by Christie Moreau, Susannah Cahalan – This history of our handling of mental illness starts with a dive into a decades-long mystery that dates back to 1970: a Stanford psychologist and seven other "sane, normal, well-adjusted members of society" went undercover into asylums around the country to investigate the quality and legitimacy of the psychiatric care given therein. "Forced to remain inside until they'd 'proven' themselves sane, all eight emerged with alarming diagnoses and even more troubling stories of their treatment." WHAT?!
Narrator Note: When I hear Christie Moreau's voice, I keep thinking of the word "fresh." It's clear, upbeat… ya know, fresh!
Related: If you haven't read Brain on Fire, that is worth a read, too. You'll understand why this subject matter is of particular interest to Susan Cahalan.
Latest Listens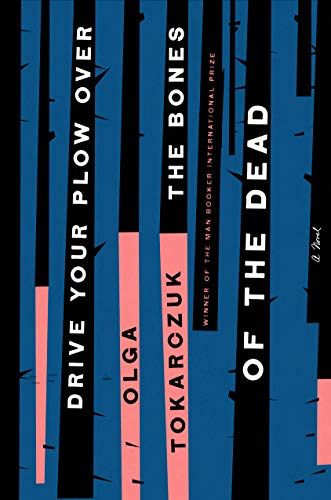 I've been all over the place with my audio habits this week and haven't finished any of the four books I have going, so I'm going to tell you about a title I read earlier this year. If you're in the mood for a literary murder mystery, let me sell you on Drive Your Plow Over the Bones of the Dead by Olga Tocarczuk, translated by Antonia Lloyd-Jones, narrated by Beata Pozniak.
Our main character and narrator is Janina, a reclusive woman in a remote Polish village who minds the homes of bougie, well-to-do Polish residents when she's not translating poetry or studying astrology. When a neighbor's suspicious death is followed by several equally suspicious deaths, Janina is convinced that the killings are the handiwork of animals enacting vigilante justice on the vile men who hunted them. The book asks not so much who dunnit but why; it's a real study in empathy, ageism, and man's impact on the natural world.
I sampled it on audio this month and I'm now rereading it as a result. Hearing this story told in an authentic Polish accent is a treat on its own, but the best part is how Beata Pozniak takes such great pains to match her pitch and pace to the story. Her voice is a low and breathy whisper when a body is found and an angry, indignant yell when Janina is dismissed by the locals time and again. My only reservation here is that the narration is so slow, for me at least! I've sped up my listening speed to 1.5 and that seems to be the perfect fit.
From the Internets
Sometimes the audiobook experience is even better than the print/digital version! Here are some examples from Esquire.
Vulture rounds up the best Stephen King audiobooks
Over at the Riot
A roundup of the best Android apps for DRM-free audiobooks
My Read Harder buddy Tirzah put together this awesome piece on audiobooks narrated by Emily Woo Zeller. I love when you find a narrator you can depend on time and again!
A reminder that audiobooks make great gifts.
---
That's all I got today! Shoot me an email at vanessa@riotnewmedia.com with audiobook feedback & questions or find me on Twitter and the gram @buenosdiazsd. Sign up for the In The Club newsletter, peep the Read Harder podcast, and watch me booktube every Friday too!
Stay bad & bookish, my friends.
Vanessa