Sponsored by The Train to Impossible Places series by P. G. Bell
Are you ready for the adventure of a lifetime? P. G. Bell's stunning fantasy series follows the route of the Impossible Postal Express, a troll-operated delivery service that runs everywhere from ocean-bottom shipwrecks, to Trollville, to space! "All aboard for an adventure like no other." —Kirkus Reviews. "Full of imaginative locales and fun twists." —Publishers Weekly. "A rollicking adventure . . reminiscent of Terry Pratchett and Diana Wynne Jones." —Booklist.
Hi Kid Lit Friends,
We are at the last Tuesday of October! And may I just say that I expect to see lots of adorable bookish Halloween costumes in my Twitter and Instagram feeds this Thursday. (Pets as well, please!) I've got some great new releases for you today; take a look and let me know what you think. As always, if I've had the chance to read one of these books and loved it, I marked it with a
. Please note that all descriptions come from the publisher.
Picture Book New Releases
A Day So Gray by Marie Lamba, illustrated by Alea Marley
Once you start to notice, colors and reasons for gratitude are everywhere, and that changes everything! Celebrate the hues and comforts of a cozy winter day as a discontented girl at first notices only dull grays and browns in a snowy landscape but is coaxed by her friend to look more closely. Soon she finds orange berries, blue water, purple shadows, and more. Warm friendship and a fresh way of seeing things transform a snow-covered landscape from bleak to beautiful!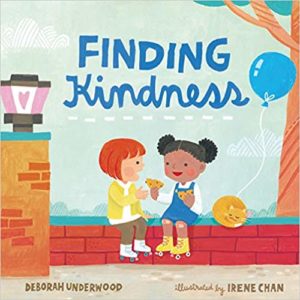 Finding Kindness by Deborah Underwood, illustrated by Irene Chan
Celebrate kindness in all its many forms. This is a powerful story of community, compassion, and generosity of spirit―perfect for sharing!
Kindness is sometimes a cup and a card, or a ladder, a truck, and a tree. A scritch and a cuddle. A rake and a yard.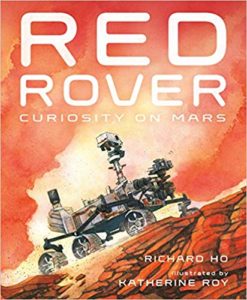 Red Rover: Curiousity on Mars by Richard Ho, illustrated by Katherine Roy by Richard Ho, illustrated by Katherine Roy (nonfiction)
Mars has a visitor.
It likes to roam…
observe…
measure…
and collect.
It explores the red landscape―
crossing plains, climbing hills,
and tracing the bottoms of
craters―in search of water
and life.
It is not the first to visit Mars.
It will not be the last.
But it might be…
the most curious.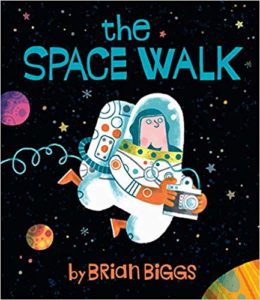 The Space Walk by Brian Biggs
Astronaut Randolph Witherspoon wants to take a walk–a space walk, that is! But Ground Control has other ideas. Randolph must eat some lunch, get some exercise, and then he can go outside, provided he dresses warmly and doesn't talk to strangers. But Randolph's mission doesn't exactly go to plan, leading to an unexpected new friend.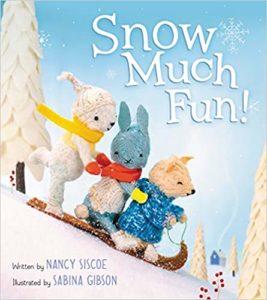 Snow Much Fun by Nancy Siscoe, illustrated by Sabina Gibson
The first snowflakes are finally falling—and Berry and Ginger are SNOW ready!
They can't wait to be sledding, ice-skating, and snowman-building. But Willow is not so sure…
A celebration of friendship and winter wonder, this is a cozy treat for young readers.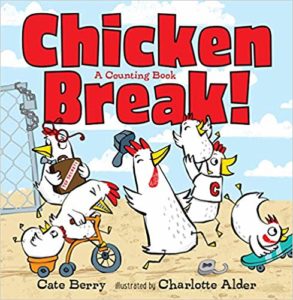 Chicken Break! by Cate Berry, illustrated by Charlotte Adler
Chicken Break, a children's picture book from writer Cate Berry and illustrator Charlotte Alder, is simple fun with some wild and crazy chickens…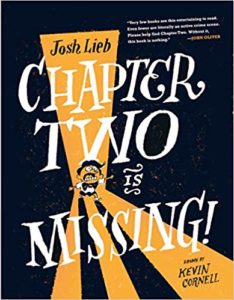 Chapter Two is Missing! by Josh Lieb, illustrated by Kevin Cornell
Do not be alarmed, but the second chapter of this book appears to be missing! It was here a minute ago, but now it seems to have simply walked off. Not only that, but some of the punctuation has gone topsy-turvy, a bunch of letter Ms are hiding in Chapter 5, and Chapter 45 appears to be from another book entirely! The narrator is going to need some assistance getting things in order, especially with the unhelpful detective who keeps butting in and that shifty janitor lurking about. Luckily he has you–the reader–to help!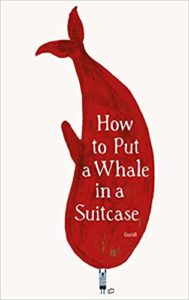 How to Put a Whale in a Suitcase by Guridi
What happens if you suddenly have to leave your home and put everything you love into one suitcase? How do you begin to fit everything in? As the boy in the book tries to squeeze his whale into a suitcase, it becomes clear that the whale symbolizes something much larger.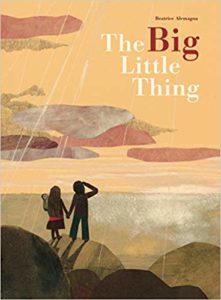 The Big Little Thing by Beatrice Alemagna
It unexpectedly arrived. It brushed passed someone in the street. It weaves its way in and out of people on the street. It catches people completely unawares. But what is this It? They call It . . . happiness!
Early Reader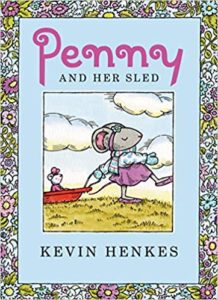 Penny and her Sled by Kevin Henkes
When Penny, a sweet and curious mouse, gets a new sled, she can't wait to use it. But there's one big problem—there's no snow! Patiently, Penny waits and watches for the snow to appear. She puts on her scarf and hat. She sleeps with her mittens. Maybe if she's ready, the snow will finally come. But day after day, the snow does not arrive. Finally, Penny decides she will use her sled for other things—it's too wonderful not to!
Middle Grade New Releases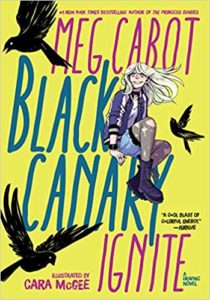 Black Canary Ignite by Meg Cabot, illustrated by Cara McGee (graphic novel)
Thirteen-year-old Dinah Lance knows exactly what she wants, who she is, and where she's going. First, she'll win the battle of the bands with her two best friends, then she'll join the Gotham City Junior Police Academy so she can solve crimes just like her dad. Who knows, her rock-star group of friends may even save the world, but first they'll need to agree on a band name. When a mysterious figure keeps getting in the way of Dinah's goals and threatens her friends and family, she'll learn more about herself, her mother's secret past, and navigating the various power chords of life.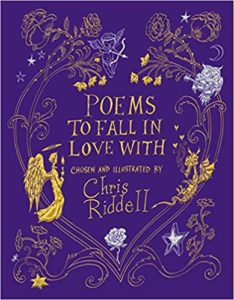 Poems to Fall in Love With by Chris Ridell
This gorgeously illustrated collection celebrates love in all its guises, from silent admiration through passion to tearful resignation. These poems speak of the universal experiences of the heart and are brought to life with Chris's exquisite, intricate artwork.
What are you reading these days? I want to know! Find me on Twitter at @KarinaYanGlaser, on Instagram at @KarinaIsReadingAndWriting, or email me at karina@bookriot.com.
Have you checked out Book Riot's Kidlit These Days podcast yet? I co-host it with my friend, school librarian Matthew Winner. We chat about the intersection of children's books and what's going on in the world today. Give it a listen and let us know what you think!
Until next time!
Karina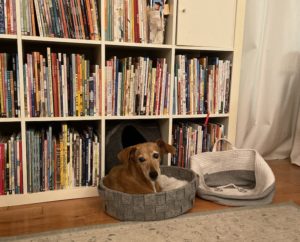 *If this e-mail was forwarded to you, follow this link to subscribe to "The Kids Are All Right" newsletter and other fabulous Book Riot newsletters for your own customized e-mail delivery. Thank you!*