Sponsored by Things We Didn't Talk About When I Was A Girl by Jeannie Vanasco.
Jeannie Vanasco has had the same nightmare since she was a teenager. It is always about him: one of her closest high school friends, a boy named Mark. A boy who raped her. When her nightmares worsen, Jeannie decides―after fourteen years of silence―to reach out to Mark. He agrees to talk on the record and meet in person. "It's the least I can do," he says. Things We Didn't Talk About When I Was a Girl is part memoir, part true crime record, and part testament to the strength of female friendships―a recounting and reckoning that will inspire us to ask harder questions and interrogate our biases.
Hello and happiest of Wednesdays, fellow nonfiction fans. It is cold and rainy and dark here in Minnesota, which has drained my energy and convinced me that constantly baking cookies is a good idea. Thank goodness for audiobooks and Spotify's Mood Booster playlist, which have been keeping me company for the last couple of days.
This week is another pile on of great new books! I've featured three – about persuasion, ordinary days, and diversity – then linked out to nine more, for a full dozen great new nonfiction books to read this week. Let's dive in!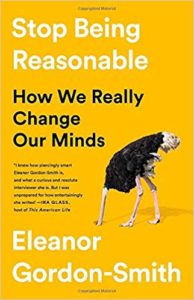 Stop Being Reasonable: How We Change Minds by Eleanor Gordon-Smith – We all like to think we're rational, and that rational discourse changes minds. In this book, Eleanor Gordon-Smith argues that isn't true at all. She tells the stories of people who have radically changed their beliefs, and explores what it actually took to change their minds. She explores where resistance to new ideas comes from, shame in being wrong, and how people can actually be persuaded.
Further Reading: Gordon-Smith writes an advice column, I think, for The Guardian where she answers ethical dilemmas. This one about friends and friends of friends is interesting.
One Day: The Extraordinary Story of an Ordinary 24 Hours in America by Gene Weingarten – The concept of this book totally fascinates me. Journalist Gene Weingarten asked three strangers to help him pick a random day – December 26, 1986 – then set out to tell as many stories as he could about that seemingly ordinary day. I love the idea that there are no small stories, and so a book that goes out to prove that is going on my radar.
Further Reading: A story from the book, about a woman receiving a heart transplant via a surgery that had never been done before, was published a few weeks ago in the Washington Post magazine.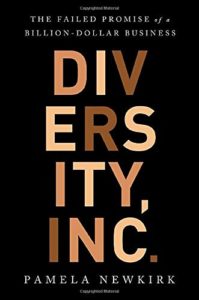 Diversity, Inc.: The Failed Promise of a Billion-Dollar Business by Pamela Newkirk – In this book, journalist Pamela Newkirk explores how "workplace diversity initiatives have turned into a profoundly misguided industry" and failed to bring equality into industries and institutions. She highlights some success stories, which also looking at "the vast gap between the rhetoric of inclusivity and real achievements." I feel like anyone who has participated in a workplace diversity initiative will find something interesting in this book.
Further Reading: Newkirk previously wrote a book called Spectacle: The Astonishing Life of Ota Benga. You can read a brief essay from the book here.
And here are some more books!
There are so many good books this week! It's hardly even fair… an embarrassment of riches. You can find me on Twitter @kimthedork, on email at kim@riotnewmedia.com, and co-hosting the For Real podcast here at Book Riot. Happy reading! – Kim