Sponsored by Bitter Orange by Claire Fuller, Now in Paperback
From the attic of Lyntons, a dilapidated English country mansion, Frances Jellico sees them―Cara first: dark and beautiful, then Peter: striking and serious. The couple is spending the summer of 1969 in the rooms below hers while Frances is researching the architecture in the surrounding gardens. But she's distracted. Beneath a floorboard in her bathroom, she finds a peephole that gives her access to her neighbors' private lives.
Welcome to In The Club, a newsletter of resources to keep your book group well-met, well-read, and well-fed.
Thank you for all of the kind messages regarding my grandfather's passing, It was a tough week but every day it gets a teeny bit easier. This week I finally got my vampire theme together, so let's get straight to the blood suckers, shall we?
To the club!!
---
Nibbles and Sips – A Bloody Good Time
Why yes, I am suggesting a blood-themed menu. I add extra berries to this Blackberry Sage Margarita to make it extra thick and blood-like. Leave out the booze if you prefer, of course.
This Witches Blood cocktail is a mix of vodka and whiskey with cherry soda and schnapps for sweetness, and to give it that lovely plasma hue. I like tart cherry juice in place of soda in this as well.
For some snackage, these Blood Spatter Cookies are delightful. I love the delicate almond flavor, but leave out the extract if it's not your bag.
Another idea is go full garlicpalooza because duh! we want to ward off the vampires and also I just reeeeally love garlic. There are so many recipes you could go with but you must try mozzarella garlic bread from Nigella Lawson's At My Table. Use good chewy bread and fresh mozzarella. The crushed red peppers mixed in with the gooey cheesiness are so good!
Books That Suck (hehe)
Yeah sure. monsters who suck blood are, like scary. Know what's scarier? The dark and twisted sh*t that regular ol' humans are capable of; it's terrifying! For each of these books, dig into the whole idea of what makes a monster, and how so much of our fear is rooted in the pondering of the dark sides of humanity, or simply in our "othering" of people or concepts we don't understand.
The Historian by Elizabeth Kostova – I knew the legend of Dracula was based on a real person, but I didn't realize just how gross and barbaric ol' Vlad the Impaler really was until this book sent me down that internet rabbit hole. It's a super fun blend of history and folklore about a young girl who finds a cache of letters that sends her on a wild ride through her family's dark past. Also, Vlad is involved and he might… still…kinda… be alive? This kept me up reading late into the night, and gave me major wanderlust for Hungary, Romania, and Turkey.
Certain Dark Things by Silvia Moreno-Garcia – Vampires in Mexico? Take all of my money! Domingo is a garbage-collecting street kid and Atl a descendent of Aztec vampires, one with a penchant for blood herself who happens to be on the run. The two probs shouldn't be friends because things don't usually end well when hen one friend wants to suck the blood from the other, ya know? Of course, they grow attached and soon find it's them against the world—a world of cops, vamps, and rivaling narco-vampire gangs—in the dark streets of Mexico City.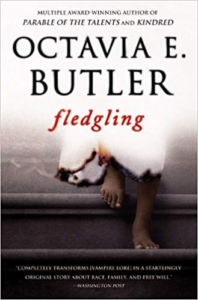 Fledgling by Octavia Butler – Confession: I've never read Octavia Butler! Shame! Shame! In this last of her novels, recommended to me many times over, a young, amnesiac girl discovers she's a modified 53-year-old vampire. I hate when that happens! She sets out to learn more about the life that was stolen from her and realizes someone wants her and everyone she loves to perish.
---
Suggestion Section
---
Thanks for hanging with me today! Shoot me an email at vanessa@riotnewmedia.com with your burning book club questions or find me on Twitter and the gram @buenosdiazsd. Sign up for the Audiobooks newsletter, get it on the Read Harder podcast, and watch me and my hair on the Book Riot YouTube channel every Friday too.
Stay bad & bookish, my friends.
Vanessa
More Resources:
– Our Book Group In A Box guide
– List your group on the Book Group Resources page