Sponsored by HMH
From New York Times best-selling author Jami Attenberg comes a novel of family secrets—think the drama of Big Little Lies set in the heat of a New Orleans summer. All This Could Be Yours is a timely, piercing exploration of what it means to be caught in the web of a toxic man who abused his power; it shows how those webs can tangle a family for generations and what it takes to—maybe, hopefully—break free. With her signature "sparkling prose" (Marie Claire) and incisive wit, Jami Attenberg deftly explores one of the most important subjects of our age.
Hola Audiophiles!
I hope this week is treating all of you well and that great listens fill your ears. This week I lost myself in a pretty delightful book and have already started on another one, both of which I ramble about below. Thank you for all of your kinds words regarding the passing of my grandfather – your words and the ones read aloud to me have helped make each day a little brighter.
Ready? Let's audio.
---
New Releases – to be continued!
I'm skipping this week's new release section and resuming next week so that I'm telling you about the week's releases in the week of their release and not a week ahead of time. Cool? Cool.
Latest Listens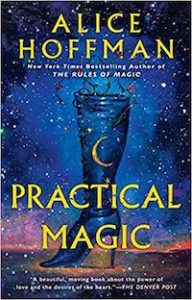 Practical Magic whaaaat?!? Why did I wait so long to read this!? If you too have managed to avoid this book for decades: Sally and Gillian Owens are beautiful, precocious sisters who've been raised by their two aunts since their parents' tragic deaths. The aunts are witches with powers that both terrify and fascinate the girls, powers they soon develop themselves. Though close, they drift apart when Gillian decides she wants to be as far away from home as possible for a chance at some kind of normalcy. She returns eventually when she finds herself in a pickle, one that changes the sisters' lives and buys them a not-so-friendly ghostly companion.
I love the generational magic, the heartbreaking romance, the complicated relationship between careful rule-following Sally and flighty, self-absorbed Gillian. If you love magical books that explore familial ties in all of their complicated and sometimes inconvenient glory, this is a bewitching (heh) treat.
As for Christina Moore's narration, she has a really great storyteller voice, both neutral and spirited where it needed to be. Her Gillian voice was the only one that sometimes felt forcibly baritone, but I think I may have been comparing it to Nicole Kidman's breathy and higher pitch (she plays Gillian in the movie adaptation).
P.S. It bears repeating that this is SO different from the movie, which I watched seconds after completing the audiobook. Not an unforgivable departure plot-wise, but it is much darker in language and tone. Lots of f-bombs and a trigger warning for an attempted sexual assault (a chase scene involving a minor with some vulgar language) and domestic abuse.
Listens on Deck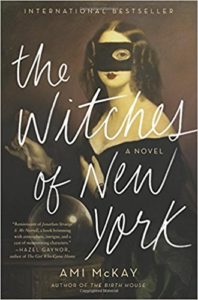 Guess what? It's witches. More witches, many witches, all of the witches!!! Though I may work in some vampires and ghosts at some point too. Don't want them feeling left out.
I've now moved on to The Witches of New York by Ami McKay which is SO EXTREMELY MY SH*T. It's about a trio of witches who run a tea shop in late 1800s New York called Tea & Sympathy. There's a talking raven and lots of tea and a crusade to eradicate witches that harkens back to the original witch trials. If my bells were real and not metaphorical, you'd hear a cacophony of ringing from miles away.
From the Internets
Uber is allowing riders to listen to short stories on Audible in the UK.
Need a spine-tingling mystery for your ear holes? AudioFile to the rescue.
Someone went and wrote a piece breaking down the hilarious accents in Ronan Farrow's Catch and Kill. Actual LOL! Again, Farrow's work here is brave and invaluable, but those accents are so extra.
Over at the Riot
I joined Liberty on All the Books this week to talk this week's new releases where I talk about revisiting God Save the Queens by Kathy Iandoli and other great new releases.
Wondering how to score audiobook ARCs? Here's the skinny for all your blogging needs.
---
That's all I got today! Shoot me an email at vanessa@riotnewmedia.com with audiobook feedback & questions or find me on Twitter and the gram @buenosdiazsd. Sign up for the In The Club newsletter, peep the Read Harder podcast, and watch me and my hair on the Book Riot YouTube channel every Friday too!
Stay bad & bookish, my friends.
Vanessa