Sponsored by William Morrow Paperbacks
When a massive hurricane severs all power and cell service to Little Bridge Island—as well as its connection to the mainland—twenty-five-year-old Bree Beckham isn't worried . . . at first. She's already escaped one storm—her emotionally abusive ex—so a hurricane seems like it will be a piece of cake. But animal-loving Bree does become alarmed when she realizes how many islanders have been cut off from their beloved pets. Now it's up to her to save as many of Little Bridge's cats and dogs as she can . . . but to do so, she's going to need help—help she has no choice but to accept from her boss's sexy nephew, Drew Hartwell, the Mermaid Café's most notorious heartbreaker.
How's your week going, KB? I know it's only Monday, and some of you might be reading this even before you've headed to work, but you know, gotta start early.
News and Useful Links
If you live in LA and your dream job is to work at The Ripped Bodice, now's your chance.
Looking for a new online book club to join? This one's going to be pretty awesome.
Have you seen the cover of Alexis Daria's forthcoming telenovela-themed romance, You Had Me at Hola? Whoo man. It. Is. Great.
Bawdy Bookworms has a new subscription box! Introducing the Bawdy Quickie Box, each of which will feature a diverse romance and an erotic item.
This is a great article about romance novels being at the forefront of CTE in fiction, and the Twitter thread it's attached to is also full of really great reads.
This is an excellent list of romances featuring Jewish protagonists. Which ones have you read? And if you can't think of any, well…you've got someplace to start now!
Frolic is now a parent company. They just coordinated with a media company to form the Frolic Podcast Network, which involves a few podcasts I'm pretty familiar with and some I know less about.
I would like a romance novel that starts with this meet cute. I know Jen Deluca is sort of the be-all in renaissance festival romance right now, but there's obviously a market! Somebody get this going, please.
Deals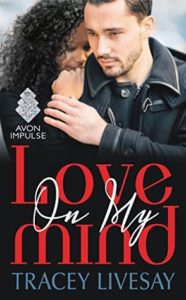 It's been a minute since I've talked about Tracey Livesay (who has a new book coming out with Avon in too many months) but Love On My Mind, the first in her Shades of Love series and the cover that will always get me singing Natalie Cole, is 99 cents right now! I really enjoyed this one, even with my misgivings about the nature of the deception at the story's core. But both characters are really interesting, and the setup for the rest of the series is pretty great 😀
And if you're looking for a new wolf shifter series to try out, Maria Vale's The Last Wolf is FREE right now! This series has gotten a lot of chatter, and I'm looking forward to picking it up (someday lolsob).
Recs
It's Asexual Awareness Week (or Ace Week, according to the website) so I wanted to pull together some recs of books I've loved, that have also been appreciated by readers on the gray/ace spectrum for having good rep of various sexual identies.
Thaw by Elyse Springer (asexual protagonist)
Abby is a librarian whose primary goal in life is to make sure her library keeps running. But when she takes time away from working at and advocating for the library to attend a schmancy function, she finds herself in the arms of the beautiful Gabrielle, a supermodel and aspiring actress.
Play It Again by Aidan Wayne (asexual protagonist)
David is a blind accessibility reviewer and all-around influencer. When he discovers Sam, a gamer with a lovely voice whose gameplay videos he can't help but enjoy, he accidentally sends the other man into a world of popularity he hadn't been prepared for. The two communicate cross-continentally, forming a strong connection via the interwebs and other modern forms of communication.
How to Be a Normal Person by TJ Klune (asexual protagonist)
When Casey moves from Los Angeles to the small town of Abby, Oregon, the last thing he expects to do is find the love of his life. But Gustavo, the grumpiest of grumpy romance heroes, is basically the best thing he's ever seen. Casey's earnestness and Gus's grumpy matter-of-factness are the perfect juxtaposition as they both figure out how to be normal people.
Note: If you enjoy this one, definitely check out How to Be a Movie Star, which has a demisexual protagonist. His whole journey from "I want to be this guy's friend" to "this is my favorite person in the world" is the sweetest thing, and perfect on audio.
Note 2: Dreamspinner Press still hasn't paid TJ Klune and a bunch of other authors royalties. You can make a choice whether you want to support the publisher while TJ is in the process of getting the rights to all of his books reverted.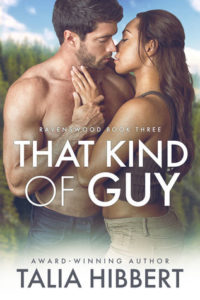 That Kind of Guy by Talia Hibbert (demisexual protagonist)
Zach really likes Rae. She's his favorite person to talk to, and he'd probably do anything for her. Which is how he ends up offering to be her pretend boyfriend at a conference that she's been invited to—that she knows her ex husband will also be attending. He's recently decided to live for himself and stop being the person everyone's expected him to be, which means he only does things he wants to do. So how does a trip that's just supposed to be a platonic weekend of pretend leave him breathless and confused?
Shadows You Left by Taylor Brooke and Jude Sierra (demiromantic protagonist)
If you need some heavy angst in your life, Erik and River are here to provide. Erik, an underground cage fighter, gets a new dragon tattoo for each of his wins. When he gets into tattoo artist River's chair, there's an immediate connection, but each of them has plenty of baggage they don't want the other to have to deal with.
Syncopation by Anna Zabo (aromantic protagonist)
This was actually the first book I ever picked up that had an aromantic character. You're probably thinking "how can an aromantic person be the progatonist in a romance novel?" I'll tell you: by being able to love the way they want and need to. Zavier and Ray knew each other in high school, and now Ray's band needs a new drummer for their upcoming tour. Enter Zavier, who is the perfect fit. Too bad he and Ray don't particularly get along very well. But boy, do they have some serious chemistry.
If you're interested in reading more romances featuring ace and aro characters, check out this database, which is maintained by author Claudie Arsenault. The database is for all types of fiction, but you can limit the genre to romance. Have at it!
As usual, catch me on Twitter @jessisreading or Instagram @jess_is_reading, or send me an email at jessica@riotnewmedia.com if you've got feedback, bookrecs, or just want to say hi!