Sponsored by Rebel by Marie Lu, with Fierce Reads
Respect the Legend. Idolize the Prodigy. Celebrate the Champion. But never underestimate the Rebel. With unmatched suspense and her signature cinematic storytelling, #1 New York Times–bestselling author Marie Lu plunges readers back into the unforgettable world of Legend for a truly grand finale.
"An epic, romantic saga." —Entertainment Weekly
"Rebel is a masterful feat written by a powerhouse author. Marie Lu is magic." —Tahereh Mafi, bestselling author of the Shatter Me series
Happy Friday, shipmates! It's Alex, exhausted and covered with powdered sugar after thinking that baking treats for work was a good idea on a week night! (Don't be like Alex.) As we head into the weekend, I've got some fun news items (the one about bats is my favorite) for you and baking on the brain.
News and Views
The National Book Awards announced the finalists for this year and genre is still going strong:
Silvia Moreno-Garcia (Gods of Jade and Shadow) and Lavie Tidhar (Unholy Land) have a new column in the Washington Post!
Favorite essay of this half week: Seanan McGuire on how the best horror stories commit to sincerity.
Though this is a close second: Ad Astra is an Unnecessary, Still Problematic Retelling of Heart of Darkness
And this ties for second: Why This Fanfiction Site's Prestigious Literary Honor Is a Win for LGBTQ Representation (If you know and love AO3, prepare to get a little teared up.)
A great summary of the Best American Science Fiction and Fantasy panel at NYCC, which was standing-room only.
Mary Robinette Kowal live-tweeted a space walk.
A conversation with the force behind Looking for Leia.
FIYAH has started its 2019 State of Black Speculative Fiction Writer Survey. (You can look at previous survey results at the site, too.)
You can donate your old Legos!
The most metal pterosaur ever has been discovered in Australia.
A scientist at the USGS would very much like us to stop using the term "supervolcano." (As a geologist, I agree with them.)
Turns out that a lot of that bat squeaking is actually arguments.
How the first exoplanet was discovered.
Free Association Friday
I mentioned before that I have baking on the brain, since that basically just consumed my evening and I'm using a goopy mixture of cream cheese and eggs instead of a brain to power through this newsletter. So how about some nerdy cookbooks?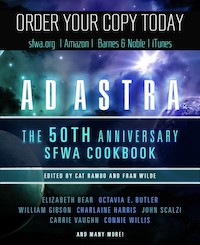 First, I have to mention Ad Astra: The 50th Anniversary SFWA Cookbook (edited by Cat Rambo and Fran Wilde), which is put out by the Science Fiction Writers of America. The recipes themselves are not necessarily nerdy, but as you page through, you'll probably see something by one of your favorite authors.
I'm not sure if I'm surprised or not by the actual number of genre property tie-in cookbooks, but there's plenty to choose from:
Firefly: The Big Damn Cookbook by Chelsea Monroe-Cassel came out extremely recently and I'm still not over the fact that there's a recipe for Mudder's Milk.
The Star Wars Cook Book: Wookiee Cookies and Other Galactic Recipes by Robin Davis is only one of several Star Wars cookbooks, but it's one I personally own and have utilized. It's another kid-friendly cookbook, and it's actually just fun to read because it's full of ridiculous puns and galactic safety tips.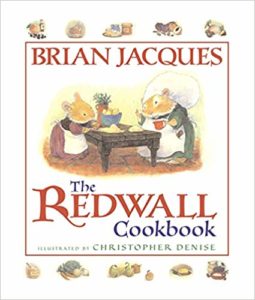 The Redwall Cookbook by Brian Jacques and Christopher Denise is aimed at being accessible for kids. The Redwall books were always wall-to-wall descriptions of absolutely mouthwatering food, so if any series was going to get a cookbook, this one deserved it. Deeper'n'ever Pie for everyone!
A Feast of Ice and Fire: The Official Game of Thrones Companion Cookbook by Chelsea Monroe-Cassel is definitely more meat (a LOT of meat) than baking, but it's a way to put together a Game of Thrones-style feast without anyone getting stabbed. I assume. I mean, I don't know your life.
The Unofficial Harry Potter Cookbook by Dinah Bucholz is probably the best gift I ever gave my Harry Potter-nerd of a niece, because it's something she still uses and has a ton of fun in the process. (She makes better brownies than me, and I'd say it's unfair except she always lets me have one.)
Okay, and it's not technically genre, but I still want to mention my favorite cookbook of all time because again, it's more a hilarious journey than just a list of recipes: What the F*@# Should I Make for Dinner?: The Answers to Life's Everyday Question by Zach Golden. I cannot make it through this book without becoming helpless with laughter from just reading the recipe titles.
---
See you, space pirates. You can find all of the books recommended in this newsletter on a handy Goodreads shelf. If you'd like to know more about my secret plans to dominate the seas and skies, you can catch me over at my personal site.