Sponsored by Imaginary Friend by Stephen Chbosky
The acclaimed author of The Perks of Being a Wallflower returns with an epic work of literary horror. Single mother Kate and her son Christopher think they've finally found a place to settle down: the small community of Mill Grove. But then Christopher vanishes for six awful days. Finally Christopher emerges from the woods at the edge of town, unharmed but not unchanged. There's a voice in his head only he can hear, with a mission only he can complete: Build a tree house in the woods by Christmas, or his mother and everyone in the town will never be the same.
Hello mystery fans! I have two nonfiction books for you this week–a must-read true crime memoir, a bananapants nonfic about truffles–and a mystery with a dysfunctional found family.
True Crime Memoir (TW rape/ gaslighting/ discussions of past suicides, with detail/ discussion of mass shooters, event details/ misogyny)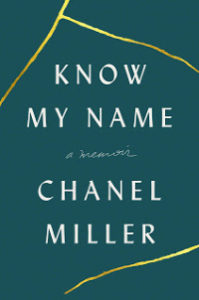 Know My Name by Chanel Miller: Until now, Chanel Miller was only referred to as Brock Turner's victim, Emily Doe, The Stanford Rape Case and defined by the media, rape apologists, her rapist, and her victim impact statement posted on BuzzFeed. Refusing to be reduced to a violent act done to her Miller decided to come forward with her name and story in order to show that she, like all victims, are whole, layered people. I hate that it is under these circumstance the world will discover what a fantastic writer Miller is–and it feels weird considering the subject matter saying how fantastic this book is, but it is. From her introspection to her observations on rape culture, this is a must-read memoir that not only takes you through the entire case but also lets you get to know Miller (who fiercely loves her sister and does standup!) and her family. Miller is a *beautiful and brave person whose added voice to dismantling rape culture will resonate, light a fire, and give hope to many. I went with the audiobook, which Miller narrates, and I 100% recommend that format if you listen to audiobooks. *She does not need to be any of those things to be believed and listened to.
Fascinating And Bananapants (TW animal abuse)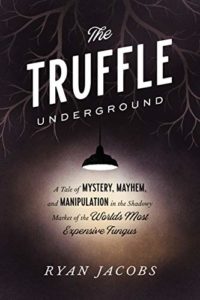 The Truffle Underground: A Tale of Mystery, Mayhem, and Manipulation in the Shadowy Market of the World's Most Expensive Fungus by Ryan Jacobs: This is another one that I'd mostly put in the nonviolent true crime category (there's a brief murder and dog poisonings) that works really well for fans of books like The Feather Thief. Once again you may think you have zero interest in the subject matter–fungus!–but let me tell you this is a ride! From how and where truffles grow, to food and region "snobs", to how truffles became a delicacy and how that led to thieving, a task force, dog training, and of course fraud. And by fraud I mean are you sure you're eating what you think you're eating?! If you're a fan of microhistory books and nonviolent nonfiction, this is a fascinating read basically on how humans can ruin anything. I went with the audiobook for the enhanced feeling of being told a wild story.
Dysfunctional Websleuthing Found Family (TW homophobia, including internalized/ panic attacks on page/ suicide/ pedophile)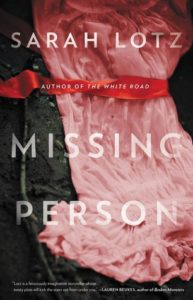 Missing Person by Sarah Lotz: This is a past mystery that centers on a whydunnit and will they get caught but what I loved about this book was the dysfunctional found family element that centers around an online group of sleuths in the U.S. who work to solve cases with unidentified missing people. There's the moderator and creator of the site who prefers to be a recluse. The cheery stay-at-home mom that only finds satisfaction in life when working on a case. The Irish young man who learns a family secret and sets out to find out what really happened to his uncle. And the professed killer who is pretending to be an ex-cop on the website "solving" the case he knows the answers to. While this deals with dark subject matter, the novel itself never felt like it sunk into darkness and really focused on the lives of these websleuths–and why they were obsessed with solving these cases. I really wanted to keep reading more about them!
Recent Releases
The Shape of Night by Tess Gerritsen (TBR: Rizzoli & Isles' author wrote a "sexy psychological thriller!")
The Lying Room by Nicci French (Just started: Murder mystery where a married woman finds her lover murdered and clears any trace of herself from the scene…)
Now Entering Addamsville by Francesca Zappia (Currently reading: Zora is automatically suspect in a fire that killed the school's janitor and decides to prove she didn't do it. Loving this so far, especially Zora's character and voice.)
Browse all the books recommended in Unusual Suspects previous newsletters on this shelf. And here's an Unusual Suspects Pinterest board.
Until next time, keep investigating! And in the meantime, come talk books with me on Twitter, Instagram, and Litsy–you can find me under Jamie Canavés.
If a mystery fan forwarded this newsletter to you and you'd like your very own you can sign up here.