Sponsored by Sourcebooks
Lena has killer style, an awesome boyfriend, and a plan. She knows she's going to make it big. Campbell, on the other hand, is just trying to get through the year at her new school. When both girls attend the Friday-night football game, what neither expects is for everything to descend into sudden mass chaos. Chaos born from violence and hate. Chaos that unexpectedly throws them together. They aren't friends. They hardly understand the other's point of view. But none of that matters when the city is up in flames, and they only have each other to rely on if they're going to survive the night.
Monday? More like FUNDAY, amirite??? (NO, NOT THE FACE.) Okay, so it's Monday, but there's a lot to be happy about. Most of it book-related. And, would you look at that, you happen to be reading an email about book news. What a random happenstance! Please enjoy the rest of your week, and remember to be excellent to each other! I'll see you again on Thursday. – xoxo, Liberty
P.S. Today is the last day to enter Book Riot's giveaway of the year's 10 best mystery/thrillers so far!
Here's Monday's trivia question: When Reading Rainbow left the air in 2009, it was the third-longest running children's show in PBS history. What are numbers one and two? (Scroll to the bottom for the answer.)
Deals, Reels, and Squeals!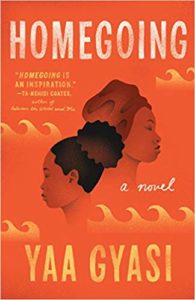 Knopf announced Transcendent Kingdom, a new novel from Homegoing author Yaa Gysai coming in July 2020.
Tracy Deonn announced the new title of her debut YA fantasy novel.
Here's a preview of Carmen Maria Machado's DC comic debut The Low, Low Woods.
The seven shortlisted debut novels for the 2019 Center for Fiction First Novel Prize were announced.
LeVar Burton is hosting the 70th National Book Awards ceremony!
Tiffany Boone has been cast as a young version of Kerry Washington's character in Little Fires Everywhere.
David Strathairn has joined Guillermo Del Toro's adaptation of Nightmare Alley.
The Pretty Little Liars reboot has been canceled after one season.
William Knoedelseder's Bitter Brew, about the Busch brewing dynasty, is being adapted as a series.
Addison Riecke is adapting The Lions of Little Rock by Kristin Levine.
Caroline Mitchell's Truth and Lies is also being adapted as a series.
And here's a peek at three upcoming comics from Joe Hill.
At Book Riot, I work on the New Books! email, the All the Books! podcast about new releases, and the Book Riot Insiders New Release Index. I am very fortunate to get to read a lot of upcoming titles, and learn about a lot of upcoming titles, and I'm delighted to share a couple with you each week so you can add them to your TBR!
Excited to read: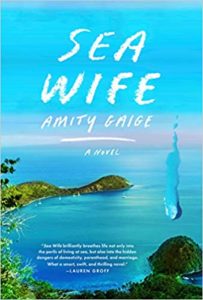 Sea Wife: A Novel by Amity Gaige (Knopf, April 28, 2020)
I feel like Amity Gaige is one of those authors who consistently releases amazing books, yet you hardly ever hear people mention her. I hope this one catapults her into the literary spotlight. I have heard from many people that it is amazing, and I can't wait to read it. It's about a couple who decide to buy a sailboat and, with their young children, take to the seas.
What I'm reading this week: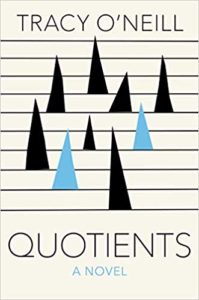 Quotients by Tracy O'Neill
Will and Testament (Verso Fiction) by Vigdis Hjorth and Charlotte Barslund
The In-Betweens: The Spiritualists, Mediums, and Legends of Camp Etna by Mira Ptacin
Too Much Lip by Melissa Lucashenko
Pun of the week: 
When the past, present, and future go camping they always argue. It's intense tense in tents.
Here's a kitten picture: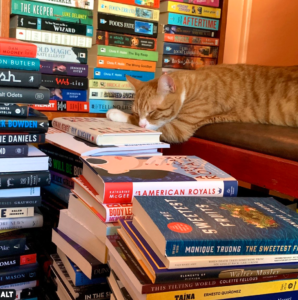 And this is funny.
Thank you, internet.
Trivia answer: Sesame Street and Mr. Roger's Neighborhood, respectively.
You made it to the bottom! Thanks for reading! – xo, L