Sponsored by our giveaway of the year's 10 best mystery/thrillers so far!
Mystery/thriller readers, this one's for you: we're giving away the 10 best mysteries and thrillers of the year so far to one lucky Book Riot reader or podcast listener. The prize pack includes Miracle Creek by Angie Kim, The Lost Man, by Jane Harper, American Spy by Lauren Wilkinson, and more. Just go to bookriot.com/bestmysteries to enter to win, and don't forget to leave your lights on.
Happy Friday, gentlebeings! We've made it through another week; if you're in the northern hemisphere, it's hopefully starting to feel a bit like fall (my favorite time of the year). And it's me, Alex, with some links and a list of sort-of random books. If you need a laugh to take you into the weekend, I cannot recommend the finalists for the 2019 Wildlife Comedy Photography Awards enough.
News and Views
Elsa Sjunneson-Henry on what it means to win a Hugo as a blind person.
On overcoming white bias in literature.
The Archived by V.E. Schwab will be adapted for the CW.
In other adaptation news, Kingkiller Chronicle is looking for a new home after Showtime released the rights.
This week's SFFYeah! podcast is about books with spooky houses.
Christopher Eccleston (the Ninth Doctor) talks about his battles with depression and disordered eating.
Anathema Magazine, which focuses on stories by Queer/Two-Spirit POC/Indigenous creators, is running its yearly fundraiser.
Michelle Goldberg wrote about The Handmaid's Tale and the way literary dystopias don't keep up with reality.
If you're looking for YA Science Fiction, we've got some suggestions for you.
It's been proposed that an a Shakespeare First Folio has annotations in it from John Milton.
Free Association Friday
You might have heard that some unnamed people (probably wishing to remain nameless because they don't want the might of the internet to fall on their heads) want to remake The Princess Bride. Cary Elwes responded with a perfect Tweet and also expanded his opinion a bit over at SyFy Wire. And this might get me in trouble with the gods of Book Riot, but here's my hill I'm going to die on: I like the movie scripted by the inimitable William Goldman orders of magnitude better than I liked his original novel.
So in honor of that movie, let's talk some other books that strike a chord with The Princess Bride!
The book that leaps most immediately to mind is Swordspoint by Ellen Kushner, I'm not even going to be coy with you. It's got lots of sword fights and intrigue and while there isn't exactly true love to be had, it's gay as all hell–all while still having an amused tone. And in that vein, I feel compelled to also mention The Henchmen of Zenda by K.J. Charles, which is more filed under romance than fantasy; it falls more under thought experiments of what the Dread Pirate Roberts's crew might have been a bit like (many a buckle is swashed), while also being Extremely Gay.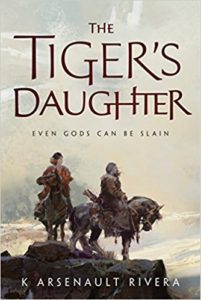 If I think about true love like we get it in The Princess Bride, I immediately jump to The Tiger's Daughter; it's tonally a lot more serious, but if you want to talk about a couple whose love rivals Wesley and Buttercup's, that's where to find them. Summers at Castle Auburn by Sharon Shinn is a little bit lighter. Political intrigue, court, a really nasty piece of work as a prince, and true love waiting in the wings.
On the more free association end of things, the first book I actually thought of while coming up with this list was JY Yang's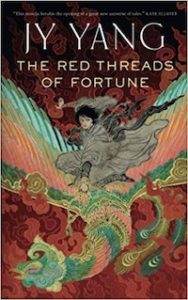 The Red Threads of Fortune. Why? Well first off, we don't call this "Alex has an objectively defensible reason for everything backed up by an annotated bibliography Friday." There are just certain ways my brain works. Anyway, there's a lot going on in behind the events of this novella; a lot of machinations and politics, and the protagonist is just exasperated. There's a scene that involved a lot of cussing. You'll know what I mean when you read it. I also want to throw Steel Crow Saga in here for the adventure factor and the humor that Paul Krueger uses to leaven the definitely-darker-than-The-Princess-Bride subject matter. (Full disclosure: I share an agent with both Paul and JY.)
---
See you, space pirates. You can find all of the books recommended in this newsletter on a handy Goodreads shelf. If you'd like to know more about my secret plans to dominate the seas and skies, you can catch me over at my personal site.