Sponsored by Simon and Schuster
Traveling with her treasure-hunting father has always been a dream for Theodora, until she's left to sit in a hotel in Istanbul while her dad and the former lover of her life Huck Gallagher track down a mysterious ring.
But when Huck returns without her father, it's up to Huck and Theodora to set out on a captivating adventure to find the ring before a dangerous occult society with a dark connection to Vlad the Impaler find it first.
The Last Magician meets A Gentleman's Guide to Vice and Virtue in this thrilling tale filled with magic, mystery, and romance.
Hey YA Readers!
I'm so excited for this guest post today. I've been fascinated with ghostwriting since college, but it really intensified when I read an in-depth article about it in The New Yorker back in my days as a teen librarian (I can even tell you I was working the reference desk at the branch library on a Wednesday night, as the memory is so vivid). Since then, I've highlighted ghostwriting in YA quite a bit, but the real thing I wanted to read about the work of ghostwriters was something I could never figure out how to make happen.
Until now.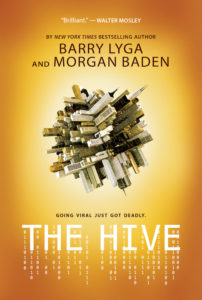 Morgan Baden is a YA author, whose new book The Hive hit shelves earlier this month. Prior to this book, though, she worked both in social media at Scholastic and as a ghostwriter. Though she won't share what books (coughYouLikelyKnowThemcough), she was happy to talk a bit about why she chose to do it and what she learned from the experiences.
Without further ado, Morgan!
---
I was in a hotel room in Chicago in the middle of a business trip, about to dive in to some deep dish and beer that I'd room serviced (#conferencelife), when I got the email I'd been waiting for.
"Here's the outline!" it read, all exclamation points and urgency. I'd understand why in the next sentence: "The deadline is five weeks from today."
And that's when I closed my laptop, sipped my beer, and thanked my lucky stars this was a ghostwriting job, where the hardest part of writing –for me, the plot – was already handled.
My journey to ghostwriting was unexpected. A few months before this particular five-week deadline, I hadn't even fully realized what ghostwriting was, how it worked, or, especially, how prevalent it was. But when I received an email from a book packaging company asking me to sample for them, I jumped at the chance. I was an aspiring novelist with half a dozen unfinished manuscripts littering my backyard, none of which I'd been able to advance beyond a few thousand words. I was eager to actually finish a book. I just wasn't sure how.
In my own writing, I struggled with plot. Even now, I like a slow burn; I like to linger on scenes and characters. Is there a candle burning on a mantle in my story? You better believe I'm going to tell you all about the shadows it casts, even if that candle has nothing to do with the story.
Eventually I realized that all that lingering was effectively stopping my manuscripts in their tracks. My characters weren't doing anything. No wonder I couldn't get past the 10,000-word mark! I needed to learn how to advance a plotline, how to pace a full-length book. I needed to get into a scene, and then get out of it – in a way that helped the story move forward.
Enter: ghostwriting. After several samples over the course of a few months, that book packager offered me a ghostwriting deal. For my first job, I wrote a book in a long-running, bestselling series. That night in my Chicago hotel room, I nearly cried when I saw the deadline – how was I going to write 50,000 words in five weeks while working my full-time job? – but my tears dried up when I saw the 30-page outline attached to the email. Because as I read it, I realized I could do this. I had all the tools right in front of me, the book laid out like a map.
That outline would prove instrumental not just in helping me write (and finish) the book (on time!), but also in helping me see how a book is constructed. It had chapter breakdowns and motivations; it listed all the major plot points, but still offered me space to explore. It even spelled out certain jokes I'd need to include in the book. The mechanics of the story were there; I just needed to write the thing. And so I did – early in the mornings before work, and late into the nights after work. And that first job turned into two, and then into more.
Is ghostwriting weird? A lot of people I tell about it seem to think so. But my career in corporate communications taught me early on that writing is often a group effort; that, in some ways, ghostwriting is a part of any career that includes content creation. I'm used to helping other people craft messages that will never have my name attached to them, whether it's ghostwriting memos from CEOs, speeches from celebrities, or blog posts from other authors. My career required that I master other people's voices. And ghostwriting enabled me to do that on a bigger scale, and with more creativity.
These days, I don't ghostwrite much. Once I could see how a book came together, once I figured out that plot wasn't something to avoid but rather embrace, I was able to finish my own manuscripts. Ghostwriting was, to me, my own kind of master class in fiction.
But sometimes, when I'm stuck in the murky middle of a new manuscript, or when I'm approaching the end of one and realize there are countless threads I forgot to tie together, I get a pang for my old ghostwriting days. It's a beautiful thing, to be handed a beginning, middle, and end of a story. It's refreshing to just be able to write, and to leave the worrying to someone else.
***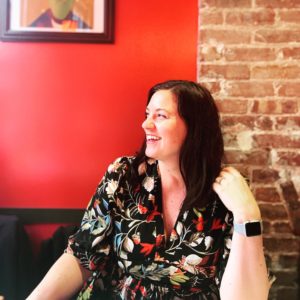 Morgan Baden is the co-author of THE HIVE (with her husband, Barry Lyga) and author of several ghostwritten novels for young adults. She has 15 years' experience in corporate communications, where she managed social media strategy for iconic children's brands. She resides in New Jersey with her husband and two children and is the co-host of Writing in Real Life, a podcast series about writing, parenting, publishing, and books. Find her at morganbaden.com.
---
---
Huge thank you to Morgan!
Thanks for hanging out, y'all, and we'll see you later this week.
— Kelly Jensen, @heykellyjensen on Instagram (note the new name!) and editor of (Don't) Call Me Crazy and Here We Are.