Sponsored by Caracal, the middle grade imprint of Lion Forge
Solve the mystery of the memory thief with technomancer Debian Perl and her social media-savvy friend, Digits! When Debian and Digits stumble across a 100-year-old lost robot named Ray-Bot with a suspiciously overclocked CPU, Debian must teach Digits everything she knows about computer coding and programming to bring Ray-Bot home. Learn computer concepts and build practical knowledge of coding, algorithms, algebra and more while adventuring through the futuristic world of Megalopolis! Debian Perl: Digital Detective Book One: The Memory Thief is in stores September 3rd from Caracal, the middle grade imprint of Lion Forge!
Hello, Kid Lit Friends!
It is the first Tuesday of September, so get ready for some really big and exciting releases in the next two months! The fall is huge for children's books, and I'm really excited to share lots of books with you. In the past, if I've had the chance to read one of these books and loved it, I marked it with a
. But for today, all of the books deserve a
in my opinion! So they will all sport
s; you're very welcome. 🙂
Take a look at these and let me know what you think. *Please note that all book descriptions come from the publisher.*
Picture Book New Releases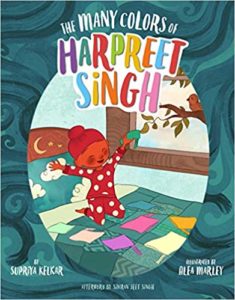 The Many Colors of Harpreet Singh by Supriya Kelkar, illustrated by Alea Marley
Harpreet Singh has a different color for every mood and occasion, from pink for dancing to bhangra beats to red for courage. He especially takes care with his patka—his turban—smoothing it out and making sure it always matches his outfit. But when Harpreet's mom finds a new job in a snowy city and they have to move, all he wants is to be invisible. Will he ever feel a happy sunny yellow again?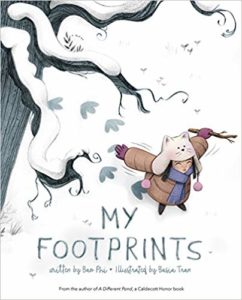 My Footprints by Bao Phi, illustrated by Basia Tran
Every child feels different in some way, but Thuy feels "doubly different". She is of Vietnamese origin and she has two mums. Thuy walks home one winter afternoon, angry and lonely after a bully's taunts. Then a bird catches her attention and sets Thuy on an imaginary exploration. What if she could fly away like a bird? What if she could sprint like a deer, or roar like a bear? Mimicking the footprints of each creature in the snow, she makes her way home to the arms of her mums. Together, the three of them imagine beautiful and powerful creatures who always have courage – just like Thuy.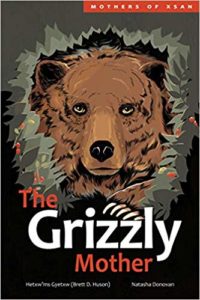 The Grizzly Mother by Hetxw'ms Gyetxw, Natasha Donovan
To the Gitxsan people of Northwestern British Columbia, the grizzly is an integral part of the natural landscape. Together, they share the land and forests that the Skeena River runs through, as well as the sockeye salmon within it. Follow mother bear as she teaches her cubs what they need in order to survive on their own.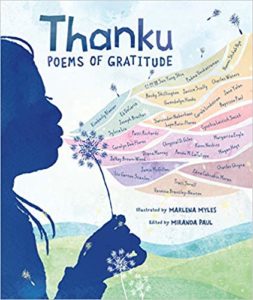 Thanku: Poems of Gratitude edited by Miranda Paul, illustrated by Marlena Myles
This poetry anthology, edited by Miranda Paul, explores a wide range of ways to be grateful (from gratitude for a puppy to gratitude for family to gratitude for the sky) with poems by a diverse group of contributors, including Joseph Bruchac, Margarita Engle, Cynthia Leitich Smith, Naomi Shihab Nye, Charles Waters, and Jane Yolen.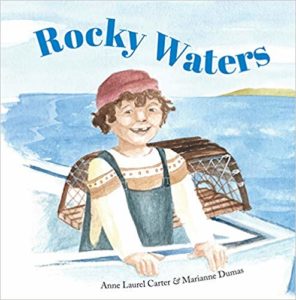 Rocky Waterss by Anne Laurel Carter & Marianne Dumas
All day at school, Rocky stares out the window, imagining fishing boats sailing across the sky. He wants nothing more than to fish for lobster with his dad, and finally one season he's old enough to go along. Before dawn, Rocky, Dad and sister Patsy untie their boat and head out to sea. Surrounded by the vast expanse of sky and water, Rocky feels as free as a seagull. It takes a full day to haul up, empty, rebait and re-set three hundred traps, but Rocky loves every minute of it. "If the salt's still in your veins when you're Patsy's age, you can leave school and fish all you want," his dad tells him.
Helen's Birds by Sara Cassidy, illustrated Sophie Casson
For as long as Saanvi can remember, she has been friends with her elderly neighbor Helen. They play cards and garden together and, especially, care for the wild birds that visit Helen's yard. When Helen dies suddenly, a "For Sale" sign goes up, and movers arrive, emptying the house of its furniture and stripping the yard of its birdfeeders. The sparrows and hummingbirds disappear. This beautifully illustrated, wordless graphic novel shows Saanvi's journey through close friendship, then hollowing loss and change, until she finally finds hope.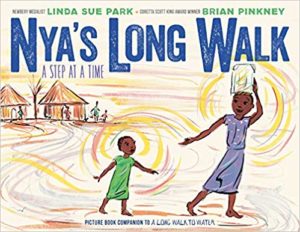 Nya's Long Walk: A Step At A Time by Linda Sue Park, illustrated by Brian Pinkney
Young Nya takes little sister Akeer along on the two-hour walk to fetch water for the family. But Akeer becomes too ill to walk, and Nya faces the impossible: her sister and the full water vessel together are too heavy to carry. As she struggles, she discovers that if she manages to take one step, then another, she can reach home and Mama's care.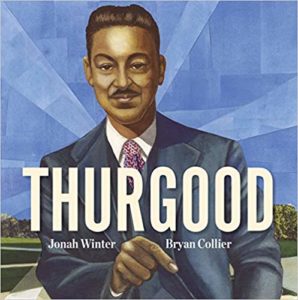 Thurgood by Jonah Winter, illustrated by Bryan Collier
Thurgood Marshall was a born lawyer–the loudest talker, funniest joke teller, and best arguer from the time he was a kid growing up in Baltimore in the early 1900s. He would go on to become the star of his high school and college debate teams, a stellar law student at Howard University, and, as a lawyer, a one-man weapon against the discriminatory laws against black Americans. After only two years at the NAACP, he was their top lawyer and had earned himself the nickname Mr. Civil Rights. He argued–and won–cases before the Supreme Court, including one of the most important cases in American history: Brown v Board of Education. And he became the first black U.S. Supreme Court Justice in history.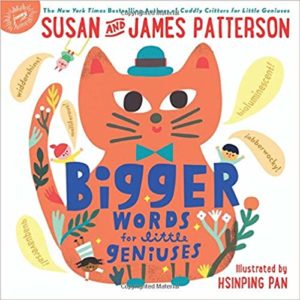 Bigger Words for Little Geniuses by Susan and James Patterson, illustrated by Hsinping Pan
Do you know your gnashnabb from your widdershins? When was the last time you saw something orchidaceous or dolichopodous? Learn all these sophisticated words and more in this brilliant picture book by bestselling authors James and Susan Patterson! With bright, imaginative artwork by Hsinping Pan, each word offers a definition and pronunciation to give your little genius–and you!–the most impressive vocabulary ever. Includes a list of extra words in the back for further learning.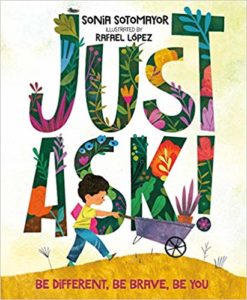 Just Ask! by Sonia Sotomayor, illustrated by Rafael Lopez
In Just Ask, United States Supreme Court Justice Sonia Sotomayor celebrates the different abilities kids (and people of all ages) have. Using her own experience as a child who was diagnosed with diabetes, Justice Sotomayor writes about children with all sorts of challenges–and looks at the special powers those kids have as well. As the kids work together to build a community garden, asking questions of each other along the way, this book encourages readers to do the same: When we come across someone who is different from us but we're not sure why, all we have to do is Just Ask.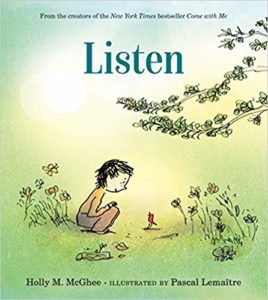 Listen by Holly M. McGhee, illustrated by Pascal Lemaitre
Author Holly M. McGhee and illustrator Pascal Lemaître ask you, me, and all of us to inspire empathy by exploring what it means to be connected to everything, including the natural world. Simple and tender, Listen teaches us to engage our senses, to taste, see, and feel in order to engage with the world around us.
I Miss My Grandpa by Jin Xiaoping
A young girl has never met her grandpa. He passed away before she was born, but she misses him every day. She often wonders…what did he look like? Grandma says: His face was shaped like the moon, his mouth was good at telling stories, and his hair was as curly as a bird's nest. With the help of her grandma and the rest of her loving family, will this young girl be able to imagine her grandpa's face in her mind–and feel the love that he shared with others?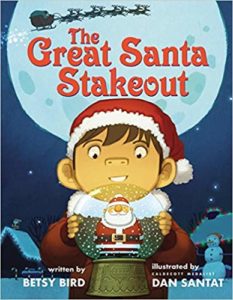 The Great Santa Stakeout by Betsy Bird, illustrated by Dan Santat
Freddy Melcher is Santa's #1 Fan. He has Santa posters, Santa action figures, and even Santa underwear. But there is one prize Freddy desperately wants: A photograph taken with Santa, fresh out of the chimney. Oh, is it risky! It's awfully hard to sneak anything by someone who can see you when you're sleeping and knows when you're awake. That's why Freddy has been extra good this year . . . at hiding his plans.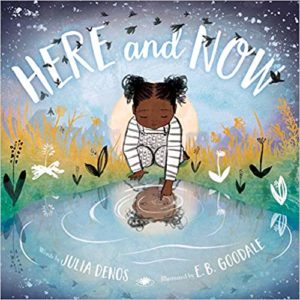 Here and Now by Julia Denos, illustrated by E.B. Goodale
A stunning celebration of mindfulness and a meditation on slowing down and enjoying each moment, from the team behind the award-winning Windows. Explore identity and connection, inspire curiosity, and prompt engaging discussions about the here and now.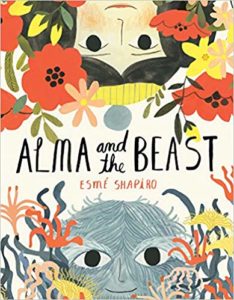 Alma and the Beast by Esme Shapiro
Alma lives happily in her hairy world, where she can braid the trees, comb the grass, pet the roof and feed her plumpooshkie butterfly. Until one day . . . a hairless, button-nosed beast appears in the garden! At first Alma is scared but when she realizes the beast is lost and misses her hairless home, Alma offers to help her find her way back. As the two take a fantastical journey through the red-headed woods and the bearded mushroom glen to the beast's bald abode, they discover that they are much more alike than different.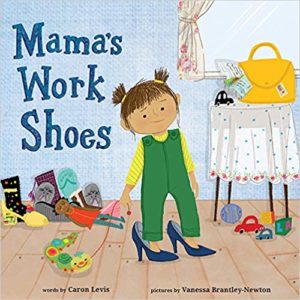 Mama's Work Shoes by Caron Levis, illustrated by Vanessa Brantley-Newton
Perry knows all of Mama's shoes. She knows that the zip-zup shoes are for skipping and swinging in the park. She knows that the pat-put shoes are for splishing and splashing in the rain. And she knows that no-shoes are for bath time and bedtime. But, one morning Mama puts on click-clack shoes, and Perry wonders what these new shoes are for. When Mama drops Perry at Nan's house, and the click-clack shoes take Mama away for the whole day, Perry decides she hates these shoes!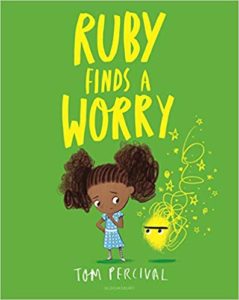 Ruby Finds A Worry by Tom Percival
Meet Ruby–a happy, curious, imaginative girl. But one day, she finds something unexpected: a Worry. It's not such a big Worry, at first. But every day, it grows a little bigger . . . And a little bigger . . . Until eventually, the Worry is ENORMOUS and is all she can think about. But when Ruby befriends a young boy, she discovers that everyone has worries, and not only that, there's a great way to get rid of them too . . .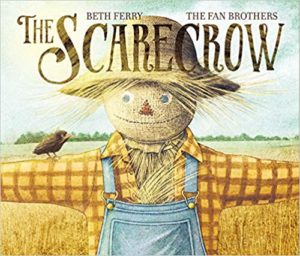 The Scarecrow by Beth Ferry, illustrated by the Fan Brothers
All the animals know not to mess with old Scarecrow. But when a small, scared crow falls from midair, Scarecrow does the strangest thing.…He saves the tiny baby crow. Soon a loving bond grows between the two unlikely friends. But is it strong enough to weather the changing of the seasons?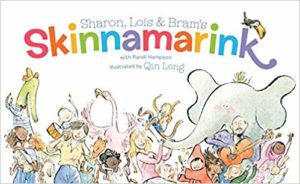 Skinnamarink by Randi Hampson, illustrated by Qin Leng
What does "skinnamarink" mean? You may not find its definition in a dictionary, but the meaning is clear to the generations of children who sang along: friendship, happiness, sharing, community and, ultimately, love. This song has been sung in weddings and in classrooms. It can be fun and silly – especially with the accompanying actions! And it has a way of bringing people together.
The Truth About Grandparents by Elina Ellis
Grandparents are slow. Grandparents are scared of new things. And grandparents definitely don't dance — right? A simple, playful storyline that children will love anticipating makes this a perfect read-aloud for modern families to share together. With sly humor and breezy, dynamic artwork in the tradition of Quentin Blake, this book is a fresh celebration of the special relationship between grandparents and grandchildren.
Early Reader and Chapter Book New Releases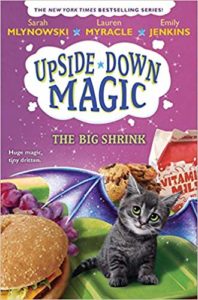 Upside Down Magic: The Big Shrink by Sarah Mlynowski, Lauren Myracle, Emily Jenkins
Marigold Ramos can magically make things small – sometimes very, very small. The only problem? She can't figure out how to make them big again. Maybe a new tutor can help Marigold manage her magic. And maybe her magic will come in handy as she and her friends in the Upside-Down Magic class band together to protest a new rule by their principal, a super unfair rule that bans them from bringing their amazing new toy dragons to school.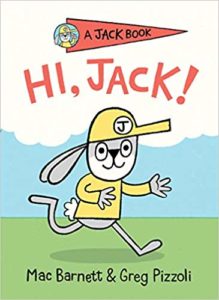 Hi Jack! by Mac Barnett, illustrated by Greg Pizzoli
Meet Jack: He lives in a tree house. His interests include snacks, petty theft, and lipstick graffiti. Jack also loves his friends, he just has a funny way of showing it sometimes . . . A perfect read-aloud with snappy, rhythmic text, this series will bridge the gap between picture books and chapter books and fill the Elephant-and-Piggie-shaped hole in young readers' hearts.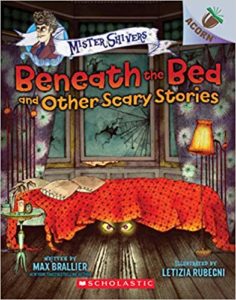 Beneath the Bed and Other Scary Stories by Max Brallier, illustrated by Letizia Rubegni
What is hiding under the bed? What is scratching at the window? Find out in New York Times bestselling author Max Brallier's scary stories collection. These five spine-chilling stories will have beginning readers everywhere begging to stay up late to read (with the light on!). With authentically scary, easy-to-read text and creepy, full-color artwork throughout, this book is perfect for young children who crave lite scares. This is also THE book to share at sleepovers or around a campfire. It will send SHIVERS down your spine!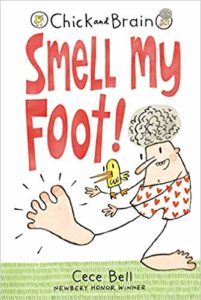 Smell My Foot by Cece Bell
Meet Chick and Brain. And their friend Spot. Chick likes to follow the rules. Brain might not be as smart as he looks. And Spot just wants to eat lunch. In a graphic reader loaded with verbal and visual humor, Cece Bell offers a comical primer on good manners gone awry. Simple, silly, and perfectly suited for its audience, this tale of Chick and Brain's constant misunderstandings and miscommunications proves once again that Cece Bell is a master at meeting kids where they are.
Middle Grade New Releases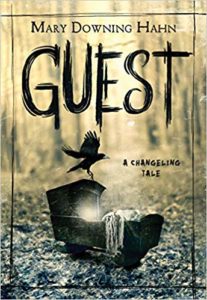 Guest by Mary Downing Hahn
When her adorable baby brother is replaced by an ugly, ill-tempered changeling, Mollie is determined to find the so-called Kinde Folke who took baby Thomas, return the changeling she calls Guest, and make them give Thomas back. Natural and magical obstacles and her own reckless temperament make her journey arduous and full of dangers, and a plot rich in surprises and twists makes this book a must-read for Mary Downing Hahn's fans.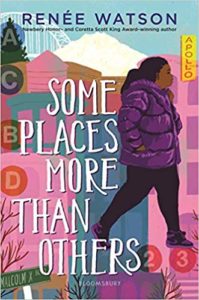 Some Places More Than Others by Renee Watson
All Amara wants for her birthday is to visit her father's family in New York City–Harlem, to be exact. She can't wait to finally meet her Grandpa Earl and cousins in person, and to stay in the brownstone where her father grew up. Maybe this will help her understand her family–and herself–in new way. But New York City is not exactly what Amara thought it would be. It's crowded, with confusing subways, suffocating sidewalks, and her father is too busy with work to spend time with her and too angry to spend time with Grandpa Earl. As she explores, she realizes how, in some ways more than others, she connects with him, her home, and her family.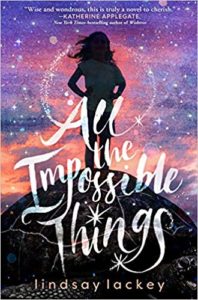 All the Impossible Things by Lindsay Lackey
Red's inexplicable power over the wind comes from her mother. Whenever Ruby "Red" Byrd is scared or angry, the wind picks up. And being placed in foster care, moving from family to family, tends to keep her skies stormy. Red knows she has to learn to control it, but can't figure out how. But just when Red starts to settle into her new life, a fresh storm rolls in, one she knows all too well: her mother. For so long, Red has longed to have her mom back in her life, and she's quickly swept up in the vortex of her mother's chaos. Now Red must discover the possible in the impossible if she wants to overcome her own tornadoes and find the family she needs.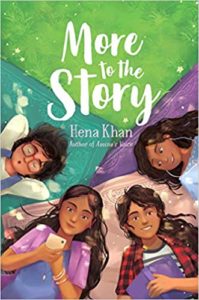 More to the Story by Hena Khan
When Jameela Mirza is picked to be feature editor of her middle school newspaper, she's one step closer to being an award-winning journalist like her late grandfather. The problem is her editor-in-chief keeps shooting down her article ideas. Then Jameela, along with her three sisters, is devastated when their father needs to take a job overseas, away from their cozy Georgia home for six months. Missing him makes Jameela determined to write an epic article—one to make her dad extra proud. But when her younger sister gets seriously ill, Jameela's world turns upside down. And as her hunger for fame looks like it might cost her a blossoming friendship, Jameela questions what matters most, and whether she's cut out to be a journalist at all…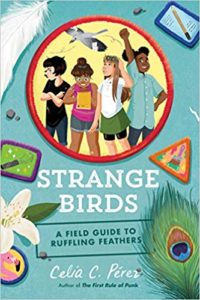 Strange Birds by Celia C. Perez
Ofelia Castillo (a budding journalist), Aster Douglas (a bookish foodie), and Cat Garcia (a rule-abiding birdwatcher) meet the kid behind the invite, Lane DiSanti, and it isn't love at first sight. But they soon bond over a shared mission to get the Floras, their local Scouts, to ditch an outdated tradition. In their quest for justice, independence, and an unforgettable summer, the girls form their own troop and find something they didn't know they needed: sisterhood.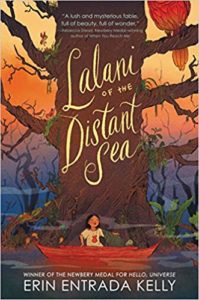 Lalani of the Distant Sea by Erin Entrada Kelly
Life is difficult on the island of Sanlagita. To the west looms a vengeful mountain, one that threatens to collapse and bury the village at any moment. To the north, a dangerous fog swallows sailors who dare to venture out, looking for a more hospitable land. And what does the future hold for young girls? Chores and more chores. When Lalani Sarita's mother falls gravely ill, twelve-year-old Lalani faces an impossible task—she must leave Sanlagita and find the riches of the legendary Mount Isa, which towers on an island to the north. But generations of men and boys have died on the same quest—how can an ordinary girl survive the epic tests of the archipelago?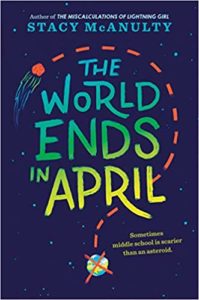 The World Ends in April by Stacy McAnulty
Eleanor Dross knows a thing or two about the end of the world, thanks to a survivalist grandfather who stockpiles freeze-dried food and supplies–just in case. So when she reads about a Harvard scientist's prediction that an asteroid will strike Earth in April, Eleanor knows her family will be prepared. Her classmates? They're on their own!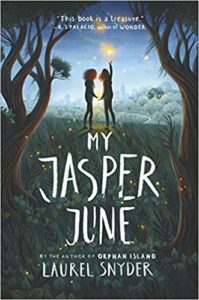 My Jasper June by Laurel Snyder
The school year is over, and it is summer in Atlanta. The sky is blue, the sun is blazing, and the days brim with possibility. But Leah feels. . . lost. She has been this way since one terrible afternoon a year ago, when everything changed. Since that day, her parents have become distant, her friends have fallen away, and Leah's been adrift and alone. Then she meets Jasper, a girl unlike anyone she has ever known. There's something mysterious about Jasper, almost magical. And Jasper, Leah discovers, is also lost.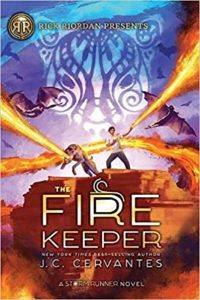 The Fire Keeper by J.C. Cervantes
Zane Obispo's new life on a beautiful secluded tropical island, complete with his family and closest friends, should be perfect. But he can't control his newfound fire skills yet (inherited from his father, the Maya god Hurakan); there's a painful rift between him and his dog ever since she became a hell hound; and he doesn't know what to do with his feelings for Brooks. One day he discovers that by writing the book about his misadventures with the Maya gods, he unintentionally put other godborn children at risk. Unless Zane can find the godborns before the gods do, they will be killed.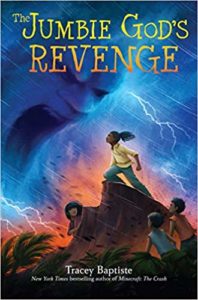 The Jumbie God's Revenge by Tracey Baptiste
When an out-of-season hurricane sweeps through Corinne's seaside village, Corinne knows it's not a typical storm. At first Corinne believes Mama D'Leau—the powerful and cruel jumbie who rules the ocean—has caused the hurricane. Then a second, even more ferocious storm wrecks the island, sending villagers fleeing their houses for shelter in the mountains, and Corinne discovers the storms weren't caused by a jumbie, but by the angry god Huracan.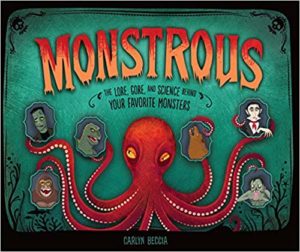 Monstrous: The Lore, Gore, and Science Behind Your Favorite Monsters by Carlyn Beccia
Could Dr. Frankenstein's machine ever animate a body? Why should vampires drink from veins and not arteries? What body parts are best for zombies to eat? (It's not brains.) This fascinating encyclopedia of monsters delves into the history and science behind eight legendary creatures, from Bigfoot and the kraken to zombies and more. Find out each monster's origin story and the real-world history that informed it, and then explore the science of each creature in fun and surprising ways.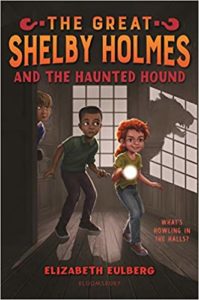 The Great Shelby Holmes and the Haunted Hound by Elizabeth Eulberg
Now infamous in their Harlem neighborhood for solving the most difficult mysteries, super sleuths Shelby Holmes and John Watson stumble into their creepiest case yet. Residents of a local apartment building are hearing scary noises at night, like screams, scratching, and an unearthly dog's howl. It can't be a ghost . . . Can it?
Graphic Novel New Releases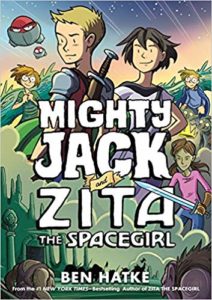 Mighty Jack and Zita the Spacegirl by Ben Hatke
Jack and Lilly are no strangers to heroics. They've befriended dragons, battled giants, and even earned the loyalty of a goblin army. So when they meet Zita the Spacegirl, fresh from her interplanetary travels and seeking their help to face a new threat, they're more than ready for another adventure. But the danger growing just outside the door to their world is greater than anything the new friends could have imagined.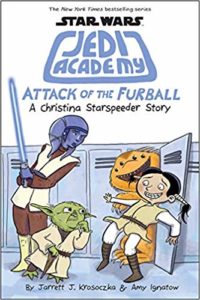 Jedi Academy: Attack of the Furball by Jarrett J. Krosoczka and Amy Ignatow
As told through a mix of comics, doodles, and journal entries, it's a new year at Jedi Academy! Christina Starspeeder made it through her first year at the advanced Jedi Academy . . . Barely . . . And year two isn't looking any easier! Christina still apprentices under Jedi Master Skia Ro while enduring the non-stop sass from droid Q-13. But this year, she has to balance her studies with constant travel, accompanying Skia Ro on non-stop trips to new worlds full of cool creatures. And those cool creatures are the start of all Christina's problems this year.
Nonfiction New Releases
*PB denotes picture book; MG denotes middle grade book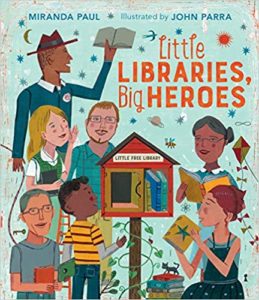 Little Libraries, Big Heroes by Miranda Paul, illustrated by John Parra (PB)
Todd and his friends love heroes. But in school, Todd doesn't feel heroic. Reading is hard for him, and he gets scolded for asking too many questions. How will he ever become the kind of hero he admires? Here is the story of how its founder, Todd Bol, became a literacy superhero. Thanks to Todd and thousands of volunteers—many of whom are kids—millions of books have been enjoyed around the world.
A Life Made by Hand: The Story of Ruth Asawa by Andrea D'Aquino (PB)
Ruth Asawa (1926-2013) was an influential and award-winning sculptor, a beloved figure in the Bay Area art world, and a devoted activist who advocated tirelessly for arts education. This lushly illustrated book by collage artist Andrea D'Aquino brings Asawa's creative journey to life, detailing the influence of her childhood in a farming family, and her education at Black Mountain College where she pursued an experimental course of education with leading avant-garde artists and thinkers.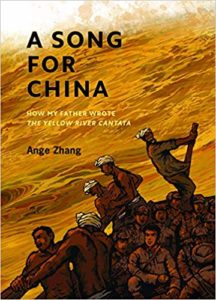 A Song for China: How My Father Wrote Yellow River Cantata by Ange Zhang (MG)
This is the fascinating story of how a young Chinese author, Guang Weiran, a passionate militant from the age of twelve, fought, using art, theater, poetry and song, especially the famous Yellow River Cantata― the anthem of Chinese national spirit ― to create a socially just China. Set during the period of the struggle against the Japanese and the war against the Kuomintang in the 1920s and '30s, this book, written and illustrated by Guang Weiran's award-winning artist son, Ange Zhang, illuminates a key period in China's history.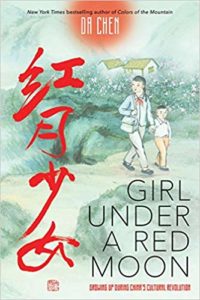 Girl Under a Red Moon by Da Chen (MG)
In a small village called Yellow Stone, in southeastern China, Sisi is a model sister, daughter, and student. She brews tea for her grandfather in the morning, leads recitations at school as class monitor, and helps care for her youngest brother, Da. But when students are selected during a school ceremony to join the prestigious Red Guard, Sisi is passed over. Worse, she is shamed for her family's past — they are former landowners who have no place in the new Communist order. Her only escape is to find work at another school, bringing Da along with her.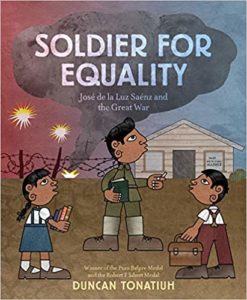 Soldier of Equality: Jose de la Luz Saenz and the Great War by Duncan Tonatiuh (PB)
José de la Luz Sáenz (1888–1953)—or Luz—believed in fighting for what was right. Although he was born in the United States, he and his family experienced prejudice because of their Mexican heritage. When World War I broke out, Luz volunteered to join the fight. Because of his ability to quickly learn languages, he became part of the Intelligence Office in Europe. However, despite his hard work and intellect, Luz often didn't receive credit for his contributions. Upon his return to the US, he joined other Mexican-Americans whom he had met in the army to fight for equality.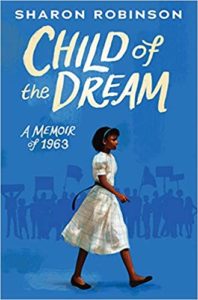 Child of the Dream: A Memoir of 1963 by Sharon Robinson (MG)
In January 1963, Sharon Robinson turns thirteen the night before George Wallace declares on national television "segregation now, segregation tomorrow, segregation forever" in his inauguration speech as governor of Alabama. It is the beginning of a year that will change the course of American history. As the daughter of baseball legend Jackie Robinson, Sharon has opportunities that most people would never dream of experiencing. But things don't always feel easy for Sharon. This is the story of how one girl finds her voice in the fight for justice and equality.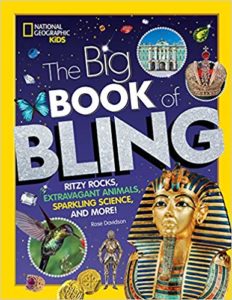 The Big Book of Bling by Rose Davidson (National Geographic)
From upscale splurges to flashy fun in nature, this treasure trove is filled with wonders that will dazzle and delight. Read about how nature struts its stuff with tantalizing tidbits about animals, including a few that literally glitter with iridesence to confuse predators. Or maybe you'll strike it rich after reading about Crater of Diamonds State Park in Arkansas, U.S.A., where anyone can go hunt for sparkling gems. Dig into info about the world's mysterious minerals, gorgeous geodes, and ritzy rocks.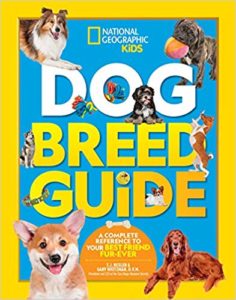 Dog Breed Guide by T.J. Resler and Gary Weitzman (National Geographic)
From dachshunds to Dalmatians and poodles to pugs, this comprehensive guide gives an overview of more than 400 different dog breeds. Each profile includes the breed's "dog stats": country of origin, size, coat color and pattern, grooming difficulty, exercise needs, and "K-9 qualities." With the help of veterinarian Dr. Gary Weitzman and dog behaviorist Amanda Kowalski, kids will also learn how to choose the right dog for them, how to take care of their new furry friend, and how to understand their behavior.
Before I sign off, did you know that Book Riot is giving away the year's 10 best mystery/thrillers so far! Enter here!
What are you reading these days? I want to know! Find me on Twitter at @KarinaYanGlaser, on Instagram at @KarinaIsReadingAndWriting, or email me at karina@bookriot.com.
Until next time!
Karina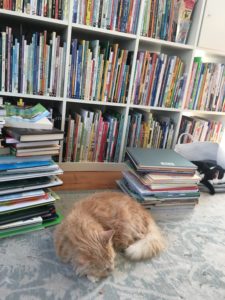 *If this e-mail was forwarded to you, follow this link to subscribe to "The Kids Are All Right" newsletter and other fabulous Book Riot newsletters for your own customized e-mail delivery. Thank you!*