Sponsored by Lerner Books
Fifteen-year-old Verdad doesn't think she has time for love. She's still struggling to process the recent death of her best friend, dealing with the high expectations of her hardworking Puerto Rican mother, and keeping everyone at a distance. But when she meets Danny, a new guy at school—who happens to be trans—all bets are off. Verdad suddenly has to deal with her mother's disapproval of her relationship with Danny as well as her own prejudices and questions about her identity. Not to mention Danny himself, who is comfortable in his skin but keeping plenty of other secrets.
Hey YA fans!
I'm excited for this (short) week's newsletter, as it's a guest-authored one and it's on a topic that I've been asked for and am thrilled to offer up via the voice of someone who knows it well.
Rena Barron is a debut author whose fantasy novel Kingdom of Souls hit shelves this week — the description of which you can read below in her piece. She's got a fantastic look at world building in Black speculative fiction and it made me add so many books to my own TBR. Note that a couple of these aren't YA books but make for excellent crossover reading.
Without further ado, Rena!
—
When people think of canon in the science fiction and fantasy genre, they think of J.R.R. Tolkien, George R.R. Martin, J.K. Rowling, and Terry Pratchett. Recently, African/African-American creators have gained some mainstream traction in the fantasy space with three-time Hugo winner N.K. Jemisin, the blockbuster Black Panther, and critically acclaimed director, Ava DuVernay of the A Wrinkle In Time film. It's important to note there have been many African/African-American pioneers in the science fiction and fantasy genre that have carved the way for many of us to have the opportunity to share our art.
Across the publishing spectrum, African/African-American authors are challenging the status quo and expanded the genre with original stories and storytelling styles while incorporating their specific cultural experiences. Below is a collection of books authored by African/African-American authors, some awarding-winning, some bestsellers, and some new to the scene. Take a peek inside the covers of these beautiful and imaginative tales.
Zélie has one chance to bring back magic and strike against the oppressive monarchy. With the help of a rogue princess, she must outwit and outrun the crown prince, who is hell-bent on eradicating magic for good. Yet the greatest danger may be Zélie herself as she struggles to control her powers and her growing feelings for an enemy. Adeyemi weaves a story full of magic in this lush West African-inspired setting. The first in the Legacy of Orïsha series.
Ryann Bird dreams of traveling across the stars. But a career in space isn't an option for a girl who lives in a trailer park on the "wrong" side of town. She meets Alexandria: a loner who spurns Ryann's offer of friendship. The girls are brought together despite themselves—and Ryann learns her secret: Alexandria's mother volunteered for a one-way trip to the edge of the solar system. The Weight of the Stars is an LGBT young adult romance written in short, micro-fiction that lends immediacy to the story.
Born into a family of powerful witchdoctors, Arrah yearns for magic of her own. But each year she fails to call forth her ancestral powers. There's only one thing Arrah hasn't tried, a deadly last resort: trading years of her own life for scraps of magic. When the Kingdom's children begin to disappear, Arrah uncovers that the long-imprisoned Demon King is stirring. And if he rises, his hunger for souls will bring the world to its knees … unless Arrah pays the price for the magic to stop him. Described as the lush world-building of Children of Blood and Bone meets the sweeping scale of Strange the Dreamer. The first book in a planned three-book series.
Dawn by Octavia E. Butler
Lilith Iyapo has just lost her husband and son when atomic fire consumes Earth. Hundreds of years later she awakes, deep in the hold of a massive alien spacecraft piloted by the Oankali—who arrived in time to save humanity from extinction. They have kept Lilith and other survivors asleep for centuries, as they learned whatever they could about Earth. Now it's time for Lilith to lead them back to her home world, but life among the Oankali on the newly resettled planet will be nothing like it was before. This brilliant, imaginative tale paints a fascinating future of humanity. The first book in a completed series.
The Belles by Dhonielle Clayton
In the opulent world of Orléans, Belles are revered, for they control Beauty, and Beauty is a commodity coveted above all else. Camellia Beauregard wants to be the favorite Belle, but behind the gilded palace walls live dark secrets. Soon she learns that the very essence of her existence is a lie. When the queen asks Camellia to risk her own life and help the ailing princess by using Belle powers in unintended ways, Camellia faces an impossible decision. The first in a series, The Belles is a suspenseful read full of dark twists.
Essun, a woman living an ordinary life, comes home to find that her husband has brutally murdered their son and kidnapped their daughter. Meanwhile, in the heart of the vast continent known as the Stillness, a great rift has torn into the heart of the earth, spewing ash enough to darken the sky for years. Without sunlight, clean water, or arable land, there will be war all across the Stillness to fight for resources to get through the long dark night. Essun does not care if the world falls apart. She'll break it herself, if she must, to save her daughter. This Hugo award-winning start to the Broken Earth trilogy is equal parts stunning and provocative.
Eva is a princess born with a dark magick that hasn't been seen for generations. Its last known practitioner was Queen Raina, who toppled the native khimaer royalty and massacred thousands, including her own sister, thus beginning the Rival Heir tradition. Eva must now face her older sister, Isa, in a battle to the death if she hopes to ascend to the Ivory Throne–because in the Queendom of Myre only the strongest, most ruthless rulers survive. A River of Royal Blood, the first in a planned duology, is an enthralling debut set in a lush North African-inspired fantasy world.
Slay by Brittney Morris (available September 24, 2019)
By day, seventeen-year-old Kiera Johnson is an honors student, a math tutor, and one of the only Black kids at Jefferson Academy. But at home, she joins Black gamers who duel worldwide in the secret multiplayer online role-playing card game, SLAY. No one knows Kiera is the game developer. But when a teen in Kansas City is murdered over a dispute in the SLAY world, news of the game reaches mainstream media, and SLAY is labeled a violent hub for thugs and criminals. Kiera must preserve her secret identity and harness what it means to be unapologetically Black. But can she protect her game without losing herself in the process? This book is perfect for fans of Ready Player One.
Binti by Nnedi Okorafor
Binti is the first of the Himba people ever to be offered a place at Oomza University, the finest institution of higher learning in the galaxy. But the world she seeks to enter has long warred with the Meduse, an alien race that has become the stuff of nightmares. Oomza University has wronged the Meduse, and Binti's stellar travel will bring her within their deadly reach. This award-winning novella is an excellent introduction to Okorafor's work.
War Girls by Tochi Onyebuchi (October 15, 2019)
In a war-torn Nigeria, battles are fought using flying, deadly mechs and soldiers are outfitted with bionic limbs and artificial organs meant to protect them from the harsh, radiation-heavy climate. Two sisters, Onyii and Ify, dream of more, and they're willing to fight an entire war to get it. Acclaimed author Tochi Onyebuchi has spun an immersive, action-packed, deeply personal novel.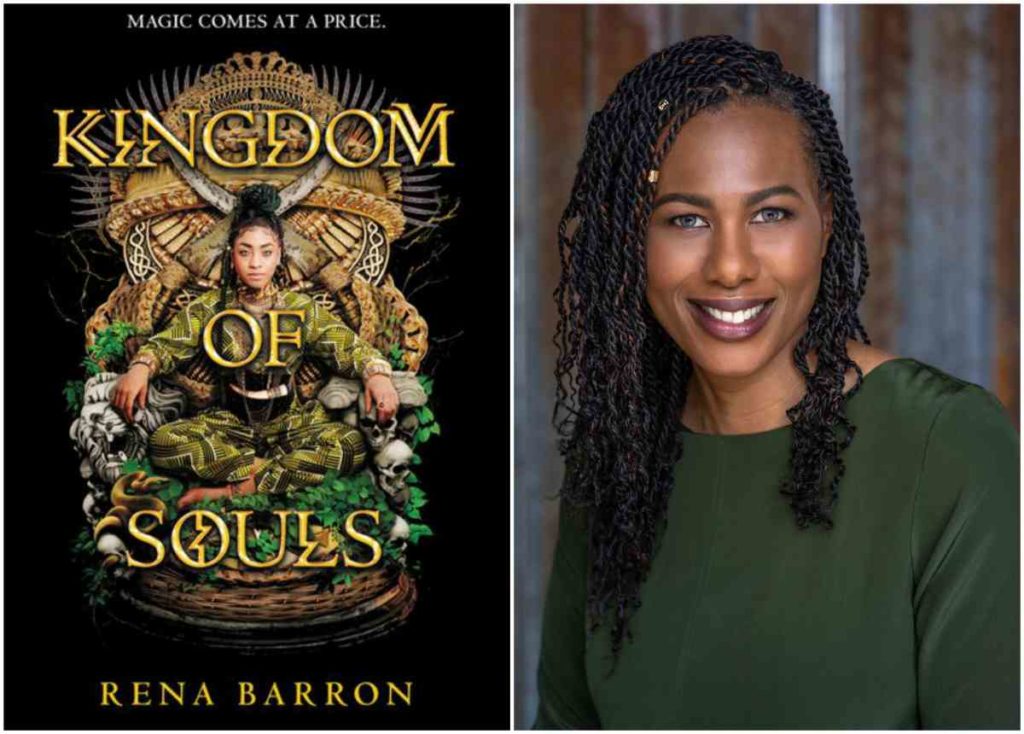 Rena Barron grew up in small-town Alabama, where stories of magic and adventure sparked her imagination. After penning her first awful poem in middle school, she graduated to writing short stories and novels by high school. Rena has an affinity for good cheese, wine, and nature. When she's not writing, she can be found reading or brushing up on her French.
---
Big, big thank you to Rena, and thank you to y'all for hanging out this week. We'll see you on Saturday for some excellent YA deals.
— Kelly Jensen, @heykellyjensen on Instagram (note the new name!) and editor of (Don't) Call Me Crazy and Here We Are.