Sponsored by Dynamite
The world of Pierce Brown's Red Rising expands further in the next installment of the Sons of Ares storyline! Fitchner's quest for revenge continues as he and the other Sons of Ares seek out the Golds who have wronged his family. But actions come with repercussions and an elaborate game of cat and mouse is on. A battle of Gold versus Gold erupts further into more than acts of vengeance and becomes the seeds of a revolution.
Happy new release day, me hearties! It's Alex, with a pile of really interesting essays for you this week–and a bunch of new books. I'm still riding high from the weekend, which brought me two non-SFF joys: First, the first episode of the new season of The Great British Bake Off (they're releasing the episodes in the US on Netflix every Friday after they air in the UK). Second, we got the news that Alex Trebek is officially a bigger badass than Chuck Norris could ever hope to be, because he whomped pancreatic cancer and will be back to hosting Jeopardy.
New Releases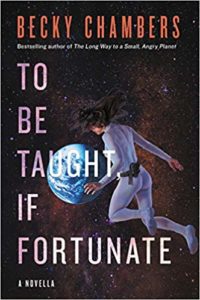 To Be Taught, If Fortunate by Becky Chambers – At the turn of the 22nd century, humanity is able to solve the worst biological limits of space flight, enabling a new age of exploration. But they have not solved relativity, or the challenges of the spacefarers returning to a world that might have forgotten them, a challenge explorer Ariadne chronicles.
Caster by Elsie Chapman – In Aza's world, magic is a dangerous, illegal thing that killed her sister. But with her sister dead, she must step in to try to save her family's tea house–by taking part in an underground magical tournament that might take her own life as well.
The Nightjar by Deborah Hewitt – Alice is an "aviarist," capable of seeing the Nightjars, magical birds that guard human souls. After her best friend is hit by a car, Alice must seek out the Rookery, the hidden and magical alternate London, if she's to find and save her friend's nightjar.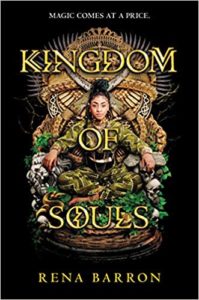 Kingdom of Souls by Rena Barron – Arrah is the only one in her family of powerful witchdoctors with no magic. In desperation, she considers trading years of her life for a few scraps–and soon she may not have a choice at all, as the powerful Demon King stirs and threatens everything she loves.
The Mythic Dream edited by Dominik Parisien and Navah Wolfe – An anthology that explores retellings of myth and legend, with stories from JY Yang, Alyssa Wong, Seanan McGuire, Rebecca Roanhorse, John Chu, and more.
Loki: Where Mischief Lies by Mackenzi Lee – A younger Loki, desperate to prove he's a hero, descends on 19th-century London to investigate a string of murders that seem to involve Asgardian magic.
News and Views
A little preview from Entertainment Weekly of N.K. Jemisin's next book. You can now pre-order The City We Became.
The 30th issue of Uncanny magazine will be Disabled People Destroy Fantasy. Take a gander at the TOC here.
One booktuber's quest to cover a tricky topic: Every Bosom in The Wheel of Time (part 1).
Amal El-Mohtar's review of Palestine + 100.
An essay about Irish folklore and language getting used as disposible fantasy-fodder: Do American Writers Think Irish is Public Domain Elvish?
An amazing (long) essay about violent video games and grief: Select Difficulty
Look, it was just a really good week for essays: Fast Color and the Humanizing of Superpowers in Black Women
HBO has revealed who is voicing the Daemons in His Dark Materials.
The Dark Crystal: Age of Resistance is now streaming on Netlix. It's also about climate change.
Annalee Newitz and Charlie Jane Anders on the intersection between writing about science and writing science fiction.
Anna Smith Spark (author of The Court of Broken Knives) dug into what grimdark means in her Reddit AMA.
New Terminator: Dark Fate trailer. CHILLS. I HAVE CHILLS.
---
See you, space pirates. You can find all of the books recommended in this newsletter on a handy Goodreads shelf. If you'd like to know more about my secret plans to dominate the seas and skies, you can catch me over at my personal site.