Sponsored by Andrews McMeel Publishing
From celebrated Lebanese-Canadian poet, speaker, and educator Najwa Zebian comes this revised and expanded edition of her debut collection. A book of inspirational poetry and prose, Mind Platter seeks to uplift and empower those who have felt misjudged, unheard, or unseen.
Hola Audiophiles!
Dios mio, y'all. It's pretty much a wrap on August. Know what that means? 1. I'm going to be a Portland resident in just a few days. 2. The deluge of fall book releases is coming! There are soooo many books coming out next week alone and it's kinda sorta maybe still summer?! It was so hard to choose just a few to highlight today, but I'm really excited about these picks.
Ready? Let's audio!
---
New Releases – September 3rd (publisher's descriptions in quotes)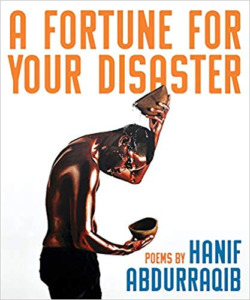 A Fortune for Your Disaster: Poems by Hanif Abdurraqib, narrated by the author – I feel like we all need more poetry audiobooks in our lives. Poetry was meant to be read out loud! If you don't know Hanif Abdurraqib, he is the brilliant poet, essayist, music critic, and excellent Twitter follow (so many literal LOLs) behind personal favorite Go Ahead in the Rain, a touching and funny love letter to A Tribe Called Quest, plus several other poetry collections. This one is a book of poems about "how one rebuilds oneself after a heartbreak, the kind that renders them a different version of themselves than the one they knew."
Narrator note: I think this is the first time Hanif narrates his own work and I'm so, so glad that he did. I've heard him read in person and he is so dynamic: not animated per se, but an understated funny. And that voice! I'd listen to him read me the contents of my shampoo.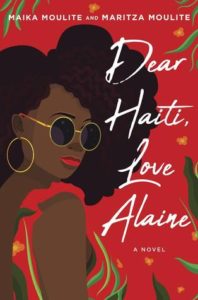 Dear Haiti, Love Alaine by Maika and Maritza Moulite, narrated by Bahni Turpin – Alaine is a 17-year-old Haitian American from Miami who's been suspended from school and shipped off to Haiti: "Thanks to 'the incident' (don't ask), I'm spending the next two months doing what my school is calling a 'spring volunteer immersion project.' It's definitely no vacation. I'm toiling away under the ever-watchful eyes of Tati Estelle at her new nonprofit. And my lean-in queen of a mother is even here to make sure I do things right. Or she might just be lying low to dodge the media sharks after a much more public incident of her own…and to hide a rather devastating secret."
Narrator Note: You know wassup. Bahni Turpin, everybody.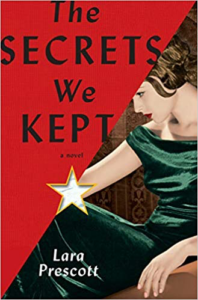 The Secrets We Kept by Lara Prescott, narrated by Carlotta Brentan, Cynthia Farrell, Mozhan Marnò, full cast – "A thrilling tale of secretaries turned spies, of love and duty, and of sacrifice – inspired by the true story of the CIA plot to infiltrate the hearts and minds of Soviet Russia, not with propaganda, but with the greatest love story of the 20th century: Doctor Zhivago."
Narrator Note: You know how I feel about full cast recordings! All of the narrators have plenty of audio credits to their name, my fave being Mozhan Marnos' performance of Wonder Woman: Warbringer by Leigh Bardugo.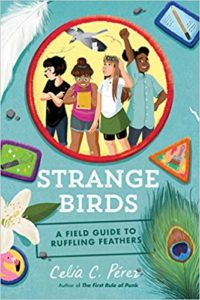 Strange Birds: A Guide to Ruffling Feathers by Celia Perez, narrated by Rebecca Soler – We get asked a lot about family-friendly audiobooks and I think this would be a great one! If you loved Celia Perez' First Rule of Punk, make this "story of four kids who form an alternative Scout troop that shakes up their sleepy Florida town" your next listen.
Narrator Note: I really liked Rebecca Soler's performance of Empress of a Thousand Skies (yay space opera!). She's also the voice behind all of your faves: Marissa Meyer's Cinder, Scarlet, and Renegades, Melissa Albert's Hazel Wood, Stephanie Garber's Caraval series, and so much more.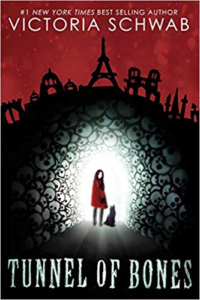 Tunnel of Bones by Victoria Schwab, narrated by Reba Buhr – I think it's time I just acknowledge that Victoria/V.E. Schwab is one of my favorite authors. This is the second book in the Cassidy Blake middle grade series; the first book City of Ghosts is a ghost-hunter caper set in Edinburgh that I absolutely love! In Tunnel of Bones, we follow Cassidy, her parents, and her ghost BFF Jacob to Paris to find out what lurks in those catacombs. Sold!
Narrator Note: Reba Buhr narrated City of Ghosts too and does a great job at performing in a children's voice that doesn't feel forced.
From the Internets
A headline that made me chuckle: Audible forced to defend the legal difference between audiobook transcripts and, uh, "books"
From African American studies to engineering, Bustle recommends nonfic audiobooks based on your subject of interest.
SFF publisher Baen Books and RBmedia have teamed up to produce audiobooks.
Over at the Riot
How audiobooks improve one reader's mental health and reading life
Rioter Christine put together this list of self-improvement listens that I love! It isn't the same fluffy stuff I see recommended all the time. No one telling me to just wash my face and whatnot.
---
That's all I got today! Shoot me an email at vanessa@riotnewmedia.com with audiobook feedback & questions or find me on Twitter and the gram @buenosdiazsd. Sign up for the In The Club newsletter, peep the Read Harder podcast, and watch me booktube every Friday too!
Stay bad & bookish, my friends.
Vanessa