This edition of Today in Books is sponsored by Vow of Thieves by Mary E. Pearson, and Fierce Reads.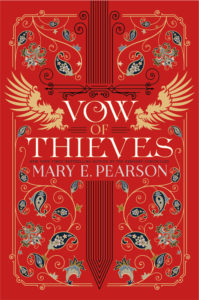 ---
Urban Planner Brings Children's Books Scenes To Life
Today in people-are-amazing-and-creative: Kauser Razvi, an urban planner, created Literary Lots, which makes temporary installations of children's book scenes! "It's a way of reusing space, re-imagining it, giving people feeling for curiosity and joy."
Elizabeth Acevedo Film Adaptation!
After her success with her debut novel, The Poet X, Acevedo is showing she's only just gotten started with her best-selling sophomore novel, With the Fire On High, now set for a film adaptation. Picturestart acquired the film rights and Acevedo is set to adapt the novel about a high school single mom with a passion for cooking who's trying to figure out what comes next. Tip: always go with the audiobook if you can, Acevedo is an amazing narrator.
Baby-Sitters Club's Casting!
We have our first two actors cast in the upcoming Netflix 10-episode series based on Ann M. Martin's best-selling series: Alicia Silverstone and Mark Feuerstein. The Clueless and Royal Pains actors will play Elizabeth Thomas-Brewer and Watson Brewer. Read more about it here.
Editor's Note: Apologies to those of you who received an older version of the newsletter yesterday. This was caused by a technical issue.