Sponsored by Lerner Books
He believes in science, but only magic can help his mom. Twelve-year-old Finn is used to people in his family disappearing. His twin sister, Faith, drowned when they were three years old. Then, his mom abandoned his family with no explanation. Finn clings to the concrete facts in his physics books to ward off his sadness. But then his grandmother tells him a secret: the women in their family are Travelers, able to move back and forth in time. Finn's mom is trapped somewhere in the timeline—but to find her, he'll have to put his trust in something bigger than logic.
Hi Kid Lit Friends!
Happy August! It's me, Liberty. I'm stepping in so Karina can have a little break, but don't worry, she'll be back soon. Thank goodness, because no one knows more about children's books at Book Riot than her! Until then, here are a few great books to check out while you glide through these last few weeks before school starts again. (Please note that all descriptions come from the publisher.)
Picture Book New Releases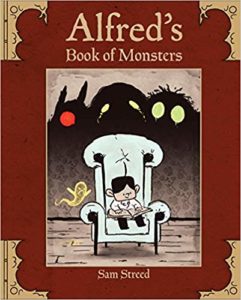 Alfred's Book of Monsters by Sam Streed (Author, Illustrator)
After reading about the slimy Nixie, the angry Black Shuck, and the creepy Lantern Man in his beloved Book of Monsters, Alfred decides to invite the monsters to teatime with his crusty old aunty, who thinks monsters are an improper obsession for a respectable young boy.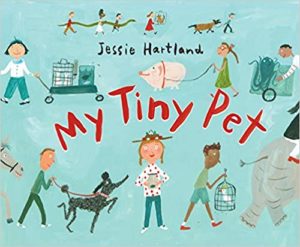 My Tiny Pet by Jessie Hartland (Author, Illustrator)
Living in a tiny house has one huge drawback–no space for pets. So when a little girl's parents announce that it's time for the family to simplify, downsizing from a huge home in the city to a tiny house in the woods, it's quite a blow–after all, she's grown quite fond of her pet poodles, cats, tarantula, snake, hedgehogs, mice, birds, fish, octopus, rabbits, pony, pig, and turtles. Fortunately, she finds them all good homes, and she has to admit that she enjoys her new simpler life.
There's just one thing: She still really wants just one pet.
At first the answer is no. But using a little scientific savvy, she finds one that could be just the right fit–how could anyone turn down a pet smaller than an ant's eye that doesn't need special food or toys or walking, and will always be small enough to squeeze into their home, no matter how much they downsize?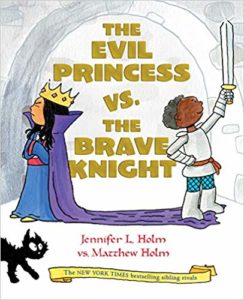 The Evil Princess vs. the Brave Knight (Book 1) by Jennifer Holm (Author), Matthew Holm (Illustrator)
Meet the Evil Princess and the Brave Knight. She casts terrible spells, while he fights dragons. He rescues cats in distress, while she makes mischief. No wonder there isn't much peace in this kingdom! But is the Evil Princess really so evil? And is the Brave Knight truly as chivalrous as he seems? Children and parents will laugh at seeing familiar family dynamics play out in this charming and imaginative new story.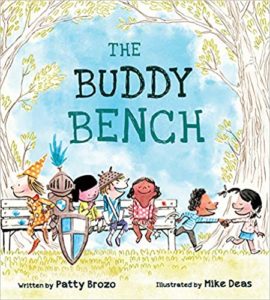 The Buddy Bench by Patty Brozo (Author), Mike Deas (Illustrator)
Having seen what being left out is like, children become agents of change, convincing their teacher to let them build a buddy bench. A school playground can be a solitary place for a kid without playmates; in one survey, 80 percent of 8- to 10-year-old respondents described being lonely at some point during a school day. Patty Brozo's cast of kids brings a playground to raucous life, and Mike Deas's illustrations invest their games with imaginary planes to fly, dragons to tame, and elephants to ride. And these kids match their imaginations with empathy, identifying and swooping up the lonely among them.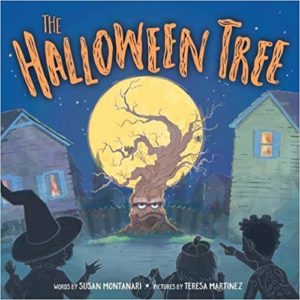 The Halloween Tree by Susan Montanari (Author), Teresa Martinez (Illustrator)
A charming, funny, and warm-hearted picture book that will help to start a new tradition.
Everyone knows most young saplings dream of becoming Christmas trees. But one grumpy, old tree who doesn't like lights, decorations, or people is determined to be different. Get ready to meet The Halloween Tree!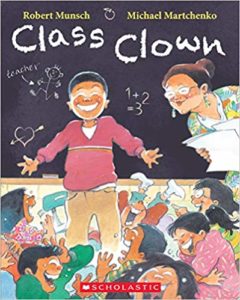 Class Clown by Robert Munsch (Author), Michael Martchenko (Illustrator)
Leonardo has been funny since he was born: he was a funny baby, he was a funny toddler, he was a funny first-grader. But now, his teacher Mrs. Gomez asks him to stop being funny so that the class can learn. He tries his best, but he just has to make a funny face, then tell a funny joke, and then show a funny drawing – with predictable results. And when he finally seriously promises faithfully never to be funny again, he makes the teacher laugh so hard she falls down on the floor laughing!
Middle Grade New Releases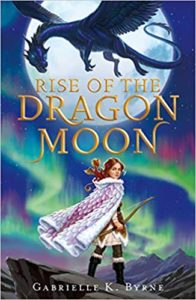 Rise of the Dragon Moon by Gabrielle K. Byrne
The princess of a frozen queendom fights to free her mother from the clutches of terrifying dragons in Rise of the Dragon Moon, a middle grade fantasy debut from Gabrielle K. Byrne.
Princess Toli may be heir to the throne, but she longs to be a fierce hunter and warrior. Alone in a frozen world, her queendom is at the mercy of the dragons that killed her father, and Toli is certain it's only a matter of time before they come back to destroy what's left of her family.
When the dragons rise and seize her mother, Toli will do anything to save her―even trust a young dragon who may be the only key to the Queen's release.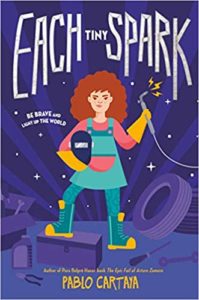 Each Tiny Spark by Pablo Cartaya
Emilia Torres has a wandering mind. It's hard for her to follow along at school, and sometimes she forgets to do what her mom or abuela asks. But she remembers what matters: a time when her family was whole and home made sense. When Dad returns from deployment, Emilia expects that her life will get back to normal. Instead, it unravels.
Dad shuts himself in the back stall of their family's auto shop to work on an old car. Emilia peeks in on him daily, mesmerized by his welder. One day, Dad calls Emilia over. Then, he teaches her how to weld. And over time, flickers of her old dad reappear.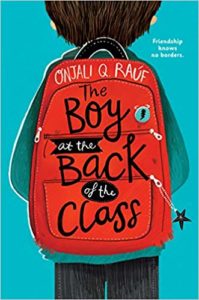 The Boy at the Back of the Class by Onjali Q. Raúf
There used to be an empty chair at the back of Mrs. Khan's classroom, but on the third Tuesday of the school year a new kid fills it: nine-year-old Ahmet, a Syrian refugee.
The whole class is curious about this new boy–he doesn't seem to smile, and he doesn't talk much. But after learning that Ahmet fled a Very Real War and was separated from his family along the way, a determined group of his classmates bands together to concoct the Greatest Idea in the World–a magnificent plan to reunite Ahmet with his loved ones.
Balancing humor and heart, this relatable story about the refugee crisis from the perspective of kids highlights the community-changing potential of standing as an ally and reminds readers that everyone deserves a place to call home.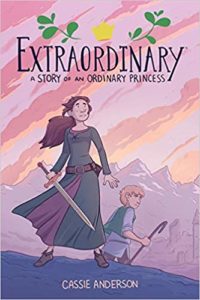 Extraordinary: A Story of an Ordinary Princess by Cassie Anderson
While her sisters were blessed at birth with exceptional skills, Princess Basil's "gift" is to be ordinary. But can a princess be ordinary? Inspired by M. M. Kaye's beloved novel!
After escaping an unconventional kidnapping, Princess Basil finds herself far from her castle and must take fate into her own hands. She tracks down the fairy godmother who "blessed" her, and learns the solution to her ordinariness might be as simple as finding a magic ring. With an unlikely ally in tow, she takes on gnomes, a badger, and a couple of snarky foxes in her quest for a less ordinary life.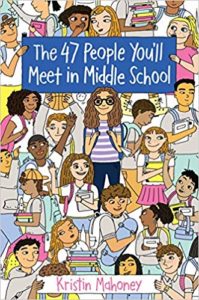 The 47 People You'll Meet in Middle School by Kristin Mahoney
Discover the ins and outs of middle school in this guide from an older sister to her younger sister. From tackling a new building to meeting new people like the assistant principal, the class pet, the Huggers, the renegade, the tomato kid, your old best friend's new best friend, this is a must-read for everyone starting middle school.
With wit and warmth, Kristin Mahoney, author of Annie's Life in Lists, delivers heartwarming, pitch-perfect advice, ideal for anyone nervously approaching middle school.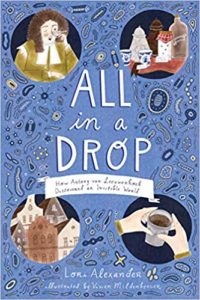 All in a Drop: How Antony van Leeuwenhoek Discovered an Invisible World by Lori Alexander (Author), Vivien Mildenberger (Illustrator)
Microbes are everywhere: in the soil and oceans, in snow, and inside our bodies. But in Antony van Leeuwenhoek's time, people believed that what they saw with their own eyes was all that existed in the world. How did a simple tradesman—who didn't go to college or speak English or Latin like all the other scientists—change everyone's minds?
Proving that remarkable discoveries can come from the most unexpected people and places, this eye-opening chapter book, illustrated with lively full-color art, celebrates the power of curiosity, ingenuity, and persistence.
Nonfiction New Releases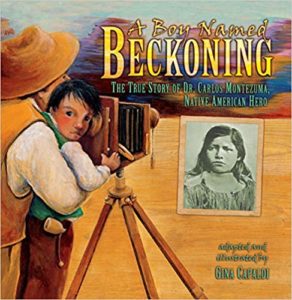 A Boy Named Beckoning: The True Story of Dr. Carlos Montezuma, Native American Hero by Gina Capaldi (Author, Illustrator)
This story reveals the remarkable life of a Native American boy named Wassaja, or "Beckoning," who was kidnapped from his Yavapai tribe and sold as a slave. Adopted by an Italian photographer in 1871 and renamed Carlos Montezuma, the young boy traveled throughout the Old West, bearing witness to the prejudice against and poor treatment of Native Americans. Carlos eventually became a doctor and leader for his people, calling out for their rights. Gina Capaldi's exquisite paintings bring to life excerpts from Dr. Carlos Montezuma's own letters describing his childhood experiences. The culminating portrait provides an inventive look back into history through the eyes of a Native American hero.
Sing a Song: How Lift Every Voice and Sing Inspired Generations by Kelly Starling Lyons (Author), Keith Mallett (Illustrator)
Just in time for the 120th anniversary of the song "Lift Every Voice and Sing"–this stirring book celebrates the Black National Anthem and how it inspired five generations of a family.
Sing a song full of the faith that the dark past has taught us.
Sing a song full of the hope that the present has brought us.
In 1900, in Jacksonville, Florida, two brothers, one of them the principal of a segregated, all-black school, wrote the song "Lift Every Voice and Sing" so his students could sing it for a tribute to Abraham Lincoln's birthday. From that moment on, the song has provided inspiration and solace for generations of Black families.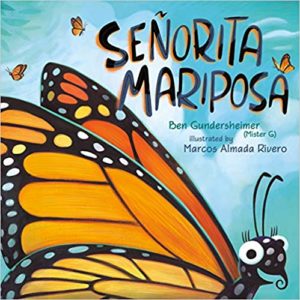 Señorita Mariposa by Ben Gundersheimer (Author), Marcos Almada Rivero (Illustrator)
A captivating and child-friendly look at the extraordinary journey that monarch butterflies take each year from Canada to Mexico; with a text in both English and Spanish.
Rhyming text and lively illustrations showcase the epic trip taken by the monarch butterflies. At the end of each summer, these international travelers leave Canada to fly south to Mexico for the winter–and now readers can come along for the ride! Over mountains capped with snow, to the deserts down below. Children will be delighted to share in the fascinating journey of the monarchs and be introduced to the people and places they pass before they finally arrive in the forests that their ancestors called home.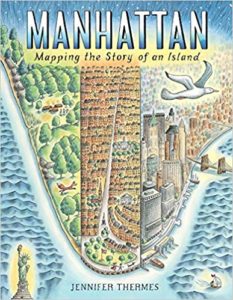 Manhattan: Mapping the Story of an Island by Jennifer Thermes
Told in dazzling maps and informative sidebars, Manhattan explores the 400+ year history of Manhattan Island.
From before its earliest settlement to the vibrant metropolis that exists today, the island of Manhattan has always been a place of struggle, growth, and radical transformation. Humans, history, and natural events have shaped this tiny sliver of land for more than 400 years. In Manhattan, travel back in time to discover how a small rodent began an era of rapid change for the island. Learn about immigration, the slave trade, and the people who built New York City. See how a street plan projected the city's future, and how epic fires and storms led to major feats of engineering above and below ground. Through dramatic illustrations, informative sidebars, and detailed maps inspired by historic archives, Manhattan explores the rich history that still draws people from all around the world to the island's shores today. From The Battery downtown up to Inwood, every inch of the island has a story to tell.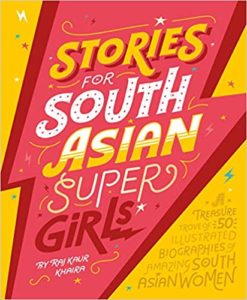 Stories for South Asian Supergirls by Raj Kaur Khaira
Through the inspirational stories of 50 famous and under-celebrated women from Afghanistan, Pakistan, India, Bangladesh, Nepal and Sri Lanka, South Asian girls will have a chance to dream about lives for themselves that radically differ from the limited narratives and stereotypes written for them by their culture, wider society and the mainstream media.
Even though she's off this week, Karina would love to know what you are reading! Find her on Twitter at @KarinaYanGlaser, on Instagram at @KarinaIsReadingAndWriting, or email her at karina@bookriot.com.
Thanks for hanging out!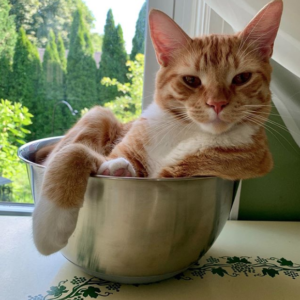 *If this e-mail was forwarded to you, follow this link to subscribe to "The Kids Are All Right" newsletter and other fabulous Book Riot newsletters for your own customized e-mail delivery. Thank you!*