This edition of Today in Books is sponsored by Houghton Mifflin Harcourt Books for Young Readers, publisher of Girl Made of Stars by Ashley Herring Blake.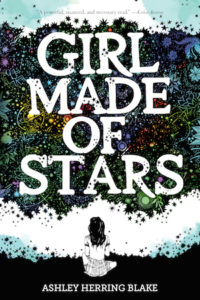 ---
Clowns-Only Screenings Of IT: Chapter Two
17 Alamo Drafthouse theaters have planned a clowns-only screening for IT: Chapter Two on September 5th. So clown and horror fans read on here for details and coulrophobics stay home on September 5th.
Woke Baby Book Fair
If you'll be in Fort Greene (Brooklyn, NY) on Saturday August 3rd you're going to want to check out the Woke Baby Book Fair which was "named as both a joke about babies' rocky sleep schedules and a comment on young people's capacity for social change." For more awesome details–Jason Reynolds and Dhonielle Clayton will be there!–read on here.
Get Your Votes In!
Not The Booker has announced its longlist–174 books!–for you to vote on two of the books you think should make it to the shortlist round. You can check out the easy how-to voter instructions, and see all the awesome books in the running, here.