Hola Audiophiles!
Guess what guess what guess what?! Ok I'll tell you: as of Monday, July 15th, I am Book Riot's new Associate Editor! I'll be relocating to Portland in August as part of the job and will likely regale you with my moving chronicles. Moving is the worst, but I'm so pumped to finally be able to share this news!
I will still be putting together both Audiobooks and In the Club, yapping about books on our YouTube channel, managing social media several days a week, etc. If anything, you'll probably see more of me.
Enough about me though. Let's audio.
---
Sponsored by TBR: Tailored Book Recommendations.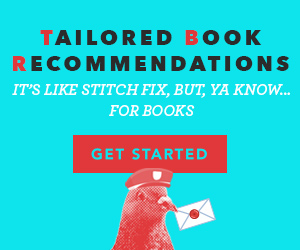 TBR is Book Riot's new subscription service offering Tailored Book Recommendations for readers of all stripes. Been dreaming of a "stitchfix for books?" Now it's here!
Tell TBR about your reading preferences and what you're looking for, and sit back while your Bibliologist handpicks recommendations just for you. TBR offers plans to receive hardcover books in the mail or recommendations by email, so there's an option for every budget. Sign up here.
---
New Releases (publisher's descriptions in quotes)
Gods of Jade and Shadow by Silvia Moreno Garcia, narrated by Yetta Gottesman (July 23)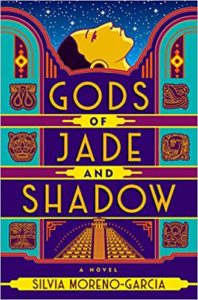 Casiopea is a young woman in a small Mexican village during the Jazz Age, dreaming of a life where she's not the family servant or subject to her grandfather's abuse. Then one day she opens a mysterious box and out pops the Mayan god of death, long dormant after his twin brother betrayed him. An epic journey ensues that takes us everywhere from Mexico City to Baja California in a quest for revenge and restoration of balance in the world of both gods and men. It gave me such glee to hear the places, phrases, and legends of my childhood in a modern work of mythology!
Narrator note: You may recognize narrated Yetta Gottesman from last year's Sick: A Memoir by Porochista Khakpour. I like her style, balanced and clear, but wasn't able to get a sample of her Spanish pronunciation.
Lady in the Lake by Laura Lippman, narrated by Susan Bennett (July 23)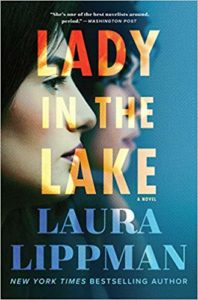 It's 1966 in Baltimore and reporter Maddie Schwartz has just walked away from a 20-year stint as a pampered housewife. She's starting to make a name for herself at a local newspaper when she comes across a story that could make her career: a missing woman's body is discovered in the fountain of a city park lake. She further she looks into the case, the less clear the truth becomes. "Her inability to look beyond her own needs will lead to tragedy and turmoil for all sorts of people – including the man who shares her bed." Snap!
Narrator note: Susan Bennett has narrated other Laura Lippman works as well as stuff by Charlaine Harris and Christopher Moore. There's something about her lower register that matches perfectly with a good mystery/thriller!
My Friend Anna: The True Story of the Fake Heiress Who Conned Me and Half of New York City by Rachel DeLoache Williams, narrated by the author (July 23)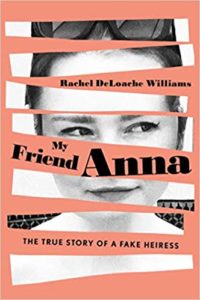 I love me a good "rich people problems" book, but this is next level. It's "rich people who got the %@*# conned out of them problems!" You may be familiar with this bonkers true story as it recently made all the headlines: a young con artist posed as a German heiress in New York and scammed muchos rich peoples out of  $@%*ing boatloads of cash. The book is by the former Vanity Fair photo editor whom Anna scammed out of more than $62,000. QUE!?!
Narrator note:  No lie: I'm pretty stoked (with a touch of schadenfreude) to hear this lady's tale of getting bilked out of all that cash by a poser.
Brazen and the Beast by Sarah MacLean, narrated by Justine Eyre (July 30)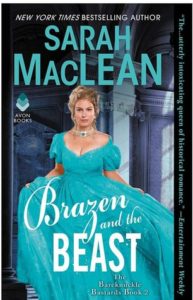 This is the second book in Sarah MacLean's Bareknuckle Bastards series about a trio of brothers bound by a salacious secret they can't escape. In this installment, Lady Henrietta Sedley is entering her 29th year and fully embracing her spinsterhood. "Everything is going perfectly…until she discovers the most beautiful man she's ever seen tied up in her carriage and threatening to ruin the Year of Hattie before it's even begun." Oh yes!
Narrator note: Justine Eyre narrates a lot of Sarah Maclean's books, including the first book in this series, Wicked and the Wallflower. She's done tons of other work by everyone from Tessa Dare to Sujata Massey, but I loved her performance of Elizabeth Kostova's The Historian (give me ALL of the Dracula things).
They Could Have Named Her Anything by Stephanie Jimenez, narrated by Almarie Guerra (July 30)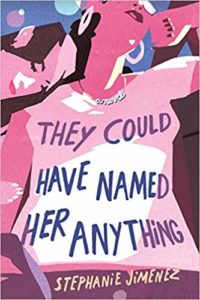 Maria Anis takes an hour-long subway ride from her home in Queens to a bougie private high school on the Upper East Side every day. She's struggling to fit in as one of the only Latinx students when she meets Rocky, a wealthy, white, rebellious classmate whose privilege is astonishing to Maria Anis.
As a bond develops between these unlikely friends, neither can see what they share most—jealousy and the desire for each other's lives. But crackling under the surface of their seemingly supportive alliance, the girls begin to commit little betrayals as they strive to get closer to their ideals regardless of the consequences.
Narrator Note: I've never listened to any of Almarie Guerra's performances, but I do know a couple of people who really enjoyed her performance in the audiobook of Ingrid Rojas Contreras' Fruit of the Drunken Tree.
Speaking of Summer by Kalisha Buckhanon, narrated by Karen Chilton (July 30)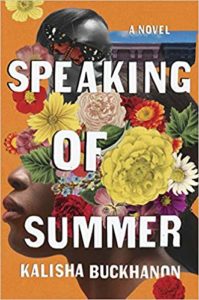 On a winter's night in Harlem, Summer Spencer walks up to the rooftop of the brownstone she shares with twin sister Autumn and is never seen again. Local authorities don't seem interested in solving the case, so Autumn takes matters into her own hands (she's clearly never read a literary thriller). "[T]he loss becomes too great, the mystery too inexplicable, and Autumn starts to unravel, all the while becoming obsessed with murdered women and the men who kill them."
Narrator note: Karen Chilton has narrated several of Alyssa Cole's audiobooks and gets the Vanessa Diaz Stamp of Accent Approval.
From the Internets
The summer reading and listening lists doth persist! Here's the latest from Bustle: 15 New Audiobooks To Listen To On Your Summer Vacation. I spy a few faves: The Satapur Moonstone, Gods of Jade and Shadow, and With the Fire on High!
Over at the Riot
Hey you: you look like you could use some free audiobooks. If you're a Prime member, these 25 audiobooks are available to you for $Free.99. If you're a Kindle Unlimited user, here are 50 of the best Kindle Unlimited Audiobooks.
There are several audiobook subscriptions out there these days, and thank goodness for that. Yay for not having to lug around a Discman and 12 CDs! You all know I'm a Libro.fm girl, but for those curious about Audible: check out these FAQs.
---
That's all I got today! Shoot me an email at vanessa@riotnewmedia.com with audiobook feedback & questions or find me on Twitter and the gram @buenosdiazsd. Sign up for the In The Club newsletter, peep the Read Harder podcast, and watch me booktube every Friday too!
Stay bad & bookish, my friends.
Vanessa