Welcome to In The Club, a newsletter of resources to keep your book group well-met, well-read, and well-fed. 
Howdy, club folk! It's July, and even though I always say I won't do it, I checked my reading stats this morning and panicked a little! I've read 40+ books which by many standards is plenty and yet some of you are out here with three-digit reading habits. I'm trying not to feel judged by you pero… I feel like you're looking at me funny. 
While I recover from all the shade, I'm excited to start a new club query! I'll recap the results from last month's question and weave in a little princess talk + books to inspire change.
Let's do the thing, shall we? To the club!!
---
Sponsored by Book Riot's Amazon Storefront: shop our favorite reads of the year so far, and bookish summer faves!

---
Question for the Club
In June I asked: what would (or did!) make you leave a book club. I got so many responses! 
Sometimes life made the decision for you (relocation for school or work, having to care for an ailing family member), but other times… well, read on!
Bad discussion, or none at all

! – In one example, the group "leader" had a list of questions that they expected specific answers for and would ask everyone to "get back on track" whenever someone tried to delve deeper into a question. Umm… sit down, Karen. We gots things to discuss!

Disrespectful club members –

You know the deal: rudeness and unwillingness to hear other people's opinions. In one case, one group member always drank too much and had the loudest opinion in the room despite not having read the book OR read the wrong book… yikes. 

Missing the point –

Club members seemed ignorant of or unwilling to consider the cultural context of the book. When said context speaks to racism, sexism, etc… that's a problem. 

Lack of Variety –

Reading the same type of book over and over + unwillingness to stray from that type.

Racism or bigotry

– I was so impressed by how many of you took the high road and just walked away. I rolled my eyes and cussed in Spanish all to myself on your behalves. 
Take this info back to your clubs! Examine the vibe and be mindful of the factors that push people away. Book club should be a safe space! Let's keep it that way. #unintentionalrhyming
New month, new query! Here's July's question: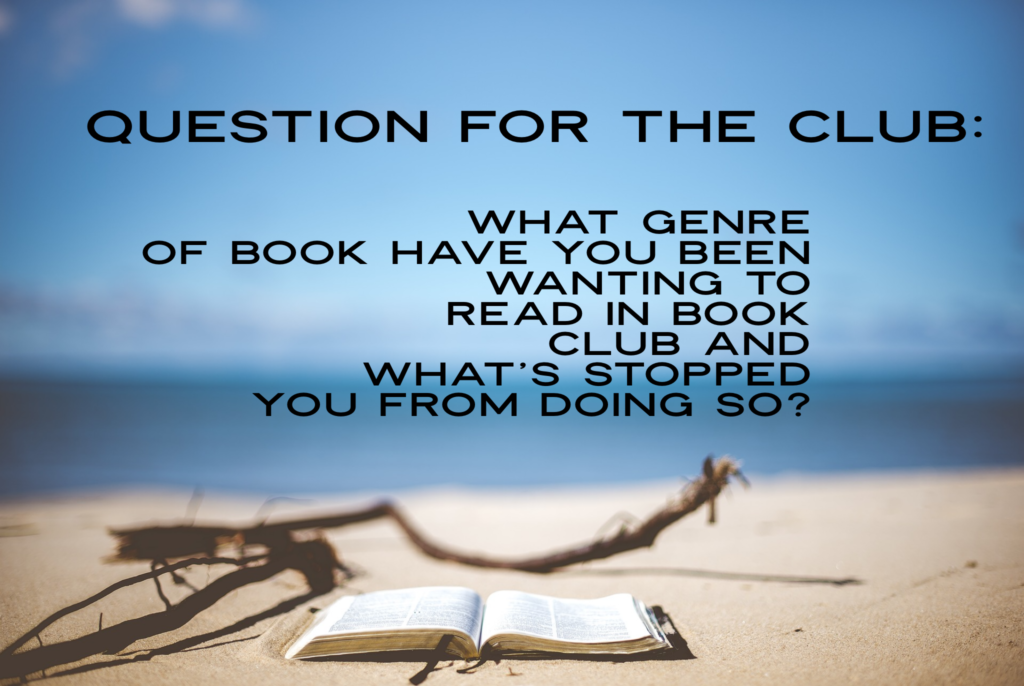 Power to the Princess – I'm notoriously terrible at keeping up with popular TV shows; I generally arrive to the party several seasons late and then annoy everyone with reeeeally old references that I swear are brand new. So sorry to everyone I yelled "Shame!" or "The North remembers!" at earlier this year.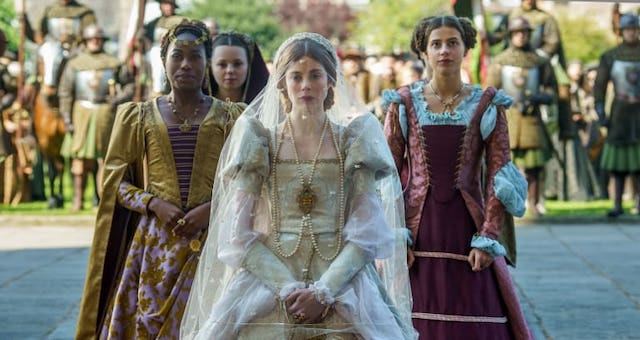 It is then no surprise that I hadn't heard of The Spanish Princess, the feminist historical costume drama airing now on Starz. It's loosely based on a couple of Philippa Gregory novels and features badass ladies like Catherine of Aragon and Margaret Tudor. If you're a fan like I'm pretty sure I will be, this reading list is for you. 
Book Club Bonus: With the Democratic debates fresh on my mind, I've been thinking a lot about the way our society treats confident, competent, and assertive women compared to their (not necessarily equally competent) male counterparts. I've thought a lot in particular about Cleopatra as chronicled by Stacy Schiff, and how a very savvy strategist and negotiator has generally been reduced by history to the sum of her sex appeal and womanly wiles. Give Cleopatra: A Life a read and then explore the parallels in how women candidates (and women, period!) are treated today.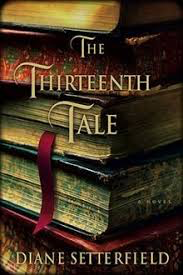 The Book that Changed my Life – You've heard the phrase before: "That book totally changed my life!" For some, this rings a little truer than others; check out some amazing stories of books inspiring major life changes in the most recent episode of Annotated. 
Book Club Bonus: True story: reading The Thirteenth Tale inspired me to leave a career in management and sales, live in the English countryside for a few months, then pursue writing and bookselling full time when I came back. That's how I ended up at the Riot – tada! I am therefore ALL about this life-changing-magic-of-a-book thing and want to see a book club edition. While you can't always manufacture inspiration, I do think you can find a read that will spark some kind of magic in book group. 
Ideas: 
Suggestion Section
PBS's July book club pick is Luis Alberto Urrea's The House of Broken Angels. 
The LA Times book club will read Laila Lalami's The Other Americans.
We're not just giving away The Gentleman in Moscow; we're giving you ten copies for your book club!
---
Thanks for hanging with me today! Shoot me an email at vanessa@riotnewmedia.com with your burning book club questions or find me on Twitter and the gram @buenosdiazsd. Sign up for the Audiobooks newsletter, get it on the Read Harder podcast, and watch me booktube every Friday too.
Stay bad & bookish, my friends.
Vanessa