Hello Kid Lit Friends,
According to the UNHCR, the United Nations Refugee Agency, there are 70.8 million people forcible displaced worldwide; 25.9 million of those people are refugees, over half of whom are under the age of 18.
I have been grateful that so many children's books have spoken to the refugee experience. The books on this list have given me more understanding to the plight of refugees than statistics or news articles, and I find all of these stories to be very accessible to children. Check them out and let me know what you think.
---
Sponsored by Libro.fm

Libro.fm lets you purchase audiobooks directly from your favorite local bookstore. You can pick from more than 100,000 audiobooks, including New York Times best sellers and recommendations from booksellers around the country. With Libro.fm you'll get the same audiobooks, at the same price as the largest audiobook company out there (you know the name), but you'll be part of a much different story, one that supports community. In June, Libro.fm is launching their Kids Club and YA Club, which will offer select audiobooks priced under $10 each month, as well as their Summer Listening Challenge–each person to finish will get free audiobook credit and the chance to win free audiobooks for a year! Sign up here to get three audiobooks for the price of one.
---
Picture Books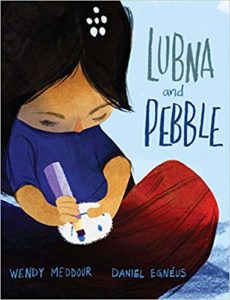 Lubna and Pebble by Wendy Meddour, illustrated by Daniel Egneus
Lubna's best friend is a pebble. Pebble always listens to her stories. Pebble always smiles when she feels scared. But when a lost little boy arrives in the World of Tents, Lubna realizes that he needs Pebble even more than she does.
The Journey by Francesca Sanna
From the author: The Journey is actually a story about many journeys, and it began with the story of two girls I met in a refugee center in Italy. After meeting them I realized that behind their journey lay something very powerful. So I began collecting more stories of migration and interviewing many people from many different countries. A few months later, in September 2014, when I started studying a Master of Arts in Illustration at the Academy of Lucerne, I knew I wanted to create a book about these true stories. Almost every day on the news we hear the terms "migrants" and "refugees" but we rarely ever speak to or hear the personal journeys that they have had to take. This book is a collage of all those personal stories and the incredible strength of the people within them.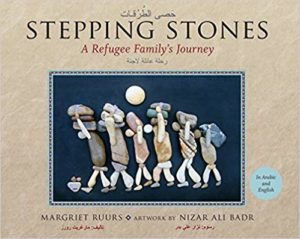 Stepping Stones: A Refugee Family's Journey by Margriet Ruurs
This unique picture book was inspired by the stone artwork of Syrian artist Nizar Ali Badr, discovered by chance by Canadian children's writer Margriet Ruurs. The author was immediately impressed by the strong narrative quality of Mr. Badr's work, and, using many of Mr. Badr's already-created pieces, she set out to create a story about the Syrian refugee crisis. Stepping Stones tells the story of Rama and her family, who are forced to flee their once-peaceful village to escape the ravages of the civil war raging ever closer to their home. With only what they can carry on their backs, Rama and her mother, father, grandfather and brother, Sami, set out to walk to freedom in Europe. Nizar Ali Badr's stunning stone images illustrate the story.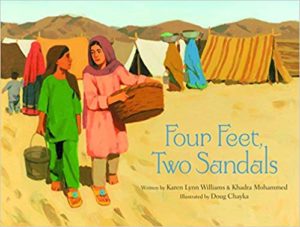 Four Feet, Two Sandals by Karen Lynn Williams, illustrated by Khadra Mohammed
When relief workers bring used clothing to the refugee camp, everyone scrambles to grab whatever they can. Ten-year-old Lina is thrilled when she finds a sandal that fits her foot perfectly, until she sees that another girl has the matching shoe. But soon Lina and Feroza meet and decide that it is better to share the sandals than for each to wear only one. As the girls go about their routines — washing clothes in the river, waiting in long lines for water, and watching for their names to appear on the list to go to America — the sandals remind them that friendship is what is most important.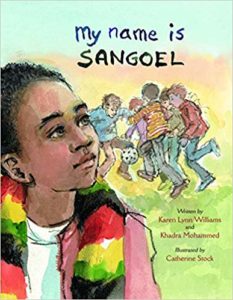 My Name is Sangoel by Karen Williams and Khadra Mohammed, illustrated by Catherine Stock
Sangoel is a refugee. Leaving behind his homeland of Sudan, where his father died in the war, he has little to call his own other than his name, a Dinka name handed down proudly from his father and grandfather before him. When Sangoel and his mother and sister arrive in the United States, everything seems very strange and unlike home. In this busy, noisy place, with its escalators and television sets and traffic and snow, Sangoel quietly endures the fact that no one is able to pronounce his name. Lonely and homesick, he finally comes up with an ingenious solution to this problem, and in the process he at last begins to feel at home.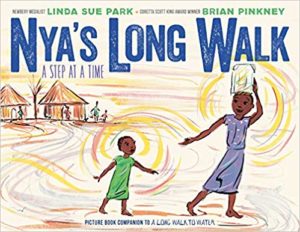 Nya's Long Walk: A Step At A Time by Linda Sue Park, illustrated by Brian Pinkney (HMH Books for Young Readers, 9/2/19)
Young Nya takes little sister Akeer along on the two-hour walk to fetch water for the family. But Akeer becomes too ill to walk, and Nya faces the impossible: her sister and the full water vessel together are too heavy to carry. As she struggles, she discovers that if she manages to take one step, then another, she can reach home and Mama's care. Bold, impressionistic paintings by Caldecott and Coretta Scott King Homor winner Brian Pinkney evoke the dry, barren landscape and the tenderness between the two sisters.
Middle Grade Books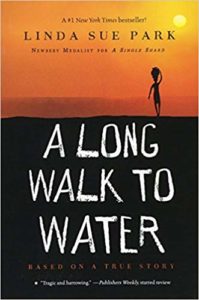 A Long Walk to Water by Linda Sue Park
A Long Walk to Water begins as two stories, told in alternating sections, about two eleven-year-olds in Sudan, a girl in 2008 and a boy in 1985. The girl, Nya, is fetching water from a pond that is two hours' walk from her home: she makes two trips to the pond every day. The boy, Salva, becomes one of the "lost boys" of Sudan, refugees who cover the African continent on foot as they search for their families and for a safe place to stay. Enduring every hardship from loneliness to attack by armed rebels to contact with killer lions and crocodiles, Salva is a survivor, and his story goes on to intersect with Nya's in an astonishing and moving way.
Nowhere Boy by Katherine Marsh
Fourteen-year-old Ahmed is stuck in a city that wants nothing to do with him. Newly arrived in Brussels, Belgium, Ahmed fled a life of uncertainty and suffering in Aleppo, Syria, only to lose his father on the perilous journey to the shores of Europe. Now Ahmed's struggling to get by on his own, but with no one left to trust and nowhere to go, he's starting to lose hope. Then he meets Max, a thirteen-year-old American boy from Washington, D.C. Lonely and homesick, Max is struggling at his new school and just can't seem to do anything right. But with one startling discovery, Max and Ahmed's lives collide and a friendship begins to grow. Together, Max and Ahmed will defy the odds, learning from each other what it means to be brave and how hope can change your destiny.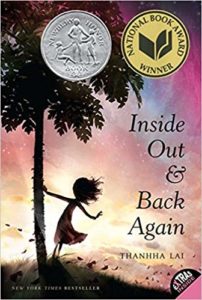 Inside Out and Back Again by Thanhha Lai
Inspired by the author's childhood experience as a refugee—fleeing Vietnam after the Fall of Saigon and immigrating to Alabama—this coming-of-age debut novel told in verse has been celebrated for its touching child's-eye view of family and immigration. Hà has only ever known Saigon: the thrills of its markets, the joy of its traditions, and the warmth of her friends close by. But now the Vietnam War has reached her home. Hà and her family are forced to flee as Saigon falls, and they board a ship headed toward hope—toward America.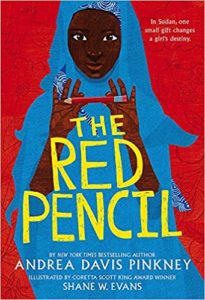 The Red Pencil by Andrea Davis Pinkney
Life in Amira's peaceful Sudanese village is shattered when Janjaweed attackers arrive, unleashing unspeakable horrors. After losing nearly everything, Amira needs to find the strength to make the long journey on foot to safety at a refugee camp. She begins to lose hope, until the gift of a simple red pencil opens her mind — and all kinds of possibilities.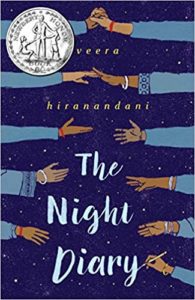 The Night Diary by Veera Hiranandani
It's 1947, and India, newly independent of British rule, has been separated into two countries: Pakistan and India. The divide has created much tension between Hindus and Muslims, and hundreds of thousands are killed crossing borders. Half-Muslim, half-Hindu twelve-year-old Nisha doesn't know where she belongs, or what her country is anymore. When Papa decides it's too dangerous to stay in what is now Pakistan, Nisha and her family become refugees and embark first by train but later on foot to reach her new home. The journey is long, difficult, and dangerous, and after losing her mother as a baby, Nisha can't imagine losing her homeland, too. But even if her country has been ripped apart, Nisha still believes in the possibility of putting herself back together.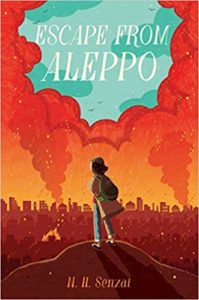 Escape from Aleppo by N. H. Senzai
It is December 17, 2010: Nadia's twelfth birthday and the beginning of the Arab Spring. Soon anti-government protests erupt across the Middle East and, one by one, countries are thrown into turmoil. As civil war flares in Syria and bombs fall across Nadia's home city of Aleppo, her family decides to flee to safety. Inspired by current events, this novel sheds light on the complicated situation in Syria that has led to an international refugee crisis, and tells the story of one girl's journey to safety.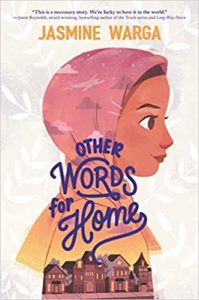 Other Words for Home by Jasmine Warga
Jude never thought she'd be leaving her beloved older brother and father behind, all the way across the ocean in Syria. But when things in her hometown start becoming volatile, Jude and her mother are sent to live in Cincinnati with relatives. At first, everything in America seems too fast and too loud. The American movies that Jude has always loved haven't quite prepared her for starting school in the US—and her new label of "Middle Eastern," an identity she's never known before.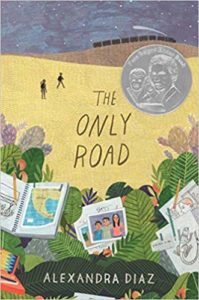 The Only Road by Alexandra Diaz
Jaime is sitting on his bed drawing when he hears a scream. Instantly, he knows: Miguel, his cousin and best friend, is dead.
Everyone in Jaime's small town in Guatemala knows someone who has been killed by the Alphas, a powerful gang that's known for violence and drug trafficking. Anyone who refuses to work for them is hurt or killed—like Miguel. With Miguel gone, Jaime fears that he is next. There's only one choice: accompanied by his cousin Ángela, Jaime must flee his home to live with his older brother in New Mexico.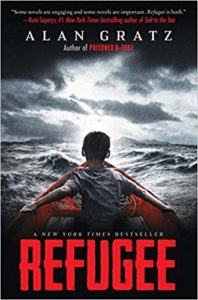 Refugee by Alan Gratz
JOSEF is a Jewish boy living in 1930s Nazi Germany. With the threat of concentration camps looming, he and his family board a ship bound for the other side of the world . . .
ISABEL is a Cuban girl in 1994. With riots and unrest plaguing her country, she and her family set out on a raft, hoping to find safety in America . . .
MAHMOUD is a Syrian boy in 2015. With his homeland torn apart by violence and destruction, he and his family begin a long trek toward Europe . . .
All three kids go on harrowing journeys in search of refuge. All will face unimaginable dangers — from drownings to bombings to betrayals. But there is always the hope of tomorrow. And although Josef, Isabel, and Mahmoud are separated by continents and decades, shocking connections will tie their stories together in the end.
Reminder! Fill out our survey and enter for a chance to win a $50 gift certificate! We're always trying to do things better here at Book Riot, so we would love your feedback on this newsletter. Click here to complete the survey and enter to win a $50 gift certificate to Amazon; contest will close on June 30 at 11:45pm.
I would love to know what you are reading this week! Find me on Twitter at @KarinaYanGlaser, on Instagram at @KarinaIsReadingAndWriting, or email me at karina@bookriot.com.
Until next time!
Karina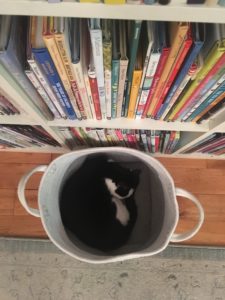 *If this e-mail was forwarded to you, follow this link to subscribe to "The Kids Are All Right" newsletter and other fabulous Book Riot newsletters for your own customized e-mail delivery. Thank you!*