Sponsored by Kingsbane by Claire Legrand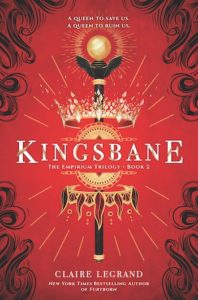 ---
ACLU Calls On Prison System To End Its Book Ban
Paul Butler, Georgetown University criminal law professor and former federal prosecutor, found out his book Chokehold: Policing Black Men is banned in Arizona state prisons. "Sykes said the ACLU plans to sue the corrections system if their written request to reverse the banning of 'Chokehold' isn't implemented or if the prison system fails to respond, and he said the ban was unconstitutional." Read the full story here.
Napoleon Dynamite Gets Comic Book Sequel!
Vote for Pedro! Impeach Pedro–er, what?! The IDW comic book limited series finds "Pedro's reign as student body president threatened when he's accused of having cheated in the election, pushing Napoleon and Deb to have to uncover the truth to clear Pedro's name before it's too late." You can read the four-issue series starting in September and get more info here.
Thomas Cromwell Trilogy Will Be Completed!
Hilary Mantel's The Mirror & the Light will publish in the U.S. on March 10, 2020 completing the Thomas Cromwell trilogy. Being that the first two novels in the series, Wolf Hall and Bring Up the Bodies, each won the Man Booker Prize expectations are hiiiiigh. And fans are super excited.